As my colleague Kathleen Brooks noted in her full recap report (see "BoE: Super Dovish Thursday" for more), the Bank of England came off as slightly more dovish than many market participants had expected in its highly-anticipated "Super Thursday" of top-tier data releases. Instead of the expected two dissents to the bank's decision to leave interest rates unchanged, only Ian McCafferty voted for an immediate rate increase. Meanwhile, BOE Governor Carney came off as less hawkish than before, noting that his earlier call for a rate hike at the turn of the year was not necessarily shared by the rest of the monetary policy committee.
At this point, it appears that the BOE failed to live up to the hawks' high expectations, but the fact remains that the bank is still looking to raise interest rates, likely in the first half of 2016, marking a stark contrast from the vast majority of the developed world. Therefore, any weakness in pound sterling may be relatively short-lived.
Indeed, the pound has already started to recover off its intraday lows 90 minutes after the Super Thursday shenanigans kicked off. When it comes to GBPUSD, the pair has seemingly found support near the critical 1.5465 level, which represents the convergence of the three-week low and a possible rising trend line. As long as this level holds, more consolidation in the recent range will be favored though the odds of a near-term bullish breakout have definitely faded. Digging a bit deeper, readers should watch for a breakout from the correspondingly tight 45-55 range in the RSI to lead or confirm a breakout in the exchange rate itself. As we've noted before, a bearish breakdown could open the door for a run down to the 100-day MA and 78.6% Fibonacci retracement around 1.5350, while a bullish breakout could bring the year-to-date highs near 1.5900 back into sight.
From here, the market's attention will shift toward tomorrow's US Non-Farm Payrolls report. Traders and economists anticipate a 220k reading, roughly in line with last month's 223k figure, and with the leading indicators painting a mixed picture (Manufacturing PMI and ADP came in weaker than expected, while the Non-Manufacturing PMI and Initial Jobless Claims have been historically strong), a big move is still possible ahead of the weekend. Stay tuned for a full NFP preview report this afternoon, and be sure to sign up for our special NFP Preview webinar at 2:00pm ET (18:00 GMT) for an advance look and analysis.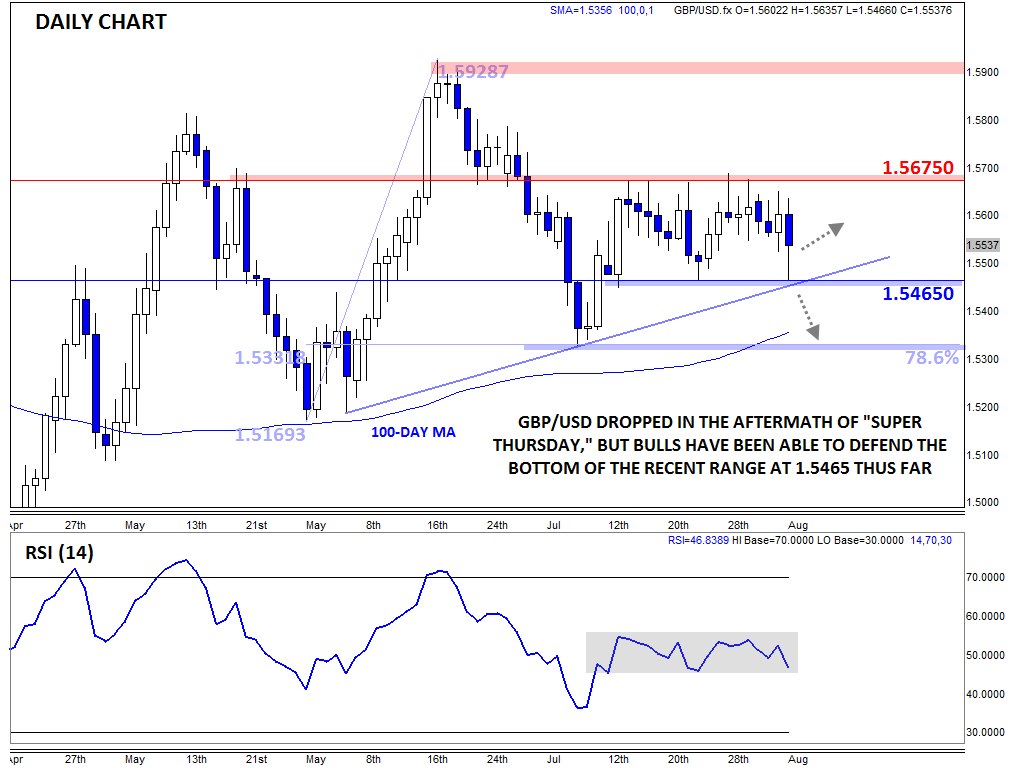 Source: FOREX.com
For more intraday analysis and market updates, follow us on twitter (@MWellerFX and @FOREXcom)