In its latest Statement on Monetary Policy the RBA had a more upbeat tone on the economy as a whole, but did cut its growth forecast for 2016. The bank noted that "data on the domestic economy over the past few months have generally been positive" and "the unemployment rate is now forecast to remain little changed over the next 18 months of so from a level that is a bit lower than had earlier been forecast". It also upgraded its inflation outlook for core-CPI to between 2% and 3% by June and December next year, up from the prior SOMP which was between 1.75% and 2.75% over the same period.
The decline of the Australian dollar was the biggest factor in the upward revision of the inflation numbers, which is ironic because this revision resulted in a rally in the Australian dollar. The same thing happened on Tuesday at the RBA's policy meeting where it removed some harsh language about the Australian dollar, reinvigorating AUD bulls. The bank completely softened its stance on the exchange rate, noting that the Australian dollar is adjusting to significant declines in key commodity prices. This is far cry from the bank's comments on the back of its last policy meeting which suggested that further depreciation in the aussie seems both likely and necessary.
AUDUSD ran towards resistance around 0.7380 on the back of today's report. All eyes are now on the release NFP numbers from the US tonight.
• The health of the US labour market is a major factor in the setting of monetary policy, thus it's very closely watched by the market and the Fed alike. Successive strong employment reports are the backbone of the Fed's case for tighter monetary policy this year and will help determine when the bank begins hiking interest rates. This time around the market appears to be expecting a headline NFP figure of 225K, the unemployment rate to remain at 5.3% and average hourly earnings to increase 2.0% m/m.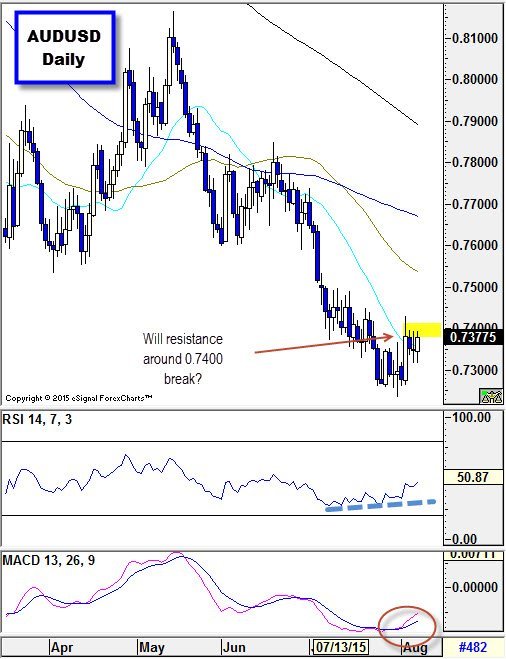 Source: FOREX.com