The pressure in on the Chinese government to introduce more stimulus to offset soft local and international demand. The economy appears to have started the second half of this year on a very sour note, with a sharp deterioration in producer prices and export and import growth. Combined with the volatility still present in China's stock markets, the latest batch of soft trade and PPI numbers increase the likelihood of further stimulus from Beijing.
China's exports fell 8.3%y/y, completely missing an expected 1.5% drop, and imports fell for the ninth month in a row in July (-8.1% y/y). Clearly the domestic economy is struggling from a lack of demand, both from within China and globaly, and a relatively strong currency. This is further evidenced by a fall in producer prices in July to their lowest level since 2009. The PPI fell 5.4% y/y last month, extending 61 months of straight declines.
This may be catastrophic for short-term growth and is a poor start to the second half of the year. The pressure in on the PBoC to loosen its grip on the exchange rate and let it depreciated to support the struggling export sector, but the bank may not give into the pressure. Nonetheless, there may be some more help on the way from the fiscal side of the equation, with the government expected to expand infrastructure spending in coming months.
AUDUSD
The Australian dollar didn't react heavily to the news out of China, largely due to the prospect of further stimulus from Beijing on the back of the data. The aussie also had an overall slightly positive reaction to US employment numbers on Friday. The headline figures were not too bad, with the only real disappointment being softer than expected wage growth. The overall impact on the US dollar appears to have been slightly negative, although AUD is giving up some of these gains early in Asia.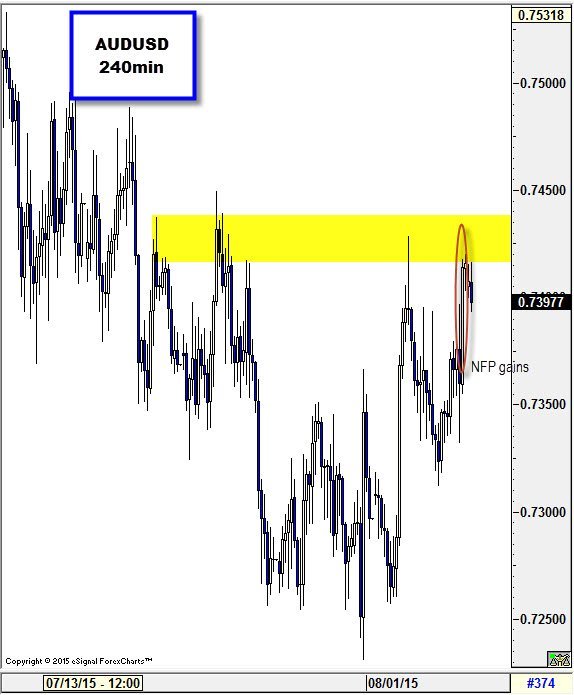 Source: FOREX.com