AUDJPY is once again testing an important short-term resistance zone between 92.25/45. At the end of last week the Bank of Japan (BoJ) signalled that it isn't looking to expand its stimulus program any time soon, with Governor Kuroda stressing on Friday that the bank won't expand its stimulus program unless the sell-off in oil prices infects consumer prices. While there's no doubt that falling oil prices are weighing on overall inflation, Kuroda stated that unless these falling prices discourage companies from raising prices, the bank intends to keep the pace of QQE at around 80 trillion a year annual increase in the monetary base.
This made the yen an attractive short-term target in the wash-up of last Friday's mixed US employment report. Meanwhile, the Australian dollar has been subjected to dismal Chinese trade and producer prices numbers, with AUDUSD shooting below 0.7400 early in the Asia session. It'll be interesting to see how the Australian dollar reacts in the medium-term, and if hopes of further policy easing can ease the negative impact of this round of soft economic data. There's more Chinese economic data due out Wednesday at 0530GMT:
• This round of retail sales, industrial production and fixed asset investment numbers will provide the market with another glimpse into the heart of China's economy. This time around we're expecting retail sales to increase 10.6% y/y, industrial production to rise 6.6% y/y (any lower may concern commodity currencies) and fixed asset investment to jump a healthy 11.5% y/y.
AUDJPY
AUDJPY is testing some tough resistance below 92.50 and may not have the legs this time around given the fundamental threats surrounding the aussie and the possibility for further yen strength in the near-term. From a technical perspective, the pair is looking somewhat neutral, with no overly bullish or bearish undertones. This may indicate a period of consolidation below 92.50.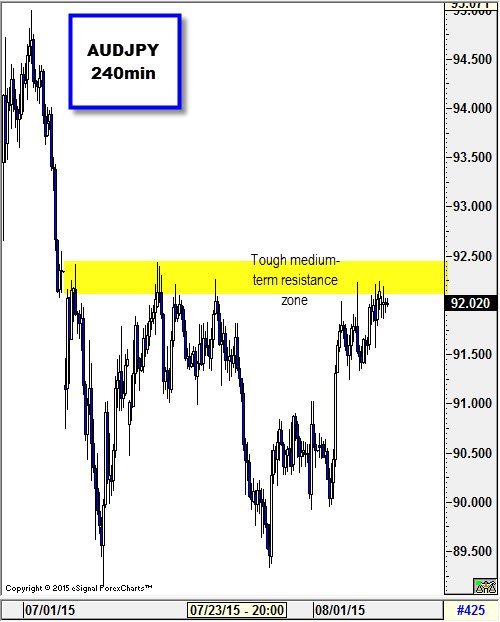 Source: FOREX.com