AUDUSD recovered a lot of its lost ground overnight, following some substantial loses on the back of the PBoC's decision to devalue the yuan. This is raising concerns about the health of Australia's largest trading partner. It also increases the threat of global deflation in consumer prices and commodity prices. Nonetheless, some wide US dollar weakness overnight helped AUDUSD regain some of these losses, with the pair now nudging resistance around 0.7400/15. NY Fed Chair Dudley expressed some fairly unenthusiastic comments about the prospect for tighter monetary policy in the US, which scared Fed hawks.
There's not much happening in Australia for the remainder of the week, but there is some important US economic data which will be assessed as the market attempts to predict when the Fed will begin its tightening cycle.
• 1230GMT – US retails sales (July)
o The pace of growth at the growth level in the US is a very important gauge for the overall health of the economy. Surprisingly weak retail sales numbers in June (-0.3% m/m) caused some market participants to question the pace of economic growth in the US and the likelihood of interest rates rising in September. Retail sales are expected to rebound in July by an encouraging 0.5% m/m, which could keep hopes for a rate hike next month alive, while another weak month for retailers could erase these hopes completely.
• 0115GMT – US industrial production (July)
o Factory output has been restrained recently by soft capital spending, lacklustre global demand and a strong exchange rate. The market is expecting industrial production to advance in July by 0.3%, but this would represent only the second gain this year.
From technical perspective, AUDUSD looks a little trapped. There's a lot of resistance between 0.7400 and 0.7450 and then again around 0.7500, and we don't think it has the legs to climb that high in the near-term. On the downside we're eyeing a stiff, but weakening, support zone around 0.7250.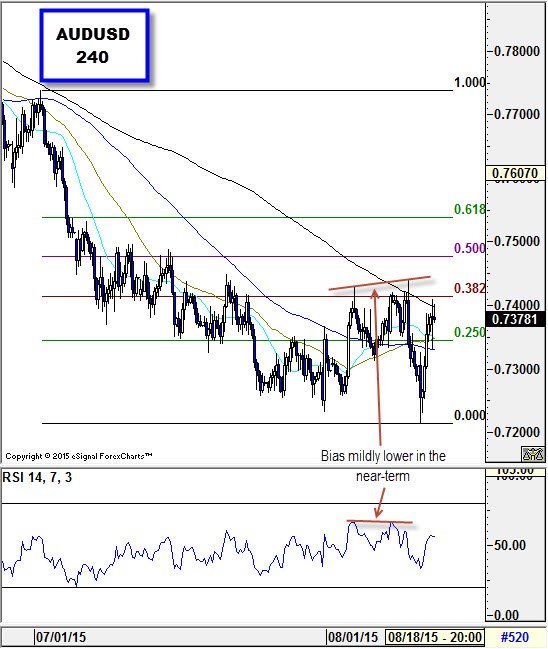 Source: FOREX.com