We rarely check in on the Turkish Lira beyond our weekly Emerging Market FX Rundown, but today's moves in USDTRY practically mandate a closer look. Back in June, the incumbent Justice and Development Party (AKP), ostensibly led by Turkish Prime Minister Ahmet Davutoglu but widely-known as the party of co-founder and current President Recep Tayyip Erdoğan, lost its overall majority for the first time since ascending to power back in 2002. In essence, voters rejected Erdoğan's plan to make himself an executive president with minimal checks and balances on his power, leading to prolonged coalition negotiations between AKP leaders and the Republican People's Party (CHP).
Earlier today, those talks collapsed, opening the door for snap elections in the next few months. In his predictably political press conference afterwards, Prime Minister Davutoglu stated, "We have not been successful in assuring a favorable base for the creation of a government" and that "snap elections have become the only option for Turkey."
As is often the case with political uncertainty, traders chose to shoot (the lira) first and ask questions later, driving USDTRY up to a new all-time high above 2.80. With ongoing political uncertainty to reign for the next few weeks or months, to say nothing of the joint US-Turkey military strikes against Syria, the fundamentals seem to strongly favor more upside in USDTRY.
On a technical basis, the next level of resistance to watch will be the confluence of Fibonacci extensions levels at 2.8550-80, followed by the extreme 161.8% level up at 2.92. This extended level also represents the measured move objective of the recent bullish flag pattern, so a rally to that level cannot be ruled out, especially with the MACD showing strong and growing bullish momentum. To the downside, the 2.75 level may provide support on any short-term dips.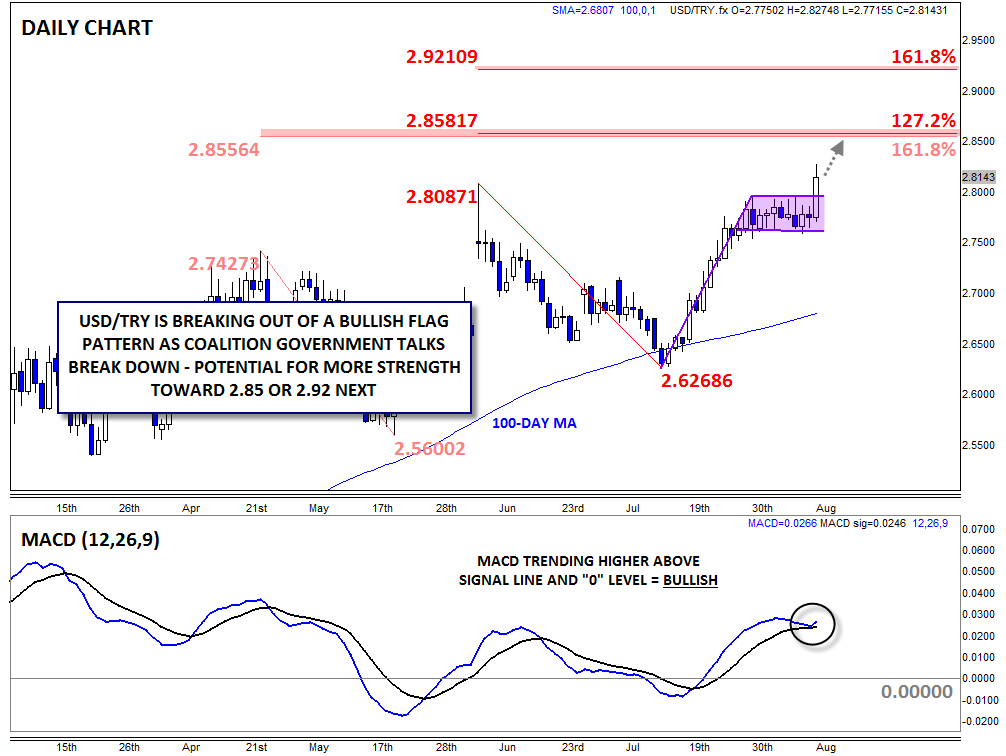 Source: FOREX.com
For more intraday analysis and market updates, follow us on twitter (@MWellerFX and @FOREXcom)