GBPAUD was rejected at a resistance zone around 2.1535 last week, after the pair rallied from just below 2.1000. Is this the pair's new trading range? The rally off support around 2.0850, which represents GBPAUD's 25% fib retracement level from March's low, indicates that price may be limited on the downside.
This isn't surprising given the long-term fundamentals underpinning the pair; a divergence of monetary policy between of Australia and the UK, reinforced by soft economic conditions in the former and encouraging signs for the latter. In fact, the UK is widely expected to closely follow behind the FOMC's anticipated tightening cycle at a time when interest rates in Australia are at a historical low. This notion has been fuelling a rally in GBPAUD for most of the year, with the pair rising over 3,000 pips at its highest point last week.
However, there are cracks in GBPAUD's support pillars. Inflation remains very soft and there are even some questions about the overall health of the labour market after soft wage data last week. Also, many economists in Australia are now calling an end to the tightening cycle after the RBA removed its easing bias at its policy meeting earlier this month.
Overall, it may be time for a period of consolidation in GBPAUD as the market reassesses the potential for further gains. On the downside, we're keeping a close eye on support around 2.0850, a break of which could see price make a run for 2.0520/70. If price manages to break a tough resistance zone around 2.1535, we would be back in territory unseen since Q1 2009.
Data watch this week:
0130GMT – RBA meeting minutes (August)
• This was an almost game-changing meeting for the Australian dollar. At the meeting the bank completely removed its dovish bias and a ceiling on AUD by withdrawing its verbal assault on the currency. The RBA was also more upbeat on the Australian economy, implicitly highlighting an uptick in business confidence. However, business confidence figures had taken a big hit since then and the aussie has climbed.
0830GMT – UK CPI (July)
• The already slim chance of the BoE hiking sooner than the Fed seems to be fading, largely because of a soft outlook for inflation. After emerging from a period of deflation at the beginning of the year, consumer prices have been broadly pushing higher month-by-month. This all changed in June when the pace of CPI growth slowed to 0%. In July, we're expecting return to deflationary conditions marked by a 0.3% m/m drop in headline CPI; core-CPI is expected to remain at 0.8% y/y.
0830GMT – UK retail sales (July)
• Retail sales ex. auto fuel unexpectedly dipped in June by 0.2%, although the year-on-year growth rate still remained strong at 4.2%. This time we are expecting a slight drop in y/y growth to 4.1%, which is still strong, and month-on-month growth to increase 0.2%. This report should have a limited impact on the pound unless these estimates completely miss or beat expectations.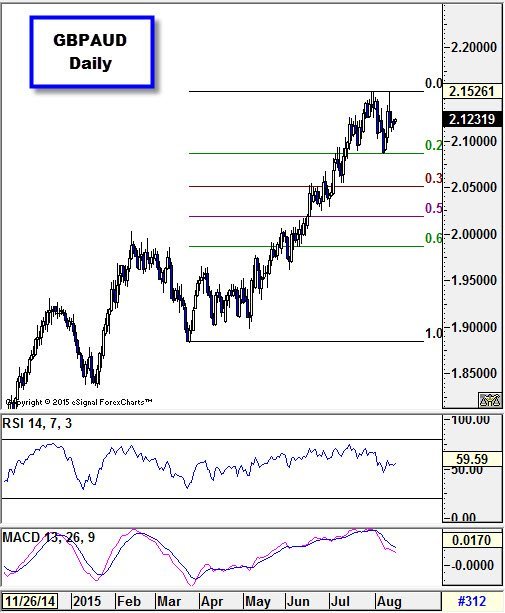 Source: FOREX.com