"This is our most desperate hour. Help me, Obi-Wan Kenobi. You're my only hope."
-Princess Leia, Star Wars
While perhaps not as desperate the Princess Leia's hostage situation at the beginning of the 1977 film "Star Wars," USD/CHF bulls certainly feel that it is a desperate hour and that today's FOMC minutes may be their only near-term hope for salvation.
For the last two months, the pair has been grinding consistently higher, tacking on 750 pips from its mid-June low to last week's high. As of writing though, the rally has seemingly run out of steam and the unit is at risk of breaking below its bullish trend line around the .9700 handle. Today's drop has been driven by a retreat in the dollar after this morning's disappointing July CPI reading and a dollop of save haven demand for the Swiss franc. The secondary indicators are hardly supportive: the 14-day RSI already broke below its corresponding bullish trend line last week, while the daily MACD indicator has rolled over and is now reverting back toward the "0" level.
As we noted earlier, a more hawkish-sounding Federal Reserve is needed to bring some support to the dollar, but traders will be cognizant of the recent bearish changes in the global economy (a renewed drop in the price of oil and China's surprising currency devaluation) since the Fed last met three weeks ago. Meanwhile, if the Fed minutes show the central bank was already very cautious before the situations in China and the energy market, it could dash hopes of a September rate hike and open the door for a deeper retracement in USD/CHF.
The next support levels to watch if we do see a bearish breakdown will be the 38.2% Fibonacci retracement at .9615, the 50-day MA at .9530, and the 61.8% Fibonacci retracement at .9435. A more bullish reaction could keep the 2-month bullish channel intact for a move back up toward .9900 or the psychologically-significant parity (1.00) level.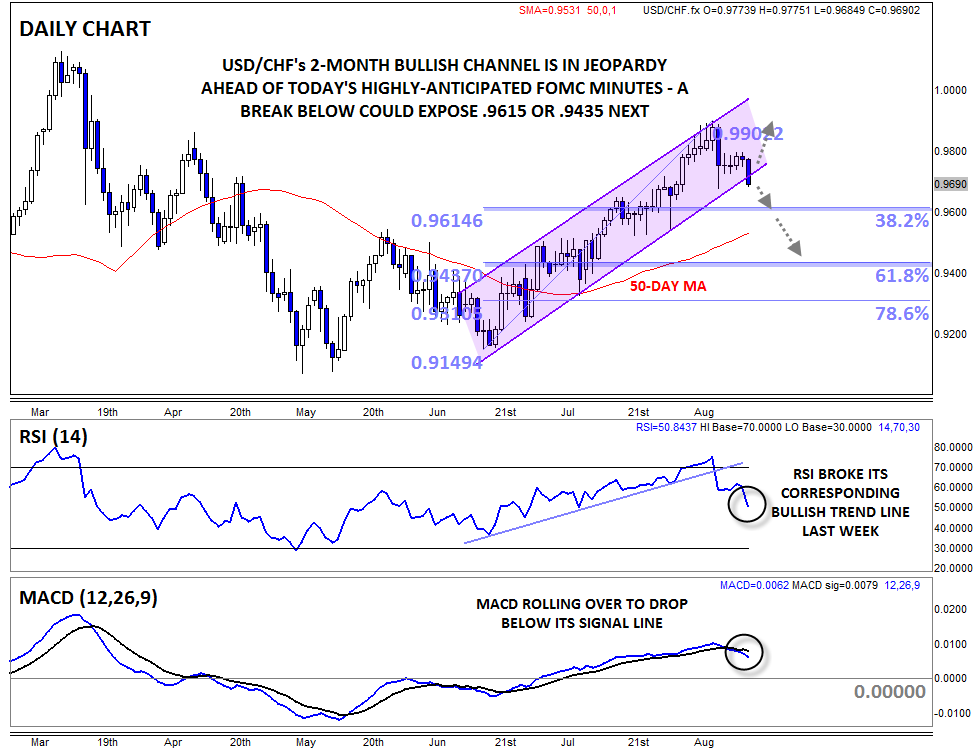 Source: FOREX.com
For more intraday analysis and market updates, follow us on twitter (@MWellerFX and @FOREXcom)