Equity markets in Asia are being infected by uncertainty, with all the major exchanges in the red at the time of writing. Investors are concerned about the impact of falling commodity prices, the outlook for US interest rates and volatility in China A shares. This heightened level of uncertainty is very dangerous for equity markets teetering at extreme heights on unstable ground.
In Australia, the ASX 200 is presently set to finish the year in the red for the first time since 2011. Admittedly, the year is far from over, but it's very telling that the index resoundingly failed to break through a ceiling around 6,000 and has since lost almost 700 points. The sell-off has been blamed on a lot of things but the main causes are falling key commodity prices underpinned by soft global demand, a besieged local economy and major concerns about the outlook for China's economy and its equity markets.
The resources sector has been hammered and a recovery is unlikely without a pick-up in commodity prices and earnings, which looks unlikely given the performance of emerging markets and a lack of global demand. Also, banking stocks have been hit on fears of decreased profitability on the back of stricter capital requirements, with the banking sub-index of the ASX 200 down almost 20% since its peak in March.
As one would expect, the increased pessimism in the market has pushed the price/earnings ratio down and the risk-yield on offer locally isn't attractive when conditions are so uncertain. Macro-risk is very high and no sector of the index is immune, which could keep the index pinned down in the near-term. There's just not enough fuel for bulls at this time, although bargain hunters could lead short-term rallies.
From a technical perspective, the recent sell-off in the ASX 200 has pushed it through the base of its long-term upward channel, suggesting that the upward trend has finished, at least for now. In the near-term, we're eyeing off support around 5,300; a break of which could see price make a run for 5,200/5,150. Falling volumes also indicates that participants are looking overseas…
ASX 200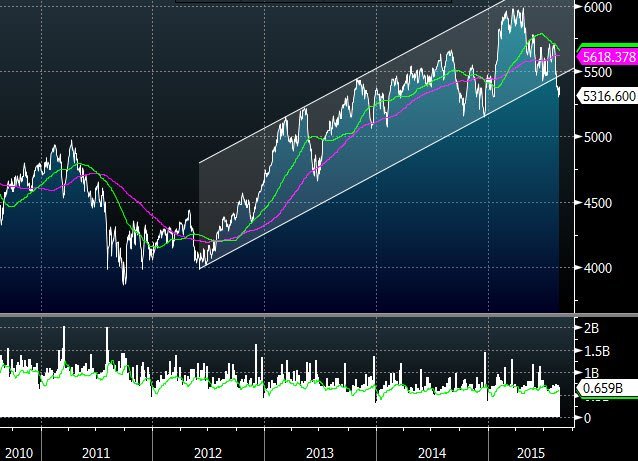 Source: FOREX.com