Earlier this week, my colleague Chris Tedder noted that NZD/USD had "a new lease on life" after a nearly 15% rise in this week's GDT auction (dairy products are New Zealand's most important export) as well as strong wage growth data. This analysis has proved prescient, as the kiwi has since rallied all the way up to .6700, helped along by general weakness in the US dollar as hopes of a September rate hike from the Federal Reserve continue to fade.
While the long-term bearish drivers for NZD/USD have hardly changed meaningfully, the recent price action could portend a larger rally in the near term. As of writing, the unit is showing a sizeable Bullish Marubozu Candle* on the daily chart, showing strong buying pressure and hinting at a possible continuation as we head into next week. Meanwhile, the both the MACD and RSI have been trending higher since late June and are at their highest levels in at least three months. The uniform improvement in a variety of technical indicators shows that the "character" of the market has changed since the big Q2 downdraft.
If we do see NZD/USD close the week above the 50-day moving average at .6680, a continuation up to previous resistance and the shallow 23.6% Fibonacci retracement at .6770 could be next. If and when that level is reached, it will serve as a critical test of the bulls' mettle: a conclusive break above .6770 would open the door for a more substantial rally to the 38.2% retracement at .6950, whereas a failure to breach that barrier would likely lead to more consolidation in the mid-.6000s.
* A Marubozu candle is formed when prices open very near to one extreme of the candle and close very near the other extreme. Marubozu candles represent strong momentum in a given direction.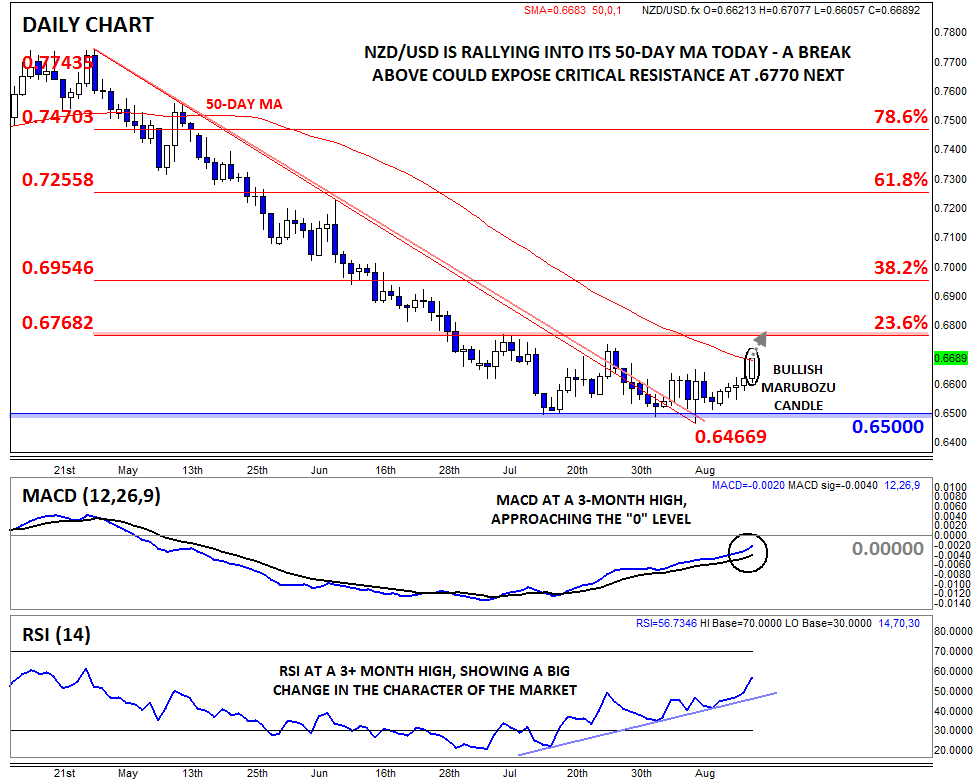 Source: FOREX.com
For more intraday analysis and market updates, follow us on twitter (@MWellerFX and @FOREXcom)