Bears have mauled risk assets in Asia, with commodities, equities and commodity-backed currencies falling victim to the risk-adverse sentiment in the market. The global panic was sparked by fears about the health of China's all-important economy after persistent weakness in recent economic numbers and extreme volatility in its stock market.
As we explained this morning, the aussie, looine (Brent crude dropped below $45/bbl for first time since March 2009) and kiwi have felt the brunt of the bears attack on the FX market - the Bloomberg Commodity Index fell to its lowest level since 1999 - in Asia and not a single major equity market has been able to escape the bloodbath – S&P 500 futures are down around 3% at the time of writing.
The Shanghai Composite is down on the year
China is at the centre of the massacre, with the Shanghai Composite down almost 8.5% at the time of writing, despite reports that the government is going to allow state pension funds to invest in the stock market for the first time. Some were expecting the PBoC to cut interest rates again over the weekend in response to last week's sell-off but it didn't, which could be compounding the index's problems. It has now completely erased all of its gains this year; in only June the Shanghai Composite was up around 60% (most of these gains were wiped out in late June/early July and the most recent sell-off which began last Monday).
Shanghai Composite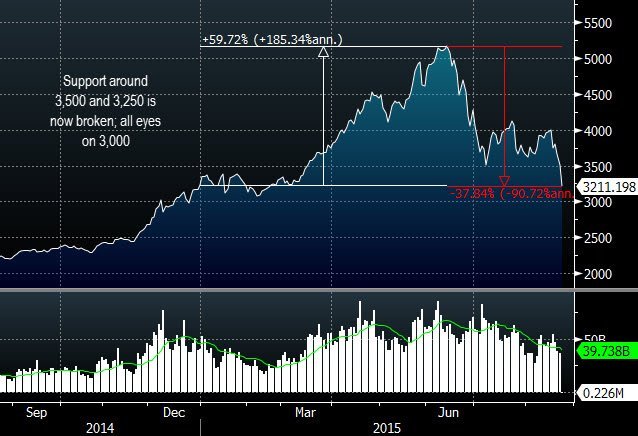 Source: FOREX.com
I see lots of red…
The Shenzhen is still up around 33% this year (down around 7.6% on the day), but it is falling from much higher than the Shanghai Composite. In other parts of Asia, the ASX 200 is down around 3% and the Nikkei is down around 3.9%; the latter has more to fear from risk adverse investors than most, as the yen is an attractive safe-haven play in this environment. The Topix is even worse off at -4.85% at the time of writing, with banks leading the decline (financials are down over 6%).