Amidst the rollercoaster ride that unexpected seized most global markets over the last few days, trade in GBP/USD has remained relatively sanguine. Cable rallied "just" 80 pips on Monday, while the dollar lost far more value against the euro and yen, before reversing that move on Tuesday to trade back at the 1.5700 level. As of writing, it looks like GBP/USD is finally ready for its day in the sun, and so far, the sun seems shining only on the bears.
From a fundamental perspective, today's second-tier UK economic data was generally solid, with BBA mortgage approvals coming in at 46k in July as anticipated and CBI realized sales beating expectations at 24 vs. 19 eyed. Nonetheless, GBP/USD still sold off amidst general strength in the greenback, a move that was only exacerbated by the just-released US Durable Goods Orders report. This report, which measures the purchases of long-term products like automobiles, appliances, and airplanes, rose at a sold 2.0% m/m rate, with the ex-transportation (core) figure rising at a 0.6% m/m rate. Combined with yesterday's strong consumer confidence figure, the durable goods report suggests that the citizens and businesses were brimming with confidence in July, though it remains to be seen whether the recent market volatility has dampened expectations.
Looking to the chart, it feels as if traders were looking for an excuse to sell the pound after Monday's rally. Yesterday's price action created a clear Dark Cloud Cover* candlestick pattern on the daily chart, showing a shift from buying to selling pressure and foreshadowing today's continuation lower. Meanwhile, the unit has now dropped below its 50-day moving average, which had previously provided support and the RSI indicator (bottom pane below) is inching below its bullish trend line.
With this series of bearish developments over the last 48 hours, GBP/USD may see another leg lower in the days to come. To the downside, there is a critical area of support near 1.5500, where the 3-month bullish trend line and 100-day MA converge. A break below that level could open the door for a continuation toward 1.5400 or lower in time. Meanwhile, only a move back above the 50-day MA at 1.5615 would shift the near-term bias back to neutral.
* A Dark Cloud Cover is formed when one candle opens near the top of the previous candle's range, but sellers step in and push rates down to close in the lower half of the previous candle's range. It suggests a potential trend reversal.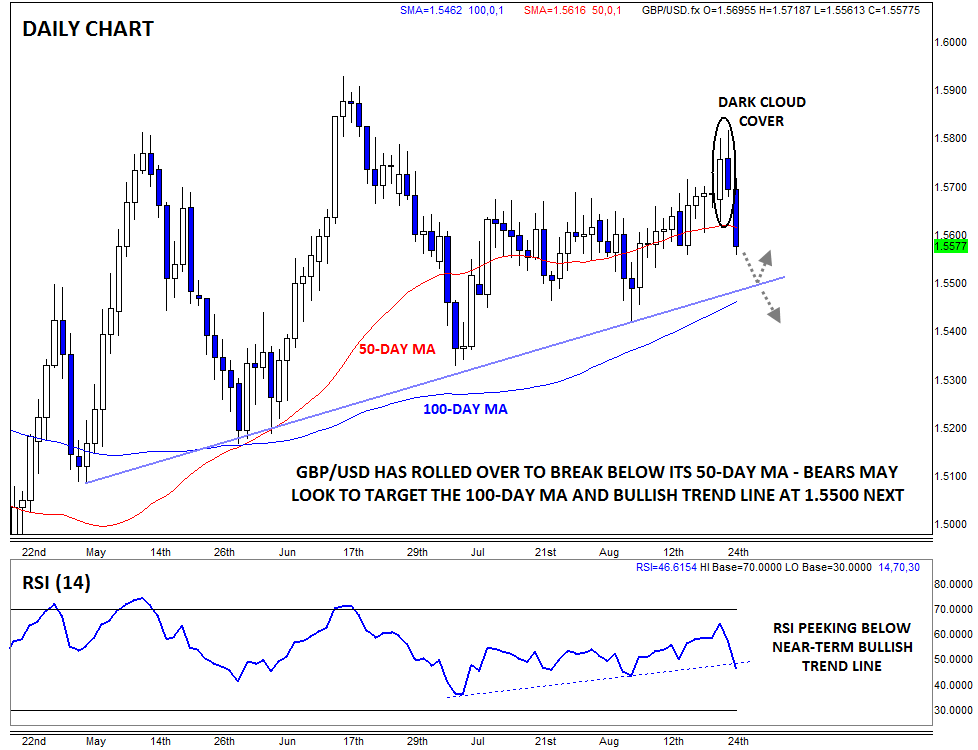 Source: FOREX.com
For more intraday analysis and market updates, follow us on twitter (@MWellerFX and @FOREXcom)