The mining sector in Australia is weighing heavily on overall capital expenditure and investment. Australian private capital expenditure fell a seasonally adjusted 4.0% in Q2, missing an expected 2.5% q/q fall. Buildings and structures fell 5.6% and equipment, plant and machinery dropped 1.2% last quarter. Since the same period last year total new CAPEX has fallen a disheartening 10.5%, led by a 16.7% decline in building and structure spending over the same period.
The main contributor to softening spending levels remains the mining sector, with estimate 3 for 2015-2016 for mining dropping 37.1% since the same estimate for 2014-2015. It comes as no surprise that the mining sector is dragging on overall business investment as demand for some key Australian commodity continues to wane and commodity prices fall.
The market is looking for life outside of the resources sector, and looking deeper into today's report there are some green shoots visible in non-mining sectors. Estimate 3 is almost 10% higher than estimate 2 for the same period, and the main contributor is an impressive 17.2% increase in other selected industries.
A mild bright spot in the report helped AUD look past the headline miss in actual capital expenditure, but the overall report still highlights how weak economic investment across the entire economy is. Non-mining parts of the economy aren't close to picking up the slack being left behind by falling mining investment, thus it's worth taking today's mildly positive news with a grain of salt.
AUDJPY
The Australian dollar has been plagued by the risk-off sentiment in the market and rumours that the market turbulence will push the RBA to loosen monetary policy further. Meanwhile, the yen has been the safe haven currency of choice, which has led to a massive sell-off in AUDJPY.
AUDJPY plummeted through 90.00 earlier in the weak and almost touched 82.00 at one stage, before rebounding to around 85.00. There's some technical room for retracement, but the overall bearish indicators haven't been removed. Below 85.00 we're eyeing 84.25 and then 82.15.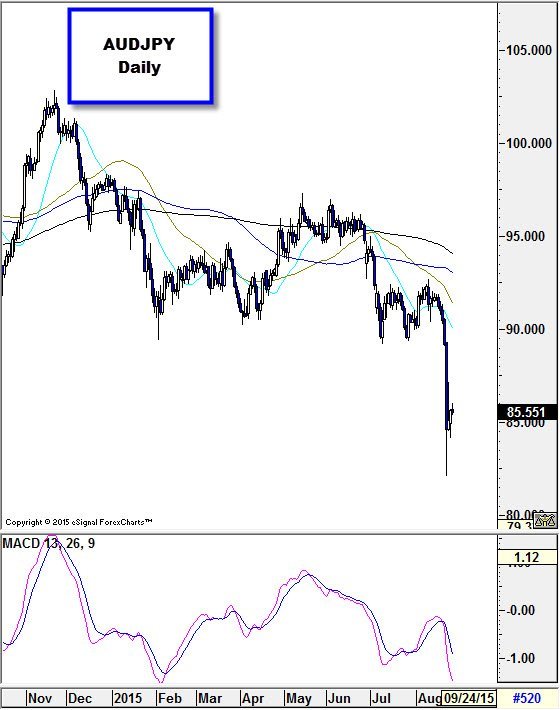 Source: FOREX.com