"Can we go back, this is the moment
Tonight is the night, we'll fight 'til it's over
So we put our hands up like the ceiling can't hold us
Like the ceiling can't hold us"
Macklemore, "Can't Hold Us"
We've looked at pound sterling from a couple of different directions so far this week (see here and here for more), but EUR/GBP may offer the most interesting setup, especially with the European Central Bank meeting concluding tomorrow.
In all likelihood, the venerable institution will not make any changes to its monetary policy, leaving its quantitative easing (QE) program and interest rates unchanged at 0.05% (refinancing rate) and -0.20% (deposit rate). That said, ECB President Mario Draghi could still offer hints that could help handicap what the bank is likely to do in the future. Most prominently, traders will closely scrutinize any comments about the ongoing slowdown in China's economy. Beyond China, any concern about the recent uptick/stabilization in the value of the euro could help nudge traders back into short euro trades. Finally, the ECB will also release its latest staff projections on economic growth, inflation, and unemployment, which can provide a longer-term "baseline" view of future conditions.
Technical View: EUR/GBP
Turning our attention to the chart, we can see that EUR/GBP is testing a critical resistance barrier at .7390. The unit has been rejected from this ceiling on at least five occasions over the last six months, and so far today, bears have been able to defend that key line in the sand.
Beyond previous resistance, the 200-day MA also comes in around that level at roughly .7350 and the RSI indicator is forming a small bearish divergence with last week's high, so there are certainly a number of signs that the pair could top out here, especially if the ECB comes off as dovish.
On the other hand, if the Draghi and company do not sound particularly concerned with the recent market turmoil, a breakout above that resistance level and a continuation toward .7500 or .7600 could certainly be in play. One way or another, bulls are likely to find out if the "ceiling can't hold [them]" in the next 48 hours.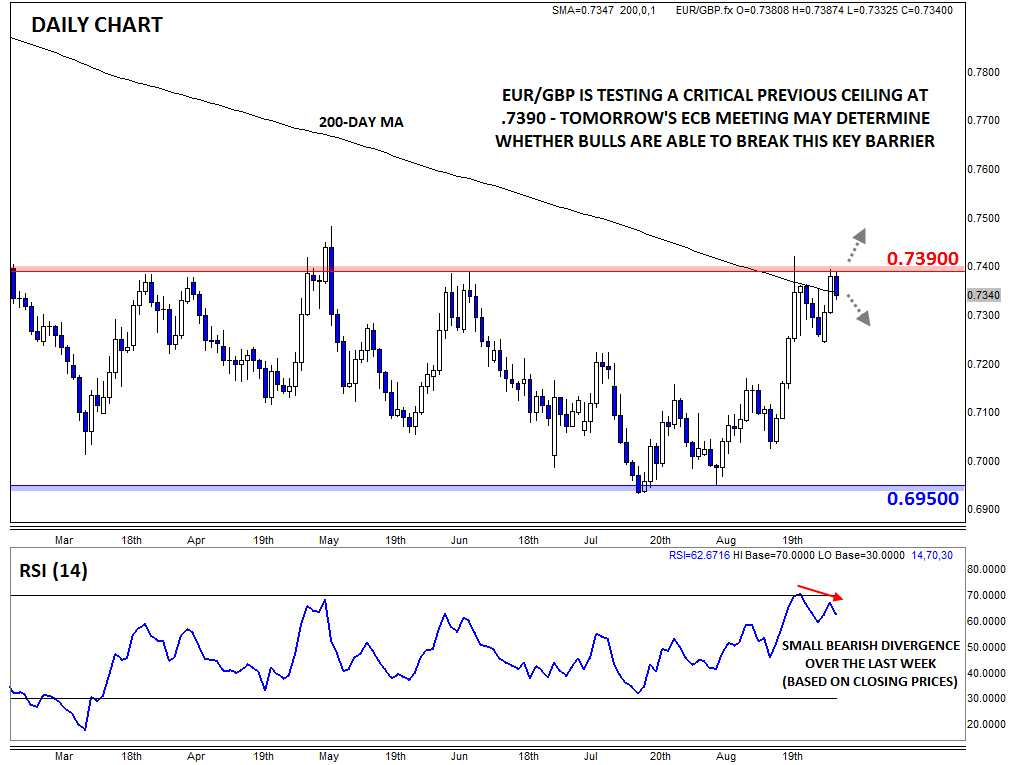 Source: FOREX.com
For more intraday analysis and market updates, follow us on twitter (@MWellerFX and @FOREXcom)