To put it politically, many analysts and traders take official Chinese economic data with a big grain of salt. The central government has long been suspected of "massaging" economic data to match up with the country's aggressive growth goals, and as a result, skeptical traders tend to focus on third-party economic measures for a better read of the current conditions in the world's second-largest economy. Unfortunately, that strategy is about to get a lot more difficult.
Earlier this year, the UK bank HSBC unexpectedly ended its sponsorship of China's Markit Manufacturing PMI report. At the same time, the Chinese business magazine Caixin stepped in to continue to the publication of the report, raising eyebrows for traders who worried that the politically-connected media company could threaten the objectivity of the indicator.
Last night, the next shoe dropped: Markit and Caixin published a statement saying that the "flash" version of the PMI report, which is released one week ahead of the just-published final version and crucially, the official government reading, would be discontinued. No reason was given. The upshot of this announcement is that the government report will now be the first report for this critical on-the-ground measure of China's economic health, though Markit and Caixin will continue to release its own "final" PMI figure 45 minutes after the official reading. For China "truthers", this change raises more doubts about the quality of economic data from the region and suggests that growth may be even slower than widely expected.
Turning our attention to the data, it was predictably in line with expectations. The official PMI readings came in at 49.8 and 53.4 for Manufacturing and Services, respectively. Meanwhile, the Markit/Caixin readings were, as usual, lower at 47.2 and 50.5, respectively. Even traders who wholeheartedly trust in the integrity of these reports must admit that that they show an economy that is, at best, barely growing. Until there are clear signs of an "on the ground" recovery in China's economy, commodities and commodity currencies may continue to struggle.
Technical View: USDCNH
China's currency has actually strengthened since the early-August revaluation. After briefly peeking above 6.50, USD/CNH has dropped down to the mid-6.30s as of writing. For what it's worth, the pair continues to edge lower within a clear bearish channel, allaying fears that the yuan would fall dramatically after the shift to a more market-based exchange rate.
Given the current technical setup, China bears may want to wait to see if USD/CNH can break out of its bearish channel before shorting the yuan. To the downside, the next major level of support to watch will be the 78.6% Fibonacci retracement at 6.30.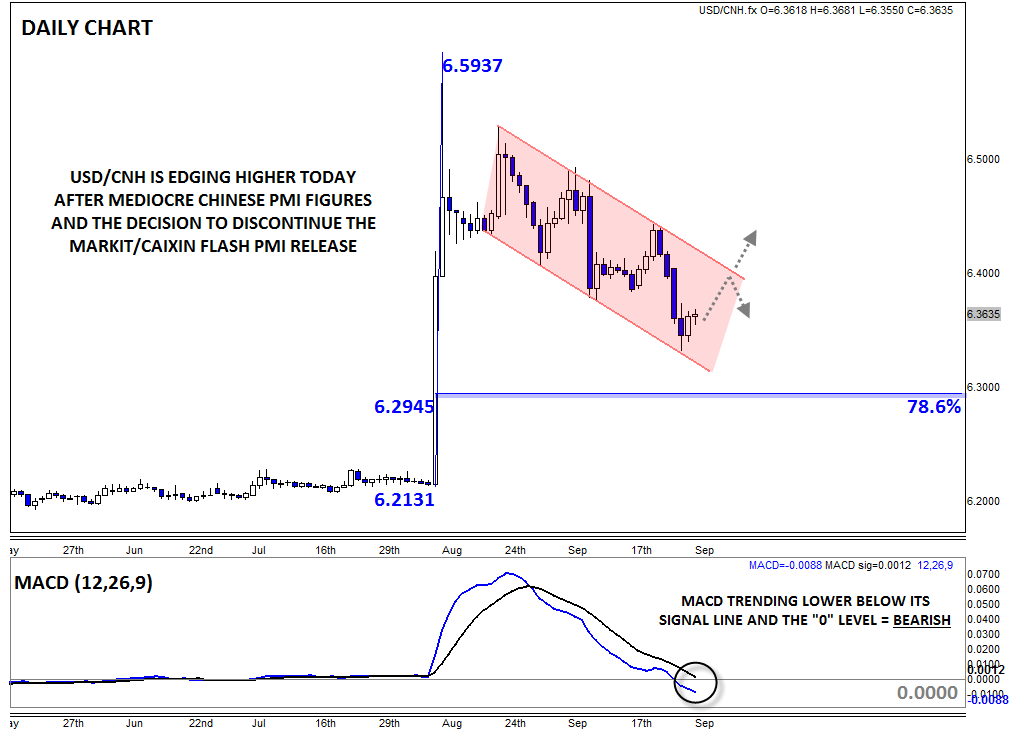 For more intraday analysis and market updates, follow us on twitter (@MWellerFX and @FOREXcom)