In what was otherwise a very quiet overnight session, the Australian dollar edged higher as the Reserve Bank of Australia (RBA) maintained a neutral bias in its monetary policy meeting. As widely expected, the RBA left its main interest rate unchanged at 2.0% and did not make any other changes to monetary policy. In its essentially unchanged statement, RBA head Glenn Stevens noted that "The global economy is expanding at a moderate pace" and that "global financial conditions remain very accommodative."
While the neutral decision was hardly a surprise, many analysts thought that the central bank would hint at a rate cut in the future given weakness in commodity prices and China's economy. The statement did note that Australia's terms of trade were falling (a fact that was also reflected in the unexpectedly large August trade numbers released just before the RBA's decision), but concluded that the recent drop in the Aussie's value and strength in the housing market offset export weakness.
Despite the clearly neutral statement, the interest rate swaps market is still pricing in a 40% chance that the bank will cut interest rates by December, showing that traders remain skeptical of the health of the Australian economy. In an eerie parallel to the situation in the United States, traders are far more pessimistic on the prospects for the economy than central bankers, and the resolution of the "trader vs. central banker" disagreement will be one of the major drivers for the market over the rest of the year. So far, the market's skepticism has been borne out, so we're inclined to side with the mostly dovish traders.
Technical View: AUD/USD
Based on the recent price action, traders were already anticipating the cautiously optimistic tone from the RBA. AUD/USD edged above .7100 in the immediate aftermath of the release, but trade remains relatively subdued overall. The recent downtrend has clearly lost momentum over the last month or so, with strong support emerging at the .6950 level. The stabilization has also been reflected in the secondary indicators, with the RSI rising to resistance at the 55 level and the MACD turning higher (though still below the "0" level).
Taking a step back though, there are plenty of reasons for technical concern on AUD/USD. The pair remains solidly within its 5-month bearish channel and below its downward trending 50-day moving average. Even if those barriers at the .7175 level are broken, major previous-support-turned-resistance at .7270 could still cap rates on a medium-term basis. As long as AUD/USD remains below that level, we're inclined to give the established downtrend the benefit of the doubt.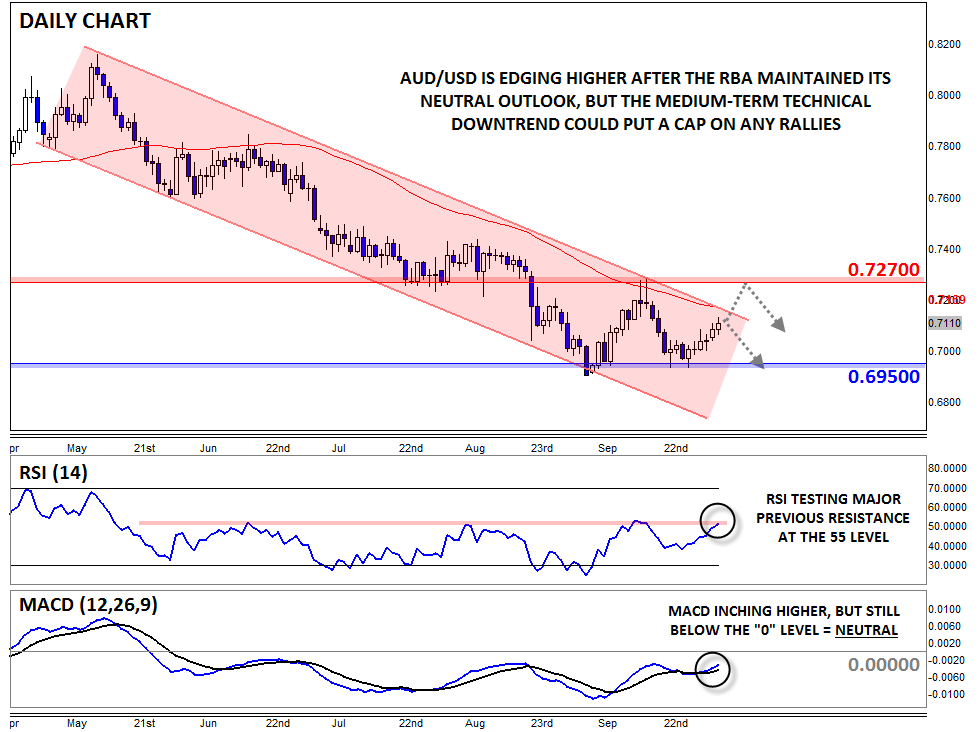 For more intraday analysis and market updates, follow us on twitter (@MWellerFX and @FOREXcom)