As we noted earlier this morning, traders are hyper-focused on tomorrow's ECB meeting as the most market-moving fundamental event this week, though there's certainly a risk that the central bank merely toes the party line and nothing substantial comes of it.
The only other major central bank in action this week was the Bank of Canada, which left interest rates unchanged, as expected. In its accompanying statement though, the central bank lowered its growth forecasts for each of the next two years (down to 2.0% in 2016 and 2.5% in 2017). The statement went on to note that "[t]he weaker profile for business investment suggests that, in the near term, growth in potential output is more likely to be in the lower part of the Bank's range of estimates."
The Canadian dollar has predictably traded lower in the wake of this news (not to mention today's weakness in crude oil), with USD/CAD rallying over 100 pips to trade back above 1.3100, but whether this move has legs remains to be seen.
Technical view: EUR/CAD
Given the two major central bank meetings highlighted above, EUR/CAD is a particularly interesting currency pair at the moment. Rates have been trapped in a descending triangle pattern for the past two months. Strong support in the 1.4600 area has now held on three separate occasions, and in the wake of the post-BOC bounce, the pair is now testing its near-term bearish trend line for the third time as well.
While a descending triangle is often seen as bearish, it's worth noting that this formation emerged in the context of an overall uptrend, so it may represent a continuation pattern if rates can clear the bearish boundary line at 1.4900. Indeed, the corresponding resistance line in the RSI indicator has already been eclipsed, suggesting that a topside breakout in EUR/CAD is more likely.
If we do see a confirmed bullish breakout (perhaps on the back of a less-dovish-than-expected press conference from ECB President Draghi tomorrow), EUR/CAD bulls could target the previous highs at 1.5150 or even 1.5550 in the days to come. At this point, only a break below strong support at 1.4600 would call the longer-term uptrend into question.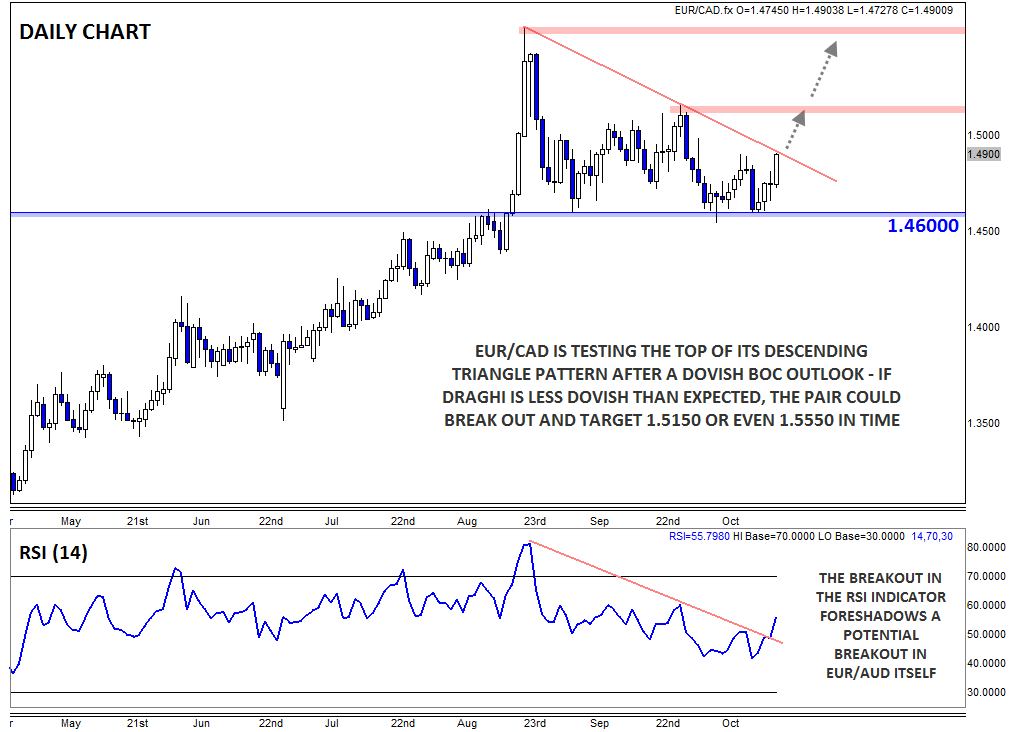 Source: FOREX.com
For more intraday analysis and market updates, follow us on twitter (@MWellerFX and @FOREXcom)