In one the least surprising moves of the month, the European Central Bank refrained from making any changes to monetary policy in today's meeting. The bank left all of its key interest rates unchanged and also opted to maintain its €60B monthly quantitative easing program for now.
Of course, markets are always forward-looking, and the ECB definitely provided some actionable hints about potential future monetary policy changes for traders. Some of the key headlines from ECB President Draghi's press conference follow (emphasis mine):
Governing Council willing and able to act by using all tools within its mandate if warranted for an appropriate degree of monetary accommodation
The degree of monetary policy accommodation will need to be re-examined at our December monetary policy meeting
The asset purchase programme provides sufficient flexibility in terms of adjusting its size, composition and duration
QE will run until the ECB sees a sustained adjustment in the path of inflation consistent with its target
ECB considered cutting the deposit rate further
There are risks which could further slow the gradual increase in inflation rates towards levels closer to 2%
Risks to the growth outlook remain on downside, reflecting in particular heightened uncertainties from emerging market economies
In case you're not well-versed in the arcane language of central-banker-speak, this is a very dovish (downbeat) assessment of the European economy. The repeated comments about adjusting the bank's QE program, including the nod to "re-examining" the program ahead of December's meeting, is as clear a signal that the ECB is likely to expand QE this year as a central banker will give. In a nod back to Jean-Claude Trichet's reign as head of the ECB, Draghi even noted that the bank would be "vigilant" about risks to inflation; Trichet was infamous for using this terminology as a warning sign before cutting interest rates.
Market Reaction
Plenty can (and will) change ahead of the ECB's December meeting, but euro traders chose to shoot first and ask questions later in the wake of the press conference. EUR/USD has dropped all the way through the 1.1200 handle as of writing (from 1.1350 beforehand), and traders could now turn their eyes toward the 200-day MA at 1.1120 next. Predictably, European equities and bonds rallied, with the DAX tacking on 70 points and the German two-year yield falling to a new low of -0.3%.
Mario Draghi fulfilled even the most dovish of doves' fantasies today, so further downside in the euro (and strength in European equities) is a definitive possibility moving forward. Traders will be watching strong support at 1.1100, where the 200-day MA, medium-term bullish trend line, and previous lows converge, on EUR/USD.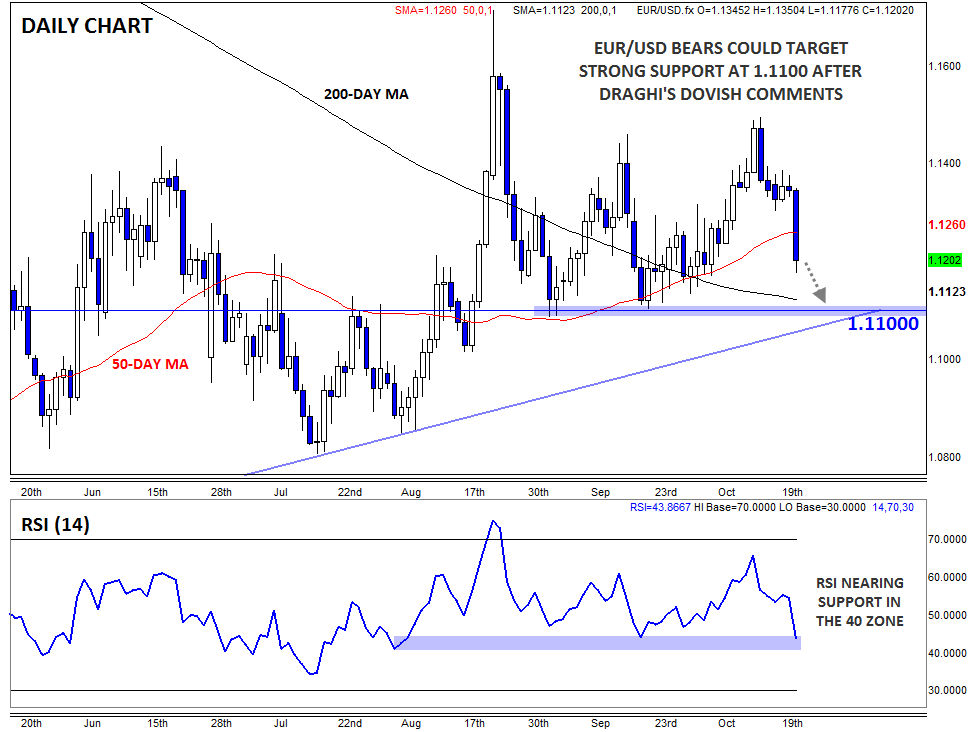 For more intraday analysis and market updates, follow us on twitter (@MWellerFX and @FOREXcom)