It will no doubt be a week to watch when it comes to G10 economic data, but for emerging markets, most of the market-moving developments took place last week. Below, we recap this weekend's election surprise in Turkey, as well as look at manufacturing activity across the entire EM spectrum
USD/TRY: Election results "just right" for TRY?
Heading into this weekend's Turkish general elections, most opinion polls were pointing to another hung parliament, so the news that the AKP party had secured an outright majority shocked observers. Even the votes were counted quickly, with results announced two hours "ahead of schedule" (at least relative to the June elections).
From a markets perspective, traders are viewing the election results as "just right" for the lira and other Turkish assets. Most importantly, the sweeping AKP victory removes the major political uncertainty that has dogged the lira for the past few quarters, allowing traders to refocus on Turkey's generally strong economy, which is growing at 3.8% y/y with a comparatively small budget deficit. Interestingly, the election win will allow the AKP to form a majority government with 316 total seats, but not allow its politicians to call for referendums to amend the constitution, providing a limit on the party's political power.
USD/TRY gapped down sharply on the news, falling around 4% from 2.91 to 2.82 as of writing. For what it's worth, 61.8% Fibonacci retracement support at 2.80 is still putting a floor under rates, but a break below that level could expose the 78.6% Fibonacci retracement at 2.72 next. Meanwhile, the previous uptrend has been definitively broken, so traders may look to fade near-term bounces back toward 2.90.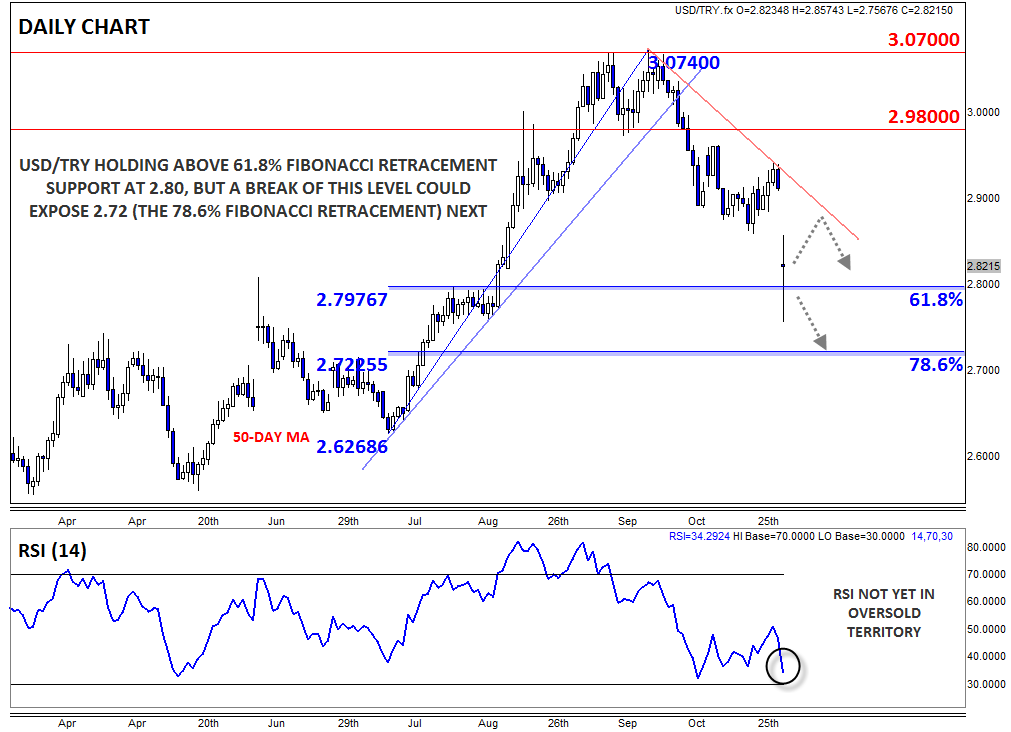 Source: FOREX.com
Manufacturing PMI data shows green shoots for EM industrial activity
Looking more broadly, today's raft of global Manufacturing PMI figures suggest that EM industrial activity could be starting to trough, though we're hesitant to read too much into a single month's data. According to Markit, the aggregate EM Manufacturing PMI rose to 49.0 (from 48.5 last month). While this reading still sits below the expansion/contraction level at 50, it is the first time this measure has seen a month-over-month rise since February. Looking on a slightly more granular level, emerging Europe (especially Russia) stands out as a strong spot, whereas emerging Asia remains subdued.
Today's data suggests that many EM economies could be starting to turn the corner, but any potential recovery will remain fragile for the foreseeable future. If, for instance, the US Federal Reserve opts to hike interest rates at its December meeting, the resulting capital flight out of Emerging markets could lead to another leg lower in economic activity. Finally, as we touched on above, it will remain critical for traders to differentiate between the relative performance of different EM economies, asset types, and currencies to maximize their advantage.
For more intraday analysis and market updates, follow us on twitter (@MWellerFX and @FOREXcom)