Dr Copper's woes go from bad to worse and the industrial metal seems to be on the verge of another leg lower. Copper is of course used in a wide range of products and industrial applications, which makes it a leading indicator for the health of the global economy. So it is not a good sign that prices are falling.  But should we really be worried?
After all, there are several common denominators for the on-going weakness in commodity prices across the board. First and foremost it is the excessive supply of the commodities thanks in part to their past price gains which led to a boom in production. The resulting price declines should have been expected to happen at some stage down the line, although the magnitude of the falls is worrying nonetheless. Commodities are all priced in the US dollar and with the greenback looking strong and rising thanks to growing expectations of an imminent interest rate hike there, this is applying additional pressure.
But it is perhaps the weaker demand prospects due in part to a slowing Chinese economy and fears over the economic impact of a potential US interest rate hiking cycle on emerging economies that are unnerving investors the most. Recent macroeconomic pointers from China, including Wednesday's factory output data, which showed activity slowed to a seven month low of 5.6% in October, continue to point to weaker demand growth for commodities from the world's second largest economy. If this trend of weaker data continues then commodity prices could fall a lot further.
But there is so much prices could fall of course, and with miners such as Glencore rushing to scale back production, the copper market should begin to tighten and price falls to at least slow down. However, Australian miners are still producing more and are ready to expand production. The weaker Australian dollar is obviously an advantage for miners Down Under, which has cushioned the impact of the drop in US dollar-denominated copper prices. They are gaining market share and it will thus be in their interest to keep extracting as much of the stuff as possible, in theory until such a time that marginal costs from additional units of production equal marginal revenues from those units sold. So much like the oil market situation, the glut is likely to remain in place in the near term and thus weigh on prices. But in the long term, the market should naturally tighten and prices recover.
The chart of the High Grade Copper future is likewise painting a bleak picture for the metal's outlook. The last notable rally off the $2.20 handle saw price only manage to recover up to 38.2% of the previous downswing. This shallow retracement correctly suggested that further falls were on the way and it points to another sharp drop if $2.20 breaks down now, which looks to be the case today. As such, copper could go on to drop not just to the 127.2% Fibonacci extension level at $2.12, but potentially towards the 161.8 or even the 261.8 per cent extension levels over time, at $2.02 and $1.73 respectively. At this stage, a decisive closing break above $2.22 would be a bullish outcome in the short-term and a break above the bearish trend would be bullish slightly longer term: unlikely scenarios as things stand.  
Figure 1: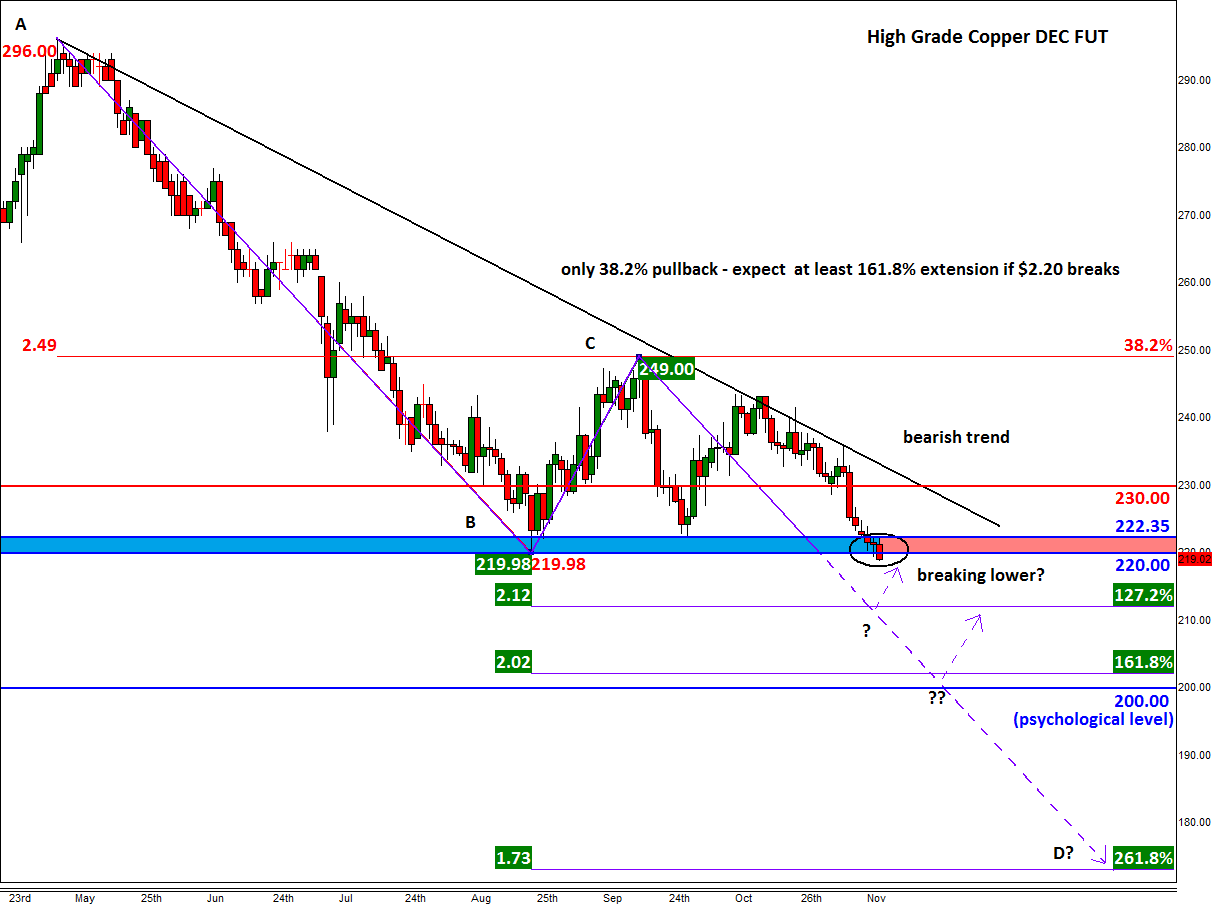 Source: FOREX.com. Please note, this product is not available to US clients