Yesterday, we noted that the "Eye of the Market" had shifted to the Asian-Pacific region, and as we found out in today's Asian trading session, that extra attention was warranted.
Australia's employment report overnight showed that the AU economy created a jaw-dropping 58,600 jobs in the month of October, crushing expectations of a 15,000 increase. This marked the largest jump in employment since March of 2012, and it drove total employment in the island nation to 11.84M, the highest level on record. To put the number in context, Rabobank noted that an equivalent report in the US non-farm payroll report would entail the economy creating a whopping 783k jobs, adjusting for the relative populations of the two countries.
Just like with the monthly NFP report in the US, it's worth looking "under the hood" at the AU jobs report as well, but in this case, the beneath-the-surface details are just as strong. Full-time employment surged by 40k jobs (with the balance representing gains in part-time jobs), while the unemployment rate tanked down to 5.9%, substantially below the 6.2% level expected.
After a change in the way the Australian Bureau of Statistics (ABS) calculates employment earlier this year, traders are understandingly a bit skeptical of the (perhaps literally) unbelievable report, but the release will nonetheless have an impact on Australian monetary policy. Today's report validates the RBA's decision to remain on hold earlier this month, and it now seems highly unlikely that the Reserve Bank of Australia will cut interest rates at all this year. In fact, some analysts are now suggesting that the RBA's easing cycle may be over, but we'd like to see continued strength (as well as stabilization in China's economy) before going that far.
Technical View: AUD/USD
Predictably, the Australian dollar surged in the wake of the release, with AUD/USD spiking about 100 pips up to .7155 in today's Asian session. That said, the pair has now given back about half of its earlier gains, and there is no sign (yet) that the longer-term downtrend is coming to an end. Indeed, rates simply rose from the middle of the 1-month bearish channel to the top, and the secondary indicators are still pointing lower, with the MACD trending lower below the signal line and the "0" level and the RSI stuck within a bearish channel of its own.
While the solid employment data could put a floor under the Aussie in the near-term, traders may soon turn their attention back to the far more bullish story for the US dollar. With six(!) Fed speakers on tap for today and the October US Retail Sales report scheduled for release tomorrow, we're inclined to fade this near-term rally in AUD/USD for a potential move back toward previous support in the .6950-.7000 range as long as the bearish channel holds.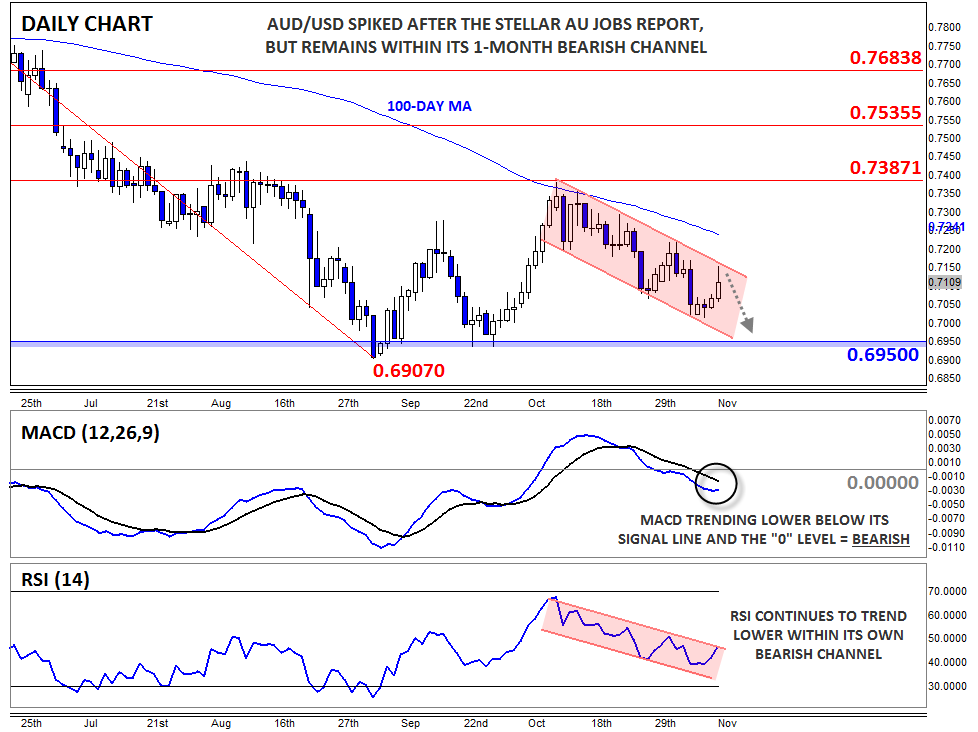 For more intraday analysis and market updates, follow us on twitter (@MWellerFX and @FOREXcom)