After some classic minimal data consolidation in the forex markets last week, traders are eagerly awaiting some top-tier economic reports (and hopefully accompanying volatility) this week. The first of these key reports, the US October Consumer Price Index (CPI), was just released.
Consumer prices rose 0.2% m/m in October, as traders and economists had anticipated, while the Core CPI reading, which filters out more volatile energy and food prices, also rose 0.2%. On a year-over-year basis, overall prices have only risen 0.2%, though the more policy-significant Core CPI reading is running at a more healthy 1.9% rate y/y. While this as-expected report is unlikely to ruffle too many traders' tail feathers, it does represent one more solid data point in favor of a potential Fed rate hike in next month.
US dollar bulls have seemingly taken some solace from the reading, with the greenback rising around 10 pips across the board in the wake of the release. Meanwhile, US equities are pointing to a slightly higher open after yesterday's big rally, and gold is edging lower once again to test key support near 1080.
Technical View: USD/CHF
One of the most interesting currency pairs to watch as we move through this week will be USD/CHF. As my colleague Fawad Razaqzada noted last week, the pair was testing a critical level of resistance in the 1.0070-80 zone, where a 3-month bearish butterfly pattern completed. For the uninitiated, this pattern is created by the confluence of at least three major resistance levels around 1.0075 (the 161.8% Fibonacci extension of XA, the 127.2% extension of BC, and an ABCD pattern).
As we often note in these reports though, any technical pattern can fail and often, the "failures" can give equally valid information about the likely future path of interest rates. In this case, the fact that USD/CHF is edging above that barrier shows strong buying pressure that could carry the pair higher in the coming days.
That said, rates are overbought and there are minor resistance levels to watch at 1.0130 (the post-SNB "Black Thursday" high, not shown) and 1.0240 (the unit's five-year high). While a near-term continuation higher is definitely in play, bulls may judiciously take profits as we approach those barriers. Either way, it should be a fascinating week for USD/CHF.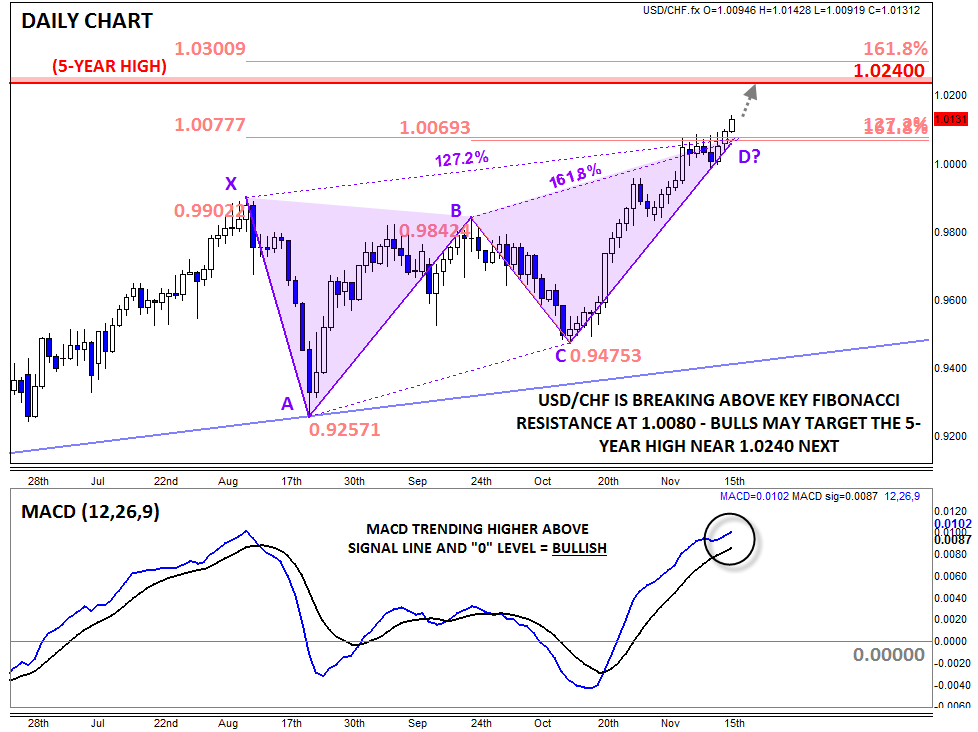 Source: FOREX.com
For more intraday analysis and market updates, follow us on twitter (@MWellerFX and @FOREXcom)