After a broad-based dip at the start of the US session, the greenback has come storming back over the last few hours. Naturally, this has caused the earlier bounce in EUR/USD to fade, though USD/JPY hasn't seen much a corresponding rally.
One of the most interesting causalities of the dollar's rally over the last few weeks has been the commodity complex. While most traders are likely familiar with the travails of the world's most widely-followed commodity, gold, it's worth noting that the industrial metals have been just as weak. To wit, nickel is down by 6% to its lowest price since 2003, while lead, aluminum and crucially, copper, have all dropped to their cheapest levels in a half decade.
Because of its widespread industrial uses and ability to accurately diagnose the performance global economy, copper is often called "Doctor Copper" by some analysts. This relationship is not infallible, as the last few years of divergence between (positive) global economic growth and the (weak) copper prices have proven, but the persistent weakness in metal prices is certainly a cause for concern among a significant contingent of market participants.
Technical view: NZD/USD
The natural correlation to watch when there's weakness in commodities would be the aptly-named "commodity dollars" (the Canadian, Australian, and New Zealand dollars), all of which are falling today. Perhaps the best technical setup is in NZD/USD, which appears to be forming a potential daily Evening Star* formation at 38.2% Fibonacci resistance (see chart below). This relatively rare 3-candle reversal pattern shows a gradual shift from buying to neutral to selling pressure and is often seen at near-term tops in the market.
With the RSI indicator seemingly rolling over below the 50 level, NZD/USD could retest its 7-week low around .6425 sooner rather than later. If that floor is broken, rates could eventually fall further toward .6300 or even the six year lows in the .6250 zone.
* An Evening Star candle formation is relatively rare candlestick formation created by a long bullish candle, followed a small-bodied candle near the top of the first candle, and completed by a long-bodied bearish candle. It represents a transition from bullish to bearish momentum and foreshadows more weakness to come.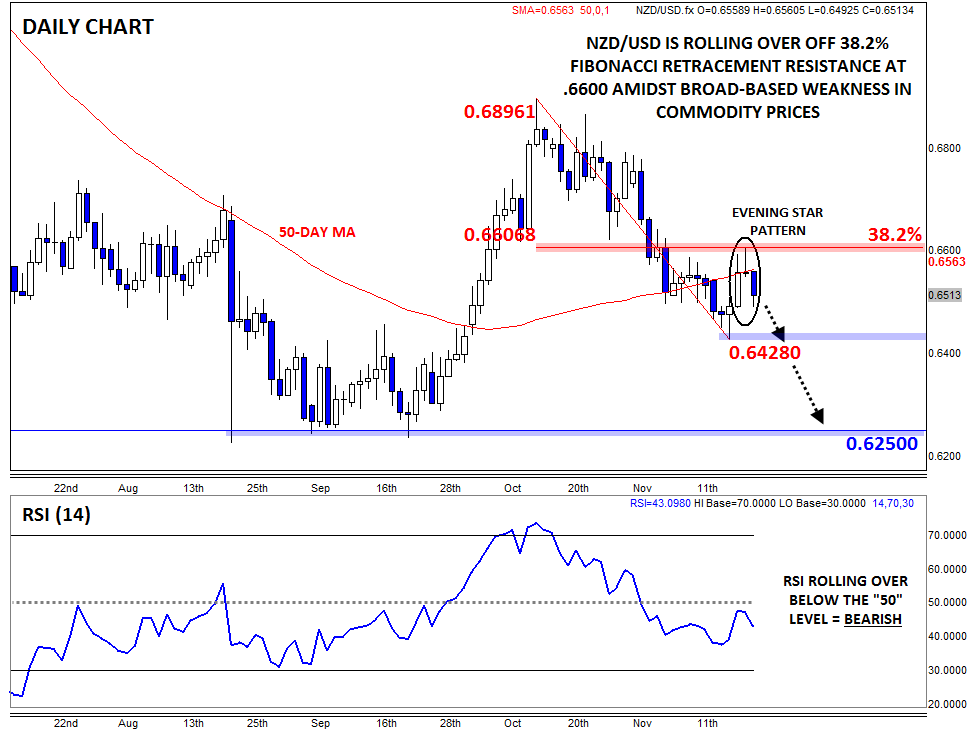 Source: FOREX.com
For more intraday analysis and market updates, follow us on twitter (@MWellerFX and @FOREXcom)