Markets are calming down as US traders filter out for the Thanksgiving holiday, but there is one little-followed pair that could be shaping up for a big move as we head into next week.
CAD/JPY has been consolidating in an increasingly tight range for the last three months, bounded on the top by the 93.25 barrier and on the bottom by rising trend line support (currently around 91.75). This price action has created a clear ascending triangle pattern, which in theory shows growing buying pressure as bulls step in at higher and higher levels following each successive dip. That said, this pattern comes within the context of a longer-term downtrend, so it could easily break lower as well.
It's worth noting that the RSI indicator has formed an ascending triangle pattern of its own over the last three months. As we often highlight, a breakout in the RSI can serve as a leading or confirming sign of a breakout in price itself. Therefore, astute traders should keep a close eye on this indicator as we move through this week.
While the trading graveyard is littered with analysts who have speculated on geopolitical developments, the simmering conflict between Russia and Turkey could be a catalyst for the pair. After all, the yen tends to strengthen during periods of conflict, and we could also see an impact on oil prices, which are closely correlated with the value of the Canadian dollar.
Regardless of what happens in Turkey, there are less than 150 pips between support and resistance on CAD/JPY, so a breakout is inevitable in the coming days. A confirmed close above the 93.25 level could open the door for a run toward the 50% Fibonacci retracement at 94.25 (not shown) or even the 61.8% retracement around 97.00, whereas a bearish break would likely expose the previous lows at 90.60, 89.00, or even 87.30 in time.
As always, readers are advised to let the price action guide them and be patient for the right opportunity before committing too strongly in either direction.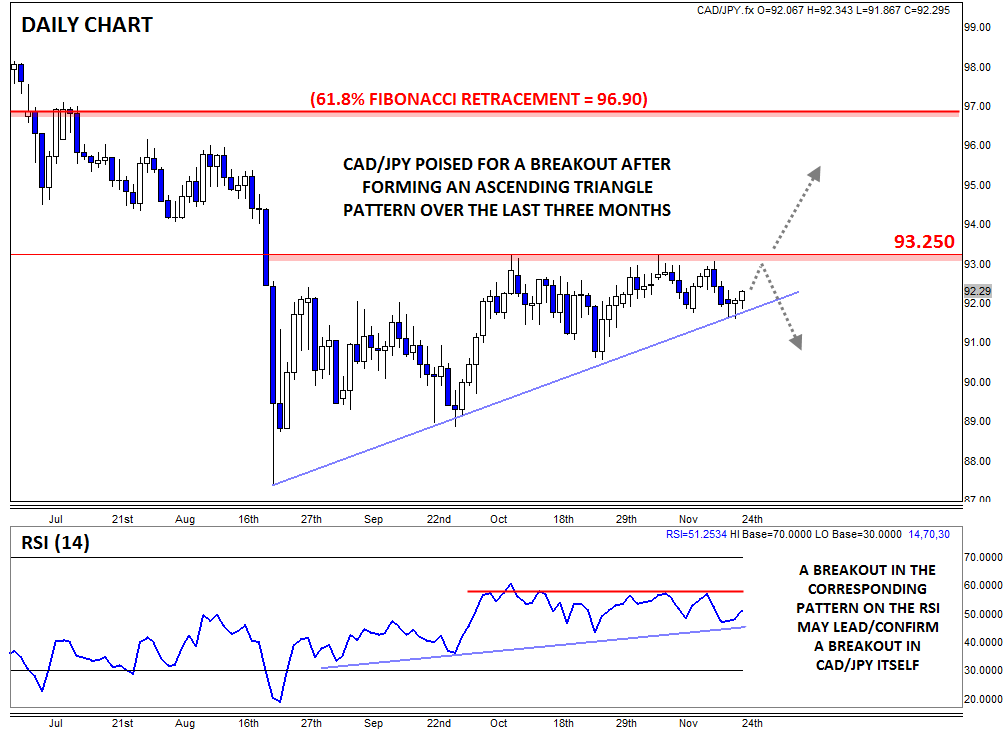 For more intraday analysis and market updates, follow us on twitter (@MWellerFX and @FOREXcom)