The stellar US October jobs report and continued hawkish talk from the US Federal Reserve, combined with dovish central banks elsewhere has seen the dollar rise strongly this month. The Dollar Index has now climbed back to the 100 level and the EUR/USD is hovering just above the lows hit earlier this year. But it is not just the euro that the greenback has crushed. The GBP/USD is now just shy of the 1.50 handle and the USD/CHF has hit a fresh multi-year high today. Odds of a Federal Reserve rate increase in December are holding about 70% at the moment. If next week's US data, including the November jobs report, supports the view that the economic recovery is taking shape then the buck's upward trend could really start to accelerate, especially against currencies where the central bank is uber dovish, such as the euro and Swiss franc.
In fact, the USD/CHF has already broken some major levels, including parity and now the January high of 1.0240, which was hit just a day before the SNB removed the 1.20 EUR/CHF floor. The path of least resistance is clearly to the upside now and significant gains could be on the way in the coming weeks and months, barring an unexpected downturn in US data and/or a lack of interest rate rise from the Fed. Going forward this 1.0240 level could be the new support to watch. But if this breaks down then it is possible that the Swissy may retreat to old supports such as 1.0125 and even parity before resuming its upward trend. The longer-term bulls will be happy for as long as the bullish trend remains in place.
As there is no immediate price reference points above the January high, bullish traders may want to keep a close eye on psychological round figures for potential resistance. I have also included some Fibonacci extension levels on the chart, which could be areas where we may see some profit-taking. The momentum indicator RSI is admittedly at the overbought territory of above 70, but it is still making higher highs. So, it merely signals what we already know, which is that the trend is strong.  
Figure 1: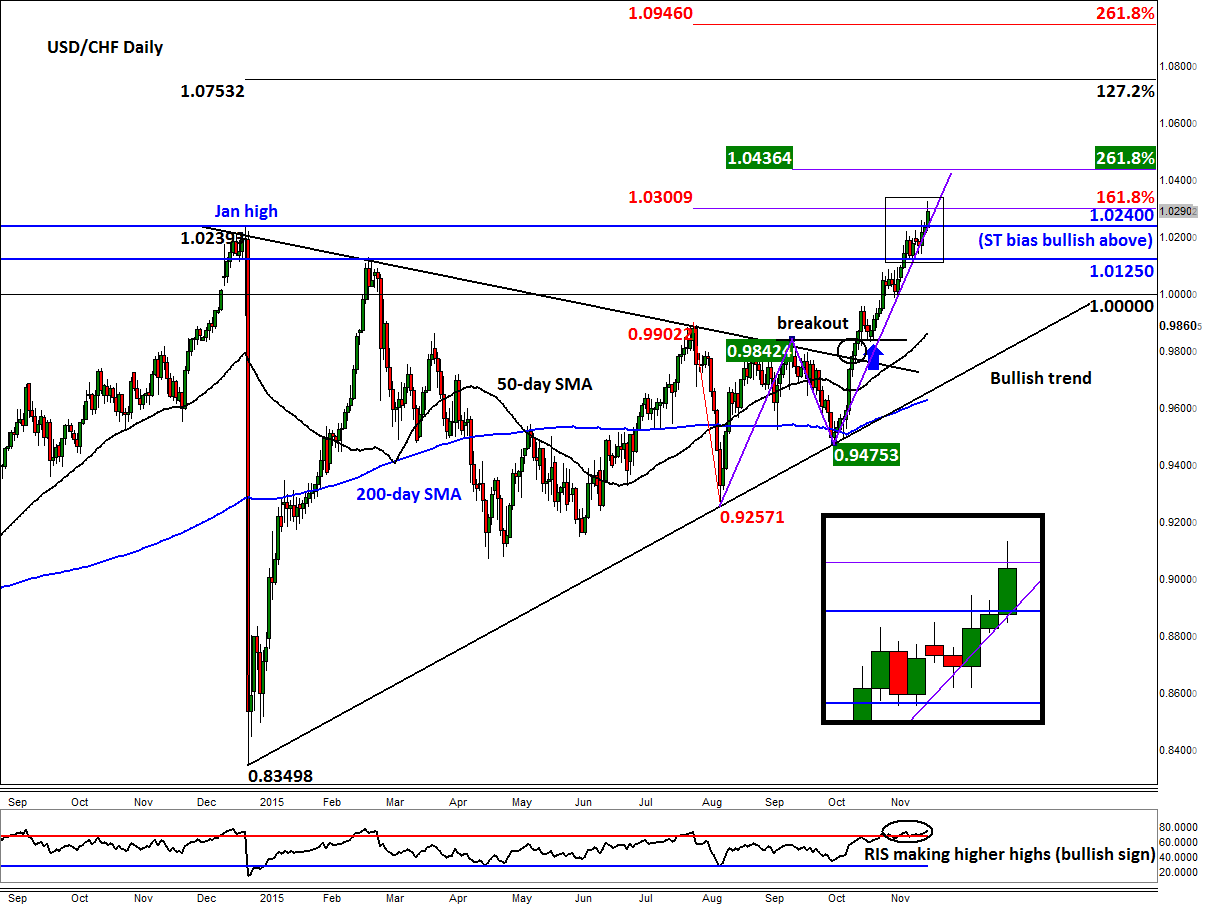 Source: FOREX.com