In what's become a 21st century tradition, workers across the United States and elsewhere are shuffling to their desks with only one thing in mind today: shopping. "Cyber Monday" is likely to eclipse "Black Friday" in online sales for the first time ever, with over $3 billion in online sales expected. For forex traders however, the bigger question is whether EUR/USD is on sale, or whether it could get discounted even more in the coming days.
As of writing, the world's most widely-traded currency pair has fallen about 7% over the last five weeks and is now within striking distance of its 13-year low in the 1.0500 area. That said, the drop has been driven by fundamental factors, notably including a 9-year high in the German-US 2-year yield spread at 136bps. To extend the Cyber Monday analogy, it's as if VHS players went on sale just as DVD players came out; in other words, EUR/USD is just not as desirable as it was a month or so ago.
Of course, the proverbial elephant in the room is Thursday's big European Central Bank meeting. We'll release a full preview of the decision on Wednesday, but with the ECB seemingly considering more unconventional measures to ease conditions in the Eurozone, EUR/USD could struggle to rally over the next few days.
Technical View: EUR/USD
Turning our attention to the chart, EUR/USD predictably remains in a near-term downtrend, though there are some signs that the sellers may be losing momentum. For one, the pair may be carving out a falling wedge pattern over the last four weeks; though it's created through a series of lower lows and lower highs, this pattern actually shows waning selling pressure and has bullish implications if the pair can break above its upper trend line.
Meanwhile, the MACD indicator is flattening out and could soon turn higher, while the RSI indicator is back in oversold territory, potentially raising the probability of a bounce. Despite these potentially bullish signs, we're unlikely to see any significant move in EUR/USD until there's more clarity on the ECB's plans, so intraday traders may want to be nimble and take profits/losses quickly on EUR/USD early this week.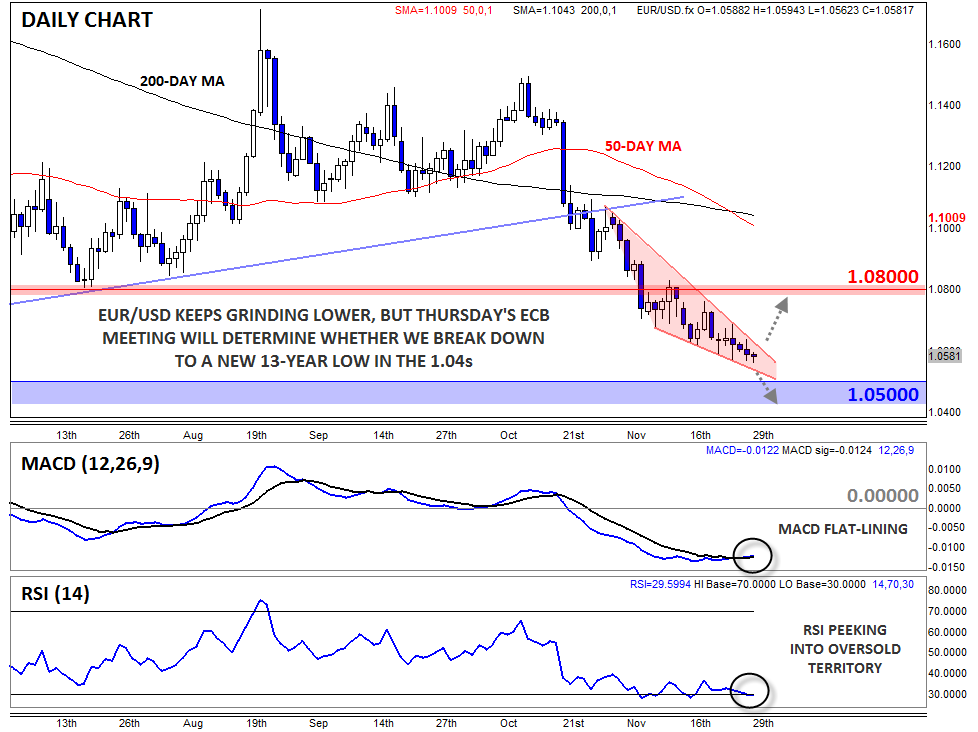 For more intraday analysis and market updates, follow us on twitter (@MWellerFX and @FOREXcom)