After the slow click-click-click of suspense-building economic data early in the week, the rollercoaster ride has started in earnest for traders. Overnight, traders got their first look at Australian Q3 GDP data, which came out better-than-expected at 0.9% q/q and we also got a small positive revision to last month's report.
Unfortunately, the positive vibes did not carry over into today's European session. UK Construction PMI came out at just 55.3, well below the 58.4 reading expected and 58.8 last month. Then, Eurozone CPI came in below expectations at 0.1% m/m (0.9% year-over-year). The weak inflation figure drove short-term German bond yields to fresh all-time lows in negative territory and increased expectations that the ECB will have to ease aggressively tomorrow (stay tuned for our full ECB preview later today).
Thankfully, the US labor market fulfilled its role as the proverbial "knight in shining armor" and rode in to stabilize investor's fears. The November ADP non-farm employment report printed at a five-month high of 217k; this report tends to be one of the most important leading indicators for Friday's Non-Farm Payrolls (NFP) report, which will be widely watched as the last major hurdle before the Federal Reserve's December monetary policy meeting.
Speaking of the Fed, Atlanta Fed President Dennis Lockhart, historically a dove, noted that "the case for [an interest rate hike in two weeks] is compelling." With even one of the most conservative Fed policymakers seemingly coming around to an interest rate increase this year, it will likely take a surprisingly weak NFP to throw a spanner in the works and prevent the Fed from moving off the essentially 0% interest rates.
Technical View: GBP/USD
With worse-than-expected data out of the UK and stronger-than-anticipated out of the US, it's no surprise that GBP/USD's recent oversold bounce has stalled out. Indeed, the pair has fallen back down to test key psychological support at 1.50, which also represents a seven-month low. Meanwhile, the 4-hour RSI indicator is showing a clear "negative reversal" pattern, where the RSI actually makes a higher high, despite the exchange rate putting in a lower high. This development indicates that price is underperforming the underlying indicator, or that prices have become more oversold at a lower price, and tends to suggest more near-term weakness.
If Fed Chair Janet Yellen's speech later today echoes Lockhart's hawkish tones, GBP/USD could easily break the 1.50 level. Below that potential floor, there is minimal support until the 78.6% Fibonacci retracement of the Q2 rally at 1.4860. Even if we do see a near-term bounce, the series of lower lows and lower highs will remain intact below the 1.5100 handle, keeping bears in control beneath this barrier.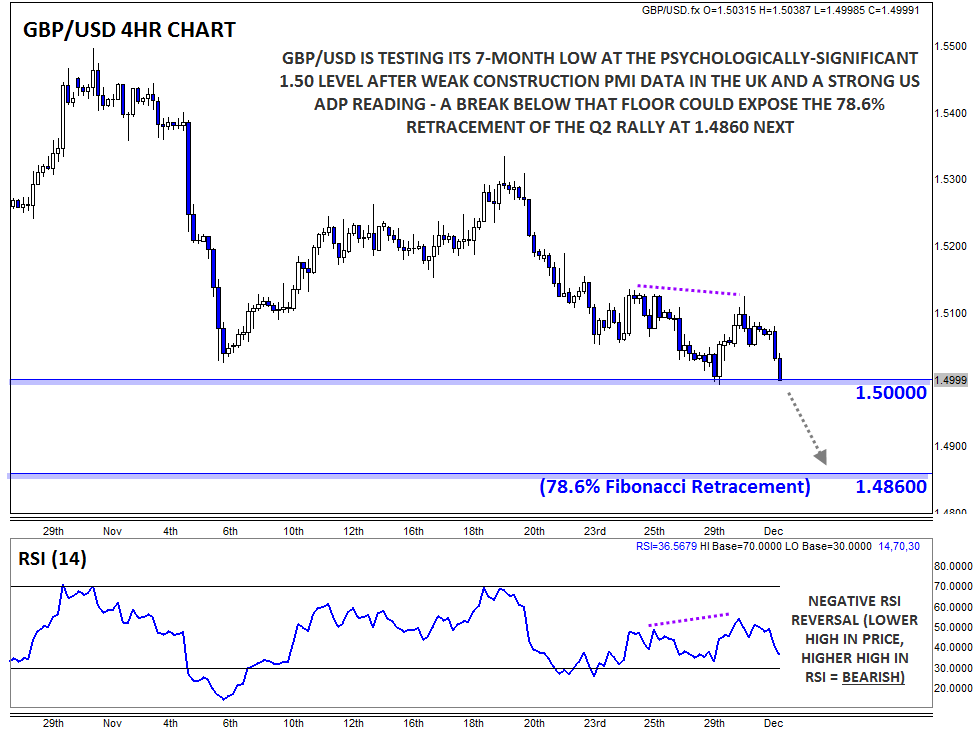 For more intraday analysis and market updates, follow us on twitter (@MWellerFX and @FOREXcom)