Within the space of a couple of minutes today and less than 15 minutes before the release of US official oil stocks data, both oil contracts jumped by about $1 before giving back their entire gains and more as the session wore on. Bullish oil speculators must have felt like victims of a pump-and-dump scam, but crude is notoriously headline-driven and this should serve as a warning for what's to come over the next few days. First, prices were driven higher on a report that suggested the "majority of members of OPEC" members including Iran have agreed on cutting crude output. But a couple of minutes later, it was emerged that by "majority" they meant everyone bar Saudi and Arab Gulf countries. Earlier in the day, Iran's Oil Minister had stated that his country could increase oil production without the approval from the OPEC. So, the situation is very murky. But with Indonesia set to re-join the OPEC and additional supplies from Iran to take into account, it is difficult to see why Saudi and other large members would want to relinquish market share that they so desperately tried to defend for the past year or so.
The best outcome for the OPEC might actually be if oil prices stay depressed for a bit longer, which could force some weaker oil producers out of the market. The consistent falls in the rig counts does certainly point in that direction for US producers, so the oil market could begin to tighten sharply at some point next year. But at the moment, the surplus is still here and this continues to weigh heavily on prices. Indeed, according to the US Department of Energy, total crude inventories increased again, this time by almost 1.2 million barrels in the week ending November 27. Stockpiles have thus risen for the tenth consecutive week. They again disappointed expectations of a small draw. What's more, stocks of oil products also rose last week as demand fell. Gasoline stocks increased by 0.1 million barrels while distillates rose by a much larger-than -expected 3.1 million barrels.  As a result, both oil contracts were trading near their session lows as we went to press.
So, the outlook for crude remains bleak in the short term. But expect further volatile price action leading up to Friday's OPEC meeting, as more comments from oil ministers hit the wires. No one wants to be caught on the wrong side of a big move, so both the buyers and sellers may be quick to book profit each time the oil market makes money available to them. Thus prices could bounce off their lows, especially since Brent was testing November's low at $43.10 at the time of this writing. But the selling could resume soon and accelerate in the likely event that the OPEC maintains status quo on Friday. The next potential support levels to watch include $42.20, the low from earlier this year; $40.00, a psychological level, and then $39, a Fibonacci exhaustion area. The key resistance is now around the $45.00-45.20 area, followed by $46.40. The short-term outlook would turn bullish if these levels are taken out this week.
 Figure 1: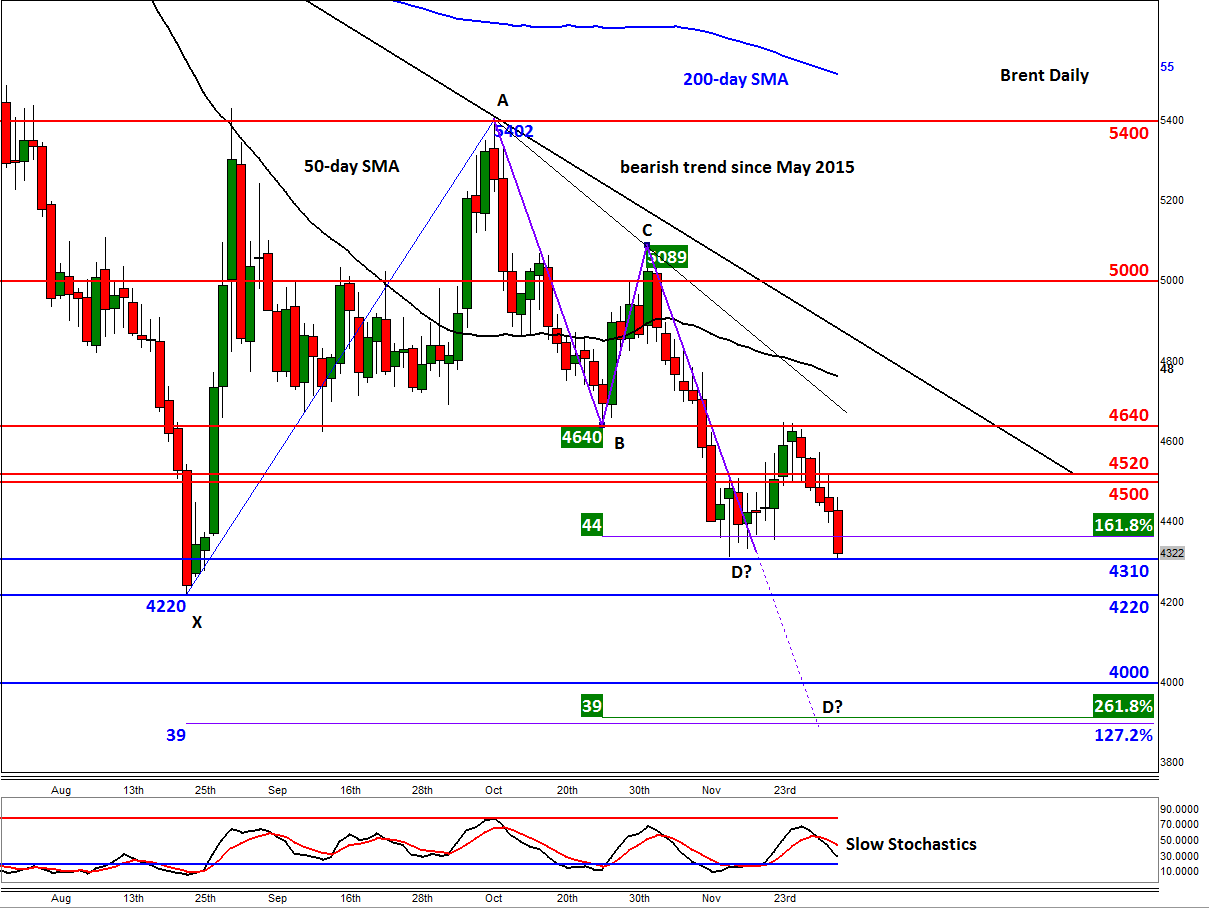 Source: FOREX.com. Please note, this product is not available to US clients