So, the ECB day finally arrives and as usual, the European stock and bond markets are finding good support, causing yields and the euro to fall. Clearly, the market is waiting for an early Christmas gift from the ECB, but will it deliver?
Apart from Greece and Portugal, 2-year bond yields are in the negative territory across the board and they were near their lows as we went to press. Corresponding, the EUR/USD was hovering near the day's lows of around 1.0550. Given that US yields have risen in recent times, causing the EU-US yield spreads to widen, it looks like the EUR/USD may eventually drop to parity and possibly beyond in the days and weeks to come.
For that to happen however, Mario Draghi and co must deliver what the market is demanding today and then the US jobs report tomorrow needs to at least match the expectations. Then the US Federal Reserve will need to raise interest rates in a couple of weeks' time. So, there are lots of conditions that must be met, meaning there is scope for some disappointment, which could lead to sharp counter-trend moves for the EUR/USD and stocks in the short-term. My colleague Matt Well has already written a preview for the ECB, so if interested please click HERE to read his comments.
For the EUR/USD, there are not a lot of near-term support levels to watch apart from the 1.0460-1.0500 range, which corresponds with this year's earlier lows. If should be noted that the daily RSI has been making small higher lows, and if this is accompanied by a less dovish ECB today then the EUR/USD could at least rally towards – if not beyond – 1.0685 resistance in the short term. Further resistance levels to watch include 1.0820, previously support, and the 50 and 200 daily moving averages, around 1.0975 and 1.1030 respectively.
If the March low breaks either today or tomorrow, which is our base case, then we would expect the selling to accelerate towards the 127.2% Fibonacci extension level at 1.0120, followed by the psychologically-important level of 1.0000 (i.e. parity).
Figure 1: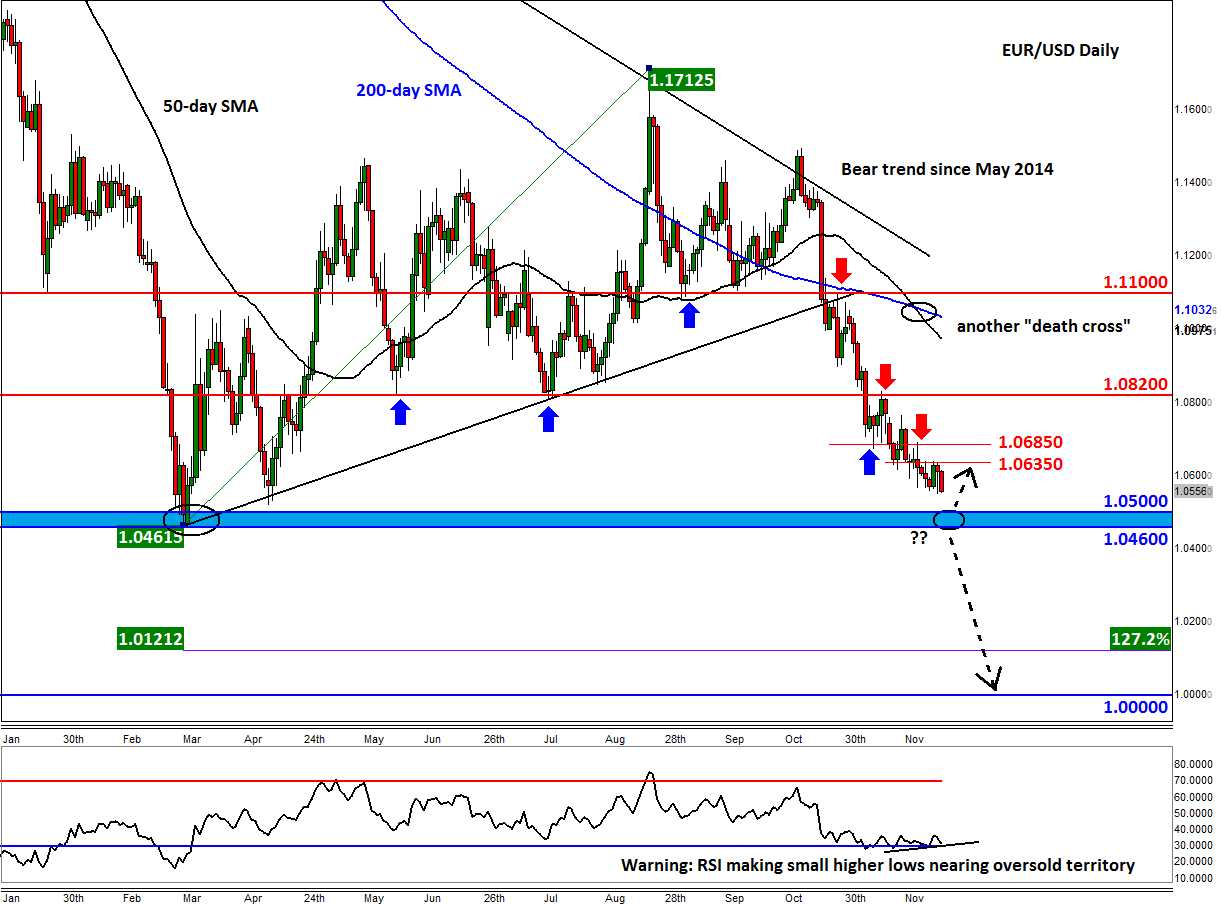 Source: FOREX.com