According to the Chinese Zodiac, 2016 is "The Year of the Monkey" but based on trade so far today, it looks more like the Year of the Bear. A big wave of risk aversion hit the market at the start of the New Year, driving riskier assets lower across the board. Speaking of China, the epicenter of today's selloff appears to be the Middle Kingdom itself, where both the Caixin (48.2) and official (49.7) Manufacturing PMI reports missed expectations. By the end of the Asian trading session, the benchmark Shanghai Composite stock index had fallen nearly 7%, triggering circuit breakers that briefly suspended trade.
Not surprisingly, this risk-off trading has reverberated throughout global trade, driving European stocks and US equity futures sharply lower at the expense of gold and safe haven currencies like the Japanese yen. Meanwhile, higher-yielding currencies like the Australian and New Zealand dollars have borne the brunt of the selling pressure in the FX market.
AUD/JPY in particular is worth watching. Beyond representing a global proxy for risk appetite and the carry trade, the pair also has a strong correlation with major equity indices and so far, the outlook appears bleak. With today's drop, AUD/JPY has fallen conclusively below the four-month bullish trend line off the August lows, carving out a potential large Bearish Marubozu Candle* in the process. For the uninitiated, this pattern shows strong selling pressure and often portends more weakness in the coming days.
The secondary indicators paint a similarly bearish picture. The MACD indicator is now trending lower below its signal line and the "0" level, while the RSI has broken below its own bullish trend line, confirming the breakdown in the exchange rate itself. As long as AUD/JPY remains below previous support and the broken trend line around 86.50, more weakness is likely. To the downside, traders may key in on the Fibonacci retracements of the recent rally, including the 61.8% retracement at 85.35 and the 78.6% retracement near 83.90.
At least on the first trading day of the year, it looks like AUD/JPY bulls have already dropped the ball on their New Year's Resolution.
* A Marubozu candle is formed when prices open very near to one extreme of the candle and close very near the other extreme. Marubozu candles represent strong momentum in a given direction.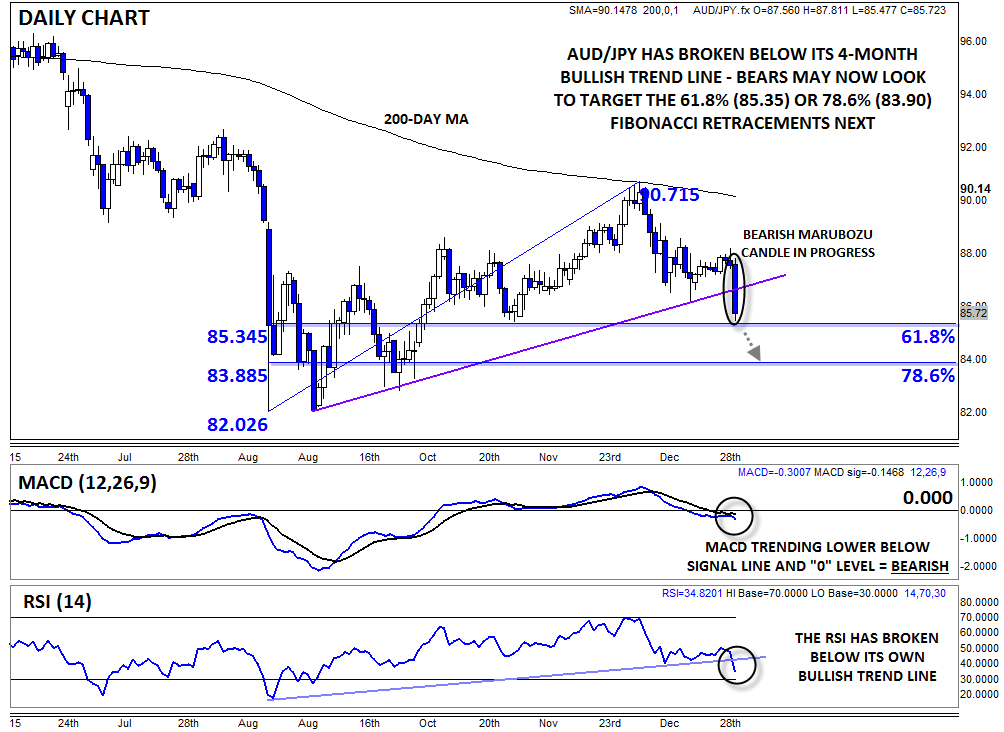 Source: FOREX.com
For more intraday analysis and market updates, follow us on twitter (@MWellerFX and @FOREXcom)