Highlights
Technical Developments:
EUR/USD fell late in the week after a dovish ECB press conference, and could have significantly more room to fall on a sustained breakdown below key 1.0800 support. Technical bias: Bearish
USD/JPY hit a one-year low at 116.00 on global market volatility but rebounded above 118.00 late in the week as markets stabilized. Technical bias: Neutral to Moderately Bearish
GBP/USD made an oversold bounce after hitting a new multi-year low, but continues to trade within a sharp bearish trend. Technical bias: Moderately Bearish
USD/CAD has pulled back sharply after having overextended its uptrend to extreme highs, but the bullish trend currently remains intact. Technical bias: Moderately Bullish
EUR/USD
EUR/USD spent the past week continuing its recent consolidation above the 1.0800 support level. On Thursday, however, the euro resumed a more bearish stance after European Central Bank (ECB) President Mario Draghi held a press conference during which he made some rather dovish comments, hinting that the ECB may adopt a more aggressive easing stance going forward. Draghi stressed that the ECB would be ready and willing to act, if warranted, by implementing the many tools at its disposal. This brought EUR/USD back down to hit the noted 1.0800 support. With an increasingly dovish ECB set in stark contrast to a potential Federal Reserve monetary tightening cycle, the longer-term bias for EUR/USD continues to be bearish in line with the well-established long-term downtrend for the currency pair. With any sustained re-break below 1.0800, the next major target remains at the major 1.0500 support level, last approached in early December. Further to the downside, any confirmed continuation of the downtrend momentum should then begin to target the 1.0200 support level.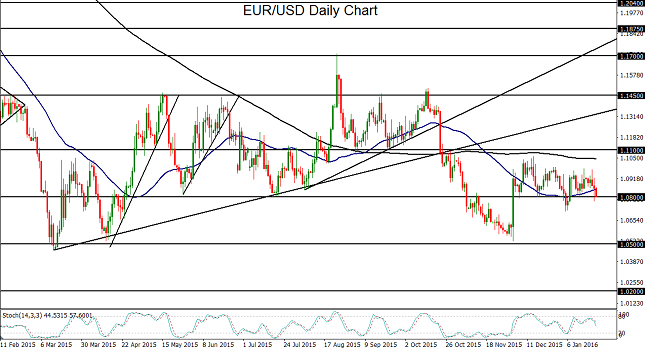 Source: FOREX.com
USD/JPY
In the middle of this past week, USD/JPY fell to a one-year low on sharp plunges in global stock markets. This low was a continuation of the steep drops that have pressured the currency pair since mid-December. This past Wednesday, USD/JPY hit major support at the 116.00 level before bouncing. Towards the end of the week, however, as equities began to stabilize and rise, which was largely due to the ECB's strong indication of additional easing, USD/JPY rebounded back above major resistance around the 118.00 level. Despite this strong rebound, however, risk of further volatility in the global financial markets remains. Any subsequent market instability that leads to additional asset flows towards the yen could place more pressure on USD/JPY. Currently, the noted 118.00 price area is the key level to watch. Sustained trading back under 118.00 on global volatility should once again target the lows around the noted 116.00 support level, followed by the 114.00 level. Major upside resistance in the event of an extended rebound resides around the key 120.00 level.
Source: FOREX.com
GBP/USD
GBP/USD spent most of the past week dropping below the 1.4250 support level and then establishing a new 5½-year low at 1.4078. This low was hit after an exceptionally sharp plunge for the currency pair that has extended from mid-December. After hitting the low on Thursday, however, GBP/USD rose sharply on Friday to break out above the noted 1.4250 level once again. This rise came despite a significantly worse-than-expected reading for UK retail sales that came out on Friday. The surge could be attributed to the fact that GBP/USD was extremely oversold from a technical perspective after such a long and steep plummet, and was due for a short-covering/profit-taking bounce. Despite this late bounce, downside momentum and bearish sentiment continue to dominate this currency pair. This is due in part to continued doubt and uncertainty surrounding the Bank of England's ability to begin a rate hiking cycle, given serious inflation and economic growth concerns. Any re-break below the 1.4250 level should once again target the 1.4000 support target to the downside.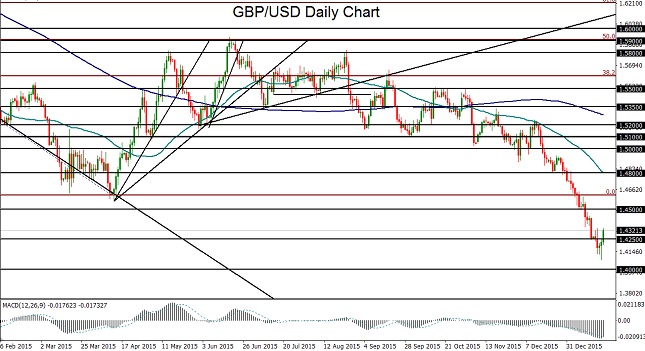 Source: FOREX.com
USD/CAD
USD/CAD has spent much of this past week in a sharp pullback after having earlier reached up to a key resistance target at 1.4600. This pullback accelerated in midweek after the Bank of Canada's decision to keep its key interest rate unchanged at 0.5% was accompanied by a less-dovish-than-expected statement that contained no indication of future rate cuts. The Canadian dollar strengthened after this announcement, and was subsequently further boosted by crude oil's bounce off its multi-year lows that occurred late in the week. USD/CAD's sharp run-up in the past weeks and months, but especially since the beginning of the year, led to a prolonged period when the currency pair had been technically well overbought. After hitting and exceeding progressively higher upside targets at 1.4000, 1.4200 and, most recently, a new 12-year high above 1.4600, USD/CAD had been in extremely overbought territory and due for at least a moderate pullback. Now that this pullback has begun to happen, what may be next? While this is unlikely to turn into a full blown reversal, due to fundamental forces that continue to support the currency pair over the longer-term, there could be further room to the downside, especially if crude oil continues to climb from its multi-year depths. In the event of sustained trading below the 1.4200 level, a major support target for the pullback is at the key 1.4000 psychological support level. For the time being, however, the currency pair remains in a strong bullish trend. Any continuation of this uptrend above 1.4600 has a major upside target at the 1.4900 resistance level.
Source: FOREX.com
Things are looking decidedly better for risk assets today, and not just in a "Thank Goodness It's Friday" kind of way. Starting with the world's most important market of late, oil has built on yesterday's gains and, assuming the current gains hold, WTI is on track for back-to-back daily gains for the first time since before Christmas. As noted below, talk of a long-term bottom in oil prices is premature at this stage, but traders will take anything they can get after the relentless collapse that started the year.
The greater optimism about oil is spilling over into other major asset classes, with global equities trading higher across the board and "risk" currencies rallying at the expense of safe havens like the Japanese yen. Like oil, one currency pair that's long overdue for a bounce is GBP/USD, which tagged a fresh post-Great Financial Crisis low beneath 1.4100 yesterday. The unit has since surged over 250 pips to trade back in the mid 1.4300s, prompting traders to wonder whether we've seen a significant bottom in cable.
In our view, the answer is much the same as with oil: the current bounce could certainly extend into next week, but it's still premature to call a meaningful low in GBP/USD. Supporting the bullish GBP/USD case, the daily chart shows a clear Bullish Pin* / Bullish Engulfing ** Candle formed on Thursday, signaling a big shift from selling to buying pressure. In addition, both the MACD and the RSI indicators are turning higher from subdued levels, suggesting that the bearish momentum is starting to shift, at least for the moment.
That said, the medium-term (and even the slightly-less-immediate-term) picture is still very worrying for sterling bulls. Even just today (Friday) we saw a disappointing UK Retail Sales report, showing sales declined on a month-over-month basis in the critical December holiday shopping period, and the November Retail Sales report was also revised down as well. Meanwhile, the pair is far from making any sort of higher high on the daily chart, so we're inclined to give the established downtrend the benefit of the doubt for now.
* A Bullish Pin (Pinnochio) candle, also known as a hammer or paper umbrella, is formed when prices fall within the candle before buyers step in and push prices back up to close near the open. It suggests the potential for a bullish continuation if the high of the candle is broken.
**A Bullish Engulfing candle is formed when the candle breaks below the low of the previous time period before buyers step in and push rates up to close above the high of the previous time period. It indicates that the buyers have wrested control of the market from the sellers.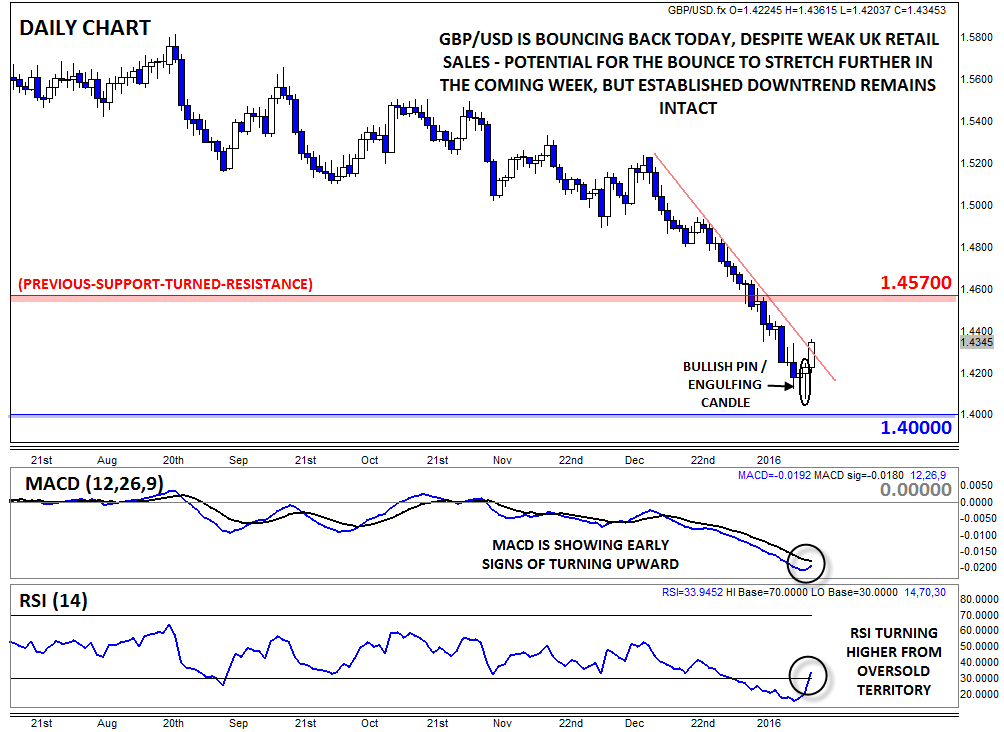 Source: Stockcharts.com, FOREX.com. Please note that the prices in the chart are only updated as of Thursday's close.
As we head into the final week of the month, there was finally some hope for the bruised bulls that the worst start to a year ever is now behind us. At the time of this writing on Friday, global equity markets were sharply higher across the board, tracking the price of crude oil which had risen to above $31.50 a barrel from near $27.00 in mid-week (see the commodities section, below, for details). Speculators are probably wondering whether a near-term bottom has finally been established or if the rebound is a mere short-covering rally in a newly established bear trend. The current fundamentals are not providing a clear picture either. The latest economic data has been poor, which bodes ill for equities. But this has been offset by hopes of more central bank monetary stimulus. The European Central Bank has hinted that it may expand QE at its March meeting, while the People's Bank of China has already injected billions of dollars into their own markets as it attempts to slow the ongoing capital outflow from China. Investors are also digesting US earnings, with the reporting season being in full swing now. Overall, earnings results haven't been too bad so far, albeit expectations were very low and thus easily beatable. But if the likes of Apple, Amazon and Facebook deliver better results next week, then this could provide some further short-term relief. In truth, the direction of crude oil will probably remain the number one factor for equities, especially the resources stocks. Given our still-bearish view on oil, we don't expect the current stock market rally to last long either.
Though the global indices bounced back in the second half of the week, in first part it was confirmed that stock markets in Europe, the US and Japan had all entered the official bear market territory after dropping in excess of 20% from their respective record or multi-year highs. On the surface, this bit of information doesn't really mean much in terms of what will happen in the future. However, it will be at the back of people's minds and may weigh on sentiment going forward. It may for example stop some investors from buying stocks boldly and/or encourage speculators to sell aggressively into future rallies. So the key point here for traders is that if they are buyers, they would be going against the newly established bearish trend. Thus, even when a clear short-term bottom pattern emerges like it has now, there is no reason to fully expect the markets to rally to fresh all-time or multi-year highs – not at this stage, anyway. As such, the buyers will likely take profit quicker than they would have if the underlying medium-term trend were still bullish. This is why, for example, we sometimes see large rallies within bearish trends which ultimately fail before a fresh wave of selling takes place. The last example of this was at the end of the summer when the Dow and S&P 500 started a strong rally that almost reached their previous peaks before tumbling once more. We are not implying that we will see a similar counter-trend rally this time, but the markets have already rebounded sharply at the end of this week, so it remains to be seen how long this rally will last.
As can be seen from the weekly chart of the S&P 500, the index has again found support from the previous key area around 1820-30 this week. Although it dipped below this region during the height of this week's selling, the index eventually climbed back to stage a sharp rebound. The sellers probably took profit here en masse, which is why some of the most heavily shorted stocks led the advance. Undoubtedly, there was probably some opportunistic buying activity going on there, too. Now, what happens next will depend on price action around this 1820-30 region, which marks the neckline of the long-term rounded-top bearish pattern. Given that the S&P has held above here on a daily closing basis so far, there is the possibility we will see a continuation of the rally. The index has already reached previous support around 1900, so it remains to be seen if the advance will be rejected here. But there is the possibility for an eventual rally to 2000, a level which also marks the 61.8% Fibonacci retracement level of the downswing from October's high – see the daily chart.
However, a decisive break below 1820 next week could further weaken the technical picture and pave the way for further sharp losses. In this scenario, the S&P could easily drop to its 200-week moving average, around 1781, or even the long-term bullish trend going back to the March 2009 low, around the 1750/7 area. But potentially, there is a danger that this bullish trend line would also break down at some point and that would clear the way for a drop all the way to 1575/6, the 2007 peak and 38.2% Fibonacci retracement of the entire 2009-2015 upswing.
In short, while the very short-term outlook has turned back bullish, further big falls are still very much possible if the buyers lose control of the pivotal 1820/30 area.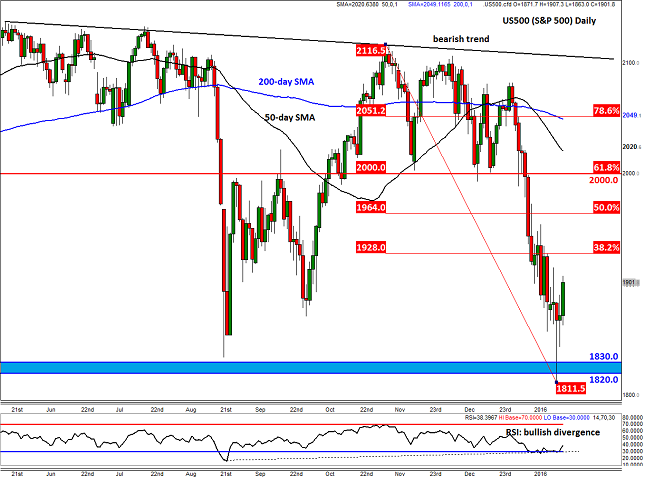 Source: FOREX.com. Please note this product is not available to US clients.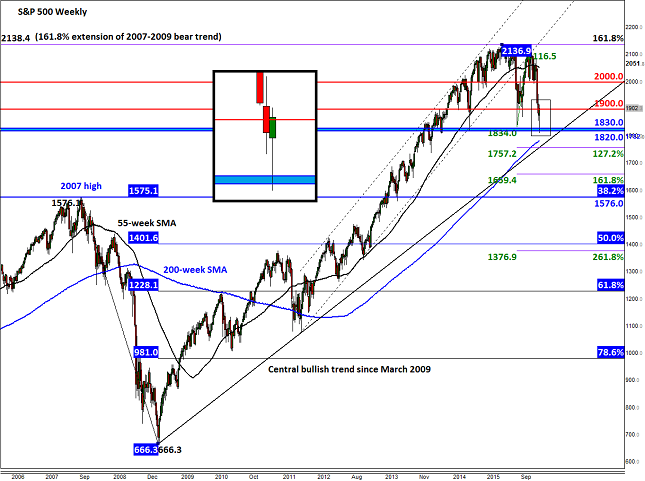 Source: FOREX.com. Please note this product is not available to US clients.
The price of crude oil has managed to rally significantly in percentage terms since hitting a low sub US$28 in mid-week. Since Brent hit a low of $27.10 and WTI $27.50 on Wednesday, the two major oil contracts were some 13-15 percent better off at the time of this writing on Friday morning. In nominal terms, the gains have been about $4 thus far – although noticeable, $4 merely represents a drop in the ocean compared to how much prices have fallen over the past year or so. This sort of a move is not uncommon in strong bearish trends and suggestions that a bottom has been reached may be a bit premature at this stage as, after all, the fundamental picture has not improved whatsoever. That being said, the rally back above the $30 handle is clearly a bullish outcome as far as the near-term outlook is concerned.
The mid-week reversal has been driven first and foremost by traders taking profit on their exiting short positions at extremely oversold levels. Some speculators were undoubtedly uncomfortable selling oil below $30 following the significant acceleration in the downtrend in recent weeks and given that most of the bearish news was already out there (Iran coming back into the already-oversupplied market, China worries, etc.). This group of traders may show their hands again now that oil prices have staged a bit of a recovery – but probably not after the emergence of a clear technical signal that would suggest the downward trend is or about to resume. Likewise, the opportunistic buyers are unlikely to bet, at this stage, that prices will embark on a significant recovery (in nominal terms), so they may take profits quicker since they are going against the underlying bearish trend. The net impact may be that oil prices will soon stall before not only revisiting their recent lows, but potentially breaking further lower over time.
Only when it becomes clear that the downward trend has ended will more buyers likely to step in. So far, we are not convinced that a bottom has been formed for oil. In fact, one will never know for sure; we can only have at best a calculated guess based on some fundamental story that's not yet perceived by the majority of the market participants. This is where technical analysis comes particularly in handy. Traders should look for signs they are familiar with at market extremes, such as the market not handling news in the way you would expect it to: say, if some particularly bearish news comes out for oil but prices fail to move decisively lower or, better still, rally. This would tell us that most of the bad news is already priced in. Or, we witness a big rally from extremely oversold levels, preferably around a psychologically-important price level such as $20 or $30 in the case of oil. Better still would be to wait for a major reversal pattern to form such as a false breakdown, an inverse head and shoulders or a bull/bear battle, especially around extremely oversold and psychological levels. Taking all these factors into consideration, the recent price action on oil may suggest that it has bottomed out, but at this stage it cannot be confirmed with a high degree of confidence. In fact, this isn't the first time prices have behaved this way (and it probably won't be the last) only for the gains to evaporate in no time.
So, it could be that a short-term low has been formed, but with the bearish trends on both contracts still intact traders should proceed with extreme caution. Price action around technically-important resistance levels should be observed closely, for the kick-back rally could end there. But if these key levels only hold down price for a short period of time then one should expect the rally to continue for some time yet. In any event, the key short-term levels to watch for WTI include $37.70, the recent range high at $32.40; the lows from December 2008(which were taken out with ease earlier this month); $34.50, which was previously support and where a short-term bearish trend line comes into play; and $36.50/37.00, the convergence of the 38.2% Fibonacci level with the 50-day moving average. For Brent, the corresponding bearish trend line comes in around $35, so there is a potential for a sizeable recovery from current prices. For both contracts, a move back below $30 would be a bearish development.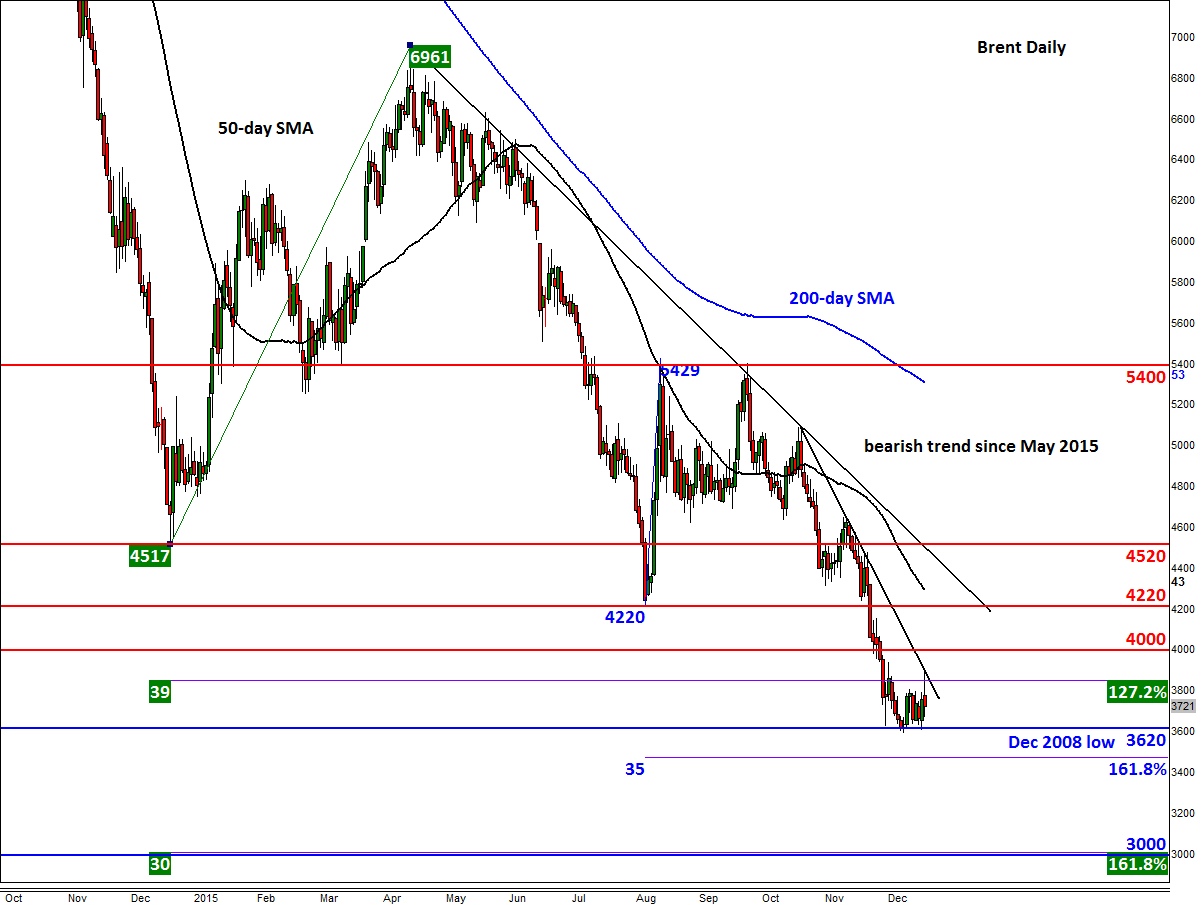 Source: FOREX.com. Please note this product is not available to US clients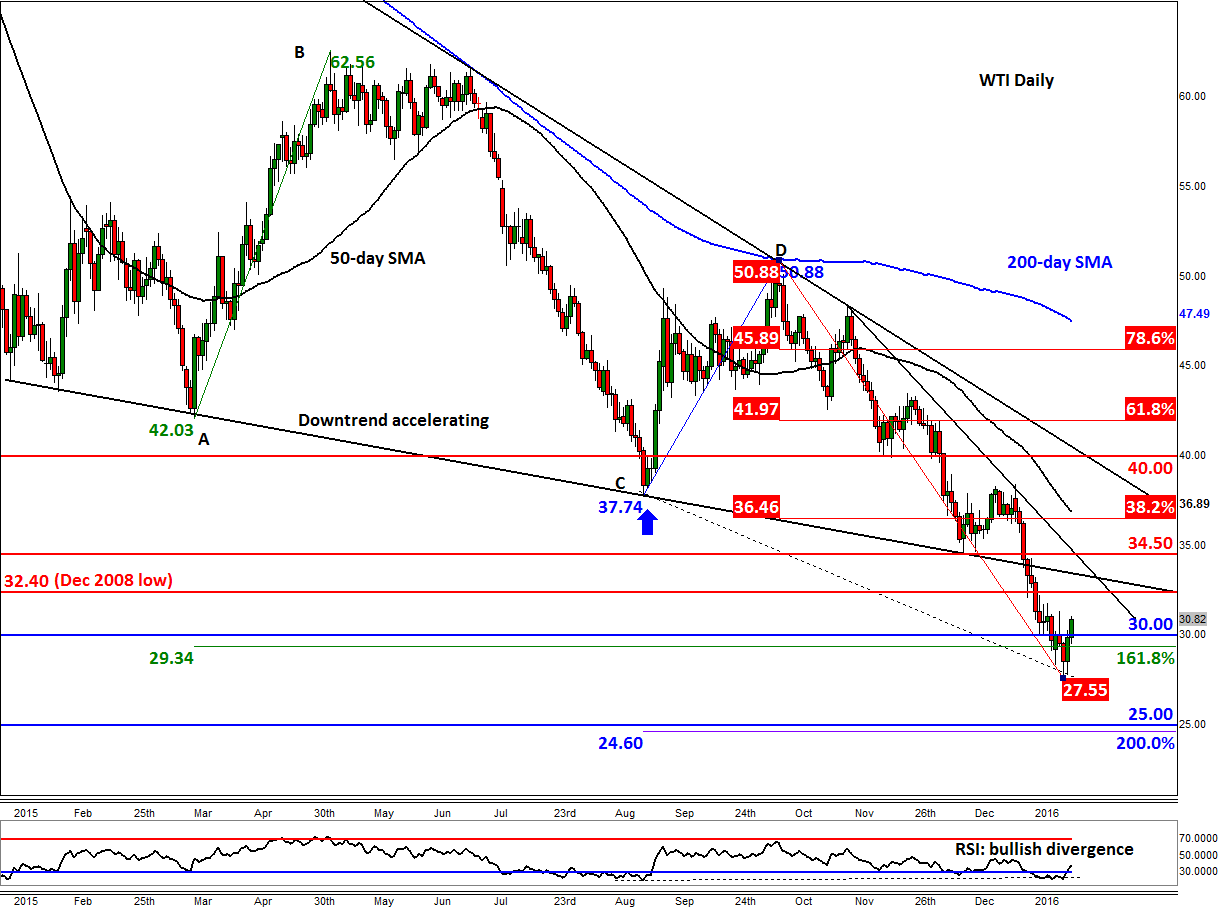 Source: FOREX.com. Please note this product is not available to US clients
9:00 GMT – German IFO Business Climate Survey
This survey of manufacturers, builders, wholesalers, and retailers tends to have a close correlation with the present German (and by extension) Eurozone economic conditions. In general, businesses tend to react relatively quickly to changes in market sentiment, so this report tends to be a leading indicator for the rest of the economy. The headline reading had actually beat expectations for five consecutive months until last month's miss, so traders will closely watch to see if it is portending a slowdown in the Eurozone's better-than-expected economy.
Tuesday, January 26
15:00 GMT – US Conference Board Consumer Confidence
Sticking with the theme of timely economic sentiment reports, the US will release the January Conference Board Consumer Confidence reading on Tuesday. As a rule of thumb, this report tends to be driven by changes in gas prices (which have been down, which is good for confidence) and stock prices (which have also been down, which is bad for confidence), so it will be interesting to see how this report prints.
Wednesday, January 27
0:30 GMT – AU CPI
Inflation Down Under had come in positive for 15 consecutive quarters and despite the ongoing turmoil in China and continued drop in key commodity prices (including oil), another positive reading is likely this week. A weaker-than-anticipated report could still lead to selling in the Aussie (and vice-versa), but global risk appetite and developments out of China should continue to be the largest drivers for AUD/USD.
19:00 GMT – FOMC Interest Rate Decision and Statement
There are Fed meetings and there are FED MEETINGS; this meeting is more of the former. The venerable US central bank is not expected to make any changes to monetary policy, will not be releasing updated economic forecasts, and will not have a press conference after this meeting, so the market impact will likely be limited relative to the December meeting. That said, traders will closely scrutinize the statement for any changes that suggest a rate hike in March is less likely, with potentially negative consequences for the US dollar.
20:00 GMT – RBNZ Interest Rate Decision and Statement
Much like the Fed, little is expected from this interest rate decision by the Reserve Bank of New Zealand. While the RBNZ could certainly opt to be more aggressive than anticipated and cut interest rates, most traders are thinking that decision is more likely in Q2 or Q3, after central bankers can evaluate the impact of the ongoing turmoil in China. NZD/USD traders should definitely tune in for this announcement, but don't be surprised if it passes with more of a whimper than a bang.
Thursday, January 28
9:30 GMT – UK Preliminary GDP
Pound bulls have taken a stiff punch to the gut over the last few weeks as a combination of weaker-than-expected economic data and growing political concerns about a potential "Brexit" have prompted traders to push out expectations of BOE tightening. A decent first read on Q4 GDP growth could unwind some of the extreme bearish sentiment that's built up, especially since GBP/USD showed signs of turning higher late last week.
13:30 GMT – US Durable Goods Orders
Time for an economics 101 lesson: Durable Goods are manufactured products that are expected to last for at least three years; as a result, they tend to be more expensive and are often financed by consumers. In general, consumers are unlikely to take out a loan to buy an item unless they feel confident about the economy as a whole and their own job security in particular. Therefore, this report can be seen as another measure of consumer sentiment. Readers should key in on how the release comes out relative to subdued expectations of -0.7% m/m.
Friday, January 29
TBD – BOJ Monetary Policy Decision, Statement and Outlook
The Bank of Japan has been sending mixed signals of late, but has been projecting an attitude of nonchalance toward the ongoing economic uncertainty and the recent moves in its currency. While there's still a chance that the central bank will be forced to expand its already substantial easing at some point, the BOJ will likely wait to see how the current conditions evolve before firing a bullet it can't take back.
13:30 GMT – US Advance Q4 GDP
Traders will have to wait until Friday's US session to get their eyes on one of this week's biggest releases. This is the first reading on Q4 GDP growth in the world's largest economy, and therefore tends to have the biggest market impact. Interestingly, many economists are expecting a solid reading in the mid-1% range, whereas the market is looking for a much more subdued figure of about 0.8% q/q. The Atlanta Fed's GDPNow measure, which has been hit or miss lately, leans more toward the latter, more pessimistic reading, and a disappointing report here could dramatically decrease the likelihood of a Fed rate hike in March.
Enjoy this newsletter? Use the share button to post it on your favorite site or subscribe to our RSS feed to receive session recaps daily