Lost amidst all the hubub surrounding the Federal Reserve's mostly as-expected tweaks to its statement was the RBNZ's much more interesting monetary policy meeting. As you've probably heard by now, the RBNZ opted to leave interest rates unchanged at 2.50%, as all but the most pessimistic of analysts expected, but adopted a much more dovish outlook. To wit, Governor Graeme Wheeler noted that "Headline inflation is expected to increase over 2016, but take longer to reach the target range than previously expected. Monetary policy will continue to be accommodative. Some further policy easing may be required over the coming year to ensure that future average inflation settles near the middle of the target range" (emphasis mine).
The kiwi saw a kneejerk reaction lower following the release, but the initial down move has since reversed for the most part; after all, most traders expected the RBNZ to shift toward a more dovish stance given the turmoil in global markets and continued drop in dairy prices, New Zealand's most important export. The RBNZ also noted that "further depreciation in the exchange rate is appropriate given the ongoing weakness in export prices."
So where does that leave us? Frankly, about the same place we were 24 hours ago. The biweekly Global Dairy Trade (GDT) auctions will continue to be a big driver for the New Zealand dollar, which in turn will be closely watched by the RBNZ itself. The dovish comments and ongoing focus on the value of the currency suggests that NZD/USD could remain capped on a medium-term basis, as the RBNZ will be eager to cut interest rates on any near-term strength in the kiwi.
Technical View
Turning our attention to the chart, NZD/USD remains above the 78.6% Fibonacci retracement of its August-October rally at .6375, so you could make a case for a near-term recovery. The MACD is flat-lining, but still well below the "0" level, signaling bearish momentum. Meanwhile, the RSI has bounced from oversold territory but still remains in bearish territory (< 60).
Given the mixed technical signals, NZD/USD's near-term movement will likely hinge on global risk sentiment: if major risk assets (led by oil) are able to extend the current rally, the higher-yielding NZD/USD will likely follow suit. On the other hand, a resumption of the risk averse trading that characterized the first 2-3 weeks of the year could take NZD/USD through .6375 support to retest its lows in the mid-.6200s as we head into February.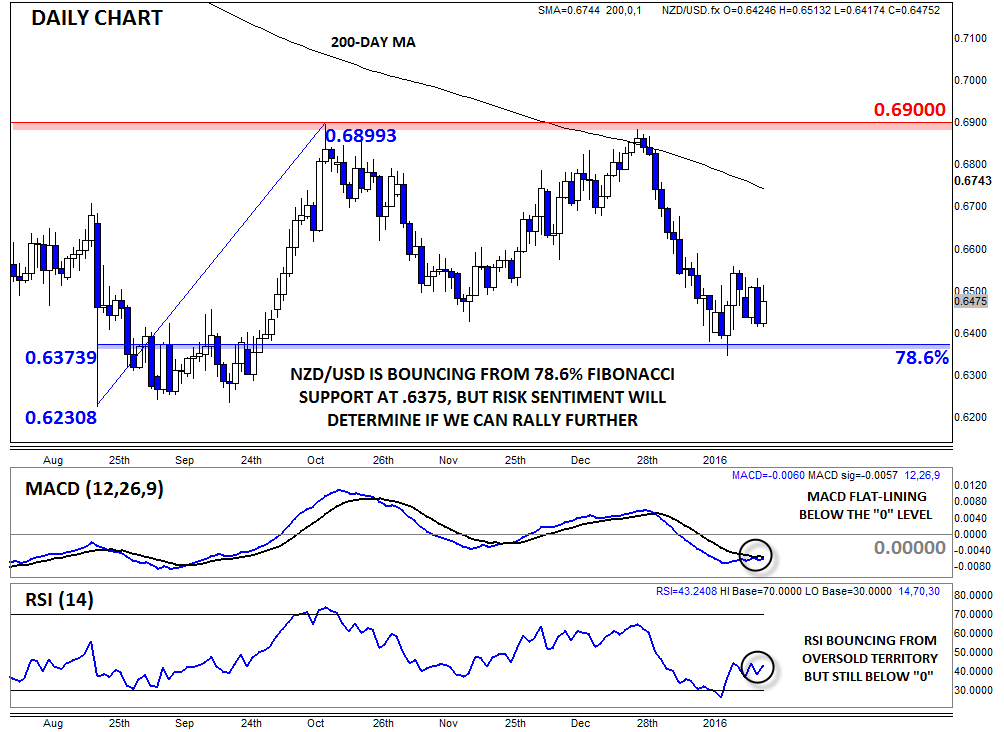 Source: FOREX.com
* We have been nominated in the "Best Analysis" category in the FXStreet Forex Best Awards 2016. If you enjoy our daily reports, you can show your support by voting for us here (be sure to complete the whole survey!). Thank you for your continued support of the FOREX.com research team! *
For more intraday analysis and market updates, follow us on twitter (@MWellerFX and @FOREXcom)