Highlights
Technical Developments:
USD/JPY has surged dramatically on the Bank of Japan's cut to a negative interest rate, and could be on track to reverse its plunge from December. Technical bias: Moderately Bullish
GBP/USD continues to trade within a strong bearish trend, and could be poised to target further long-term lows. Technical bias: Bearish
USD/CAD has extended its sharp pullback, but would be dependent on an extended recovery in crude oil prices in order to drop much further. Technical bias: Neutral to Moderately Bullish
AUD/USD has broken out above its head-and-shoulders bottoming pattern and could be on track for a further relief rally, depending on the outcome of next week's RBA rate statement. Technical bias: Moderately Bullish
USD/JPY
USD/JPY spent most of the past week in a moderate rise as global equity markets regained a measure of stability following a period of high volatility from the beginning of the year. This rise accelerated sharply on Friday after the Bank of Japan (BOJ) made an unexpected interest rate cut into negative territory that prompted the yen to plunge against other major currencies. USD/JPY initially shot up by over 300 pips on the news, pushing the currency pair above 121.00 to hit its 200-day moving average and begin targeting key resistance at 122.00. This surge follows more than a week of USD/JPY rising from major double-bottom support around the 116.00 level. The question now is whether Friday's surprise BOJ rate cut is enough to push USD/JPY up to further highs, fully reversing the sharp plunge from mid-December. The Federal Reserve's rather uneventful FOMC statement earlier in the week did little to move the dollar appreciably, so the yen's plunge due to the BOJ's negative rates should take center stage in directing USD/JPY's course, at least on a shorter-term horizon. Heightened stock market volatility, which has so forcefully marked the first month of 2016, could be the one factor that tempers USD/JPY's further rise. Although global equities have tentatively regained some composure after dropping precipitously for much of January, any return to significant volatility could lead to yen-buying and a pullback for USD/JPY. In the absence of this volatility, the key upside factors to watch on USD/JPY include the noted 200-day moving average and 122.00 resistance level. A breakout above these resistance areas could open the way towards further upside targets at the 123.50 and then 125.00 resistance levels. This bullish outlook would be invalidated on any re-break below the 50-day moving average and 120.00 support level.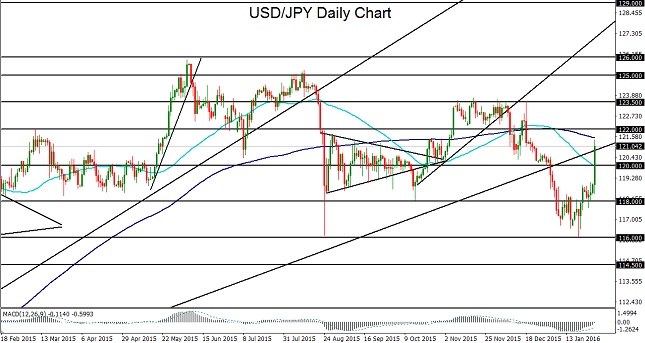 Source: FOREX.com
GBP/USD
GBP/USD has been entrenched in a tight consolidation above its multi-year lows for the past week. This consolidation and slight upside pullback follow months of sharp plunges that most recently culminated in nearly a six-year low of 1.4078 last week. Since that low, GBP/USD has repeatedly attempted an oversold relief rally but has been unable thus far to rise substantially off its lows. Given the continued doubt and uncertainty surrounding the Bank of England's (BoE) inclination to follow the Federal Reserve's lead in raising interest rates, the currency pair continues to trade within a strong downtrend that could soon see further long-term lows. Currently positioned around the key 1.4250 support level and having formed a bearish flag pattern, GBP/USD could soon be poised for a breakdown below the pattern, which would provide confirmation of the bearish trend bias. In that event, the next major downside target is at the 1.4000 psychological support level. Further to the downside, on any break below 1.4000, the next major price objective on a longer-term continuation of the sharp downtrend is at the 1.3600 level.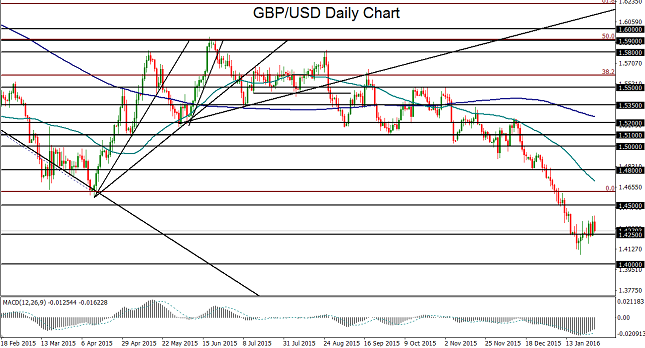 Source: FOREX.com
USD/CAD
USD/CAD has just pulled back all the way down below key support around the 1.4000 level as well as its 50-day moving average, as the price of crude oil has rebounded and stabilized above its recent long-term lows. Prior to the past two weeks, Canada's currency had been falling precipitously against the US dollar largely due to its correlation with crude oil, spurring a rapid rise for USD/CAD within the past several months. This rise reached its upside resistance target at 1.4600 before surging further to hit more than a 12-year high at 1.4688. The rise was then interrupted abruptly when the technically well-overbought currency pair made a sharp pullback from its highs as oil prices managed a relief rally. Based on a fundamentally bearish outlook for crude oil, USD/CAD's current pullback, though significant, could be limited. Without a bona fide recovery in crude oil prices, the Canadian dollar should remain challenged and pressured. The technical bias for USD/CAD currently relies largely on whether the currency pair sustains trading above or below the key 1.4000 support/resistance level. Any turn to the upside from this level on a return of crude oil weakness could result in a move back up towards the original 1.4600 target. In the event of an extension of the current pullback with a breakdown below the 1.4000 level, the 1.3800 level is the next major support to the downside.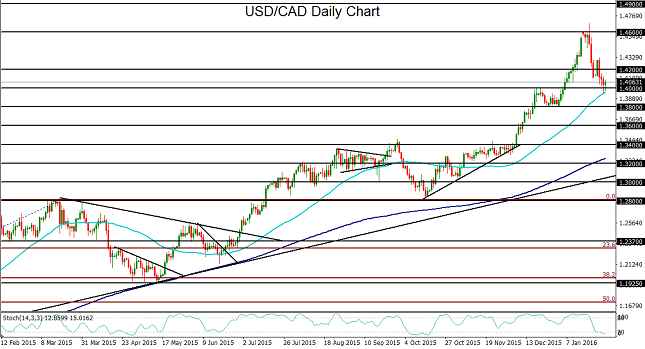 Source: FOREX.com
AUD/USD
AUD/USD has spent the past week rising above the key 0.7000 level after having formed a small, inverted head-and-shoulders pattern near its multi-year lows. This bullish head-and-shoulders pattern that has been developing since the beginning of the year has given AUD/USD bulls cause for some optimism that a bottom may have formed for the embattled currency pair as it consolidated near recent long-term lows. Two weeks ago in mid-January, AUD/USD dropped to more than a six-year low at 0.6825, just above its 0.6800 downside support target, forming the "head" of the chart pattern. The breakout of the pattern finally occurred this past week, pushing the currency pair back up to hit its 50-day moving average and the underside of a key rising trend line. The Reserve Bank of Australia (RBA) is scheduled to release its rate statement on Tuesday of next week. With slightly higher-than-expected inflation readings in Australia recently announced, the chances of a near-future interest rate cut may have been reduced, and the RBA may strike a more hawkish tone that could boost the Australian dollar further from its long-term lows. In the event that the breakout above the inverted head-and-shoulders pattern is sustained, the next major upside target is around the 0.7200 resistance level. The chart pattern would be invalidated, however, on any return back down below the noted 0.7000 psychological level.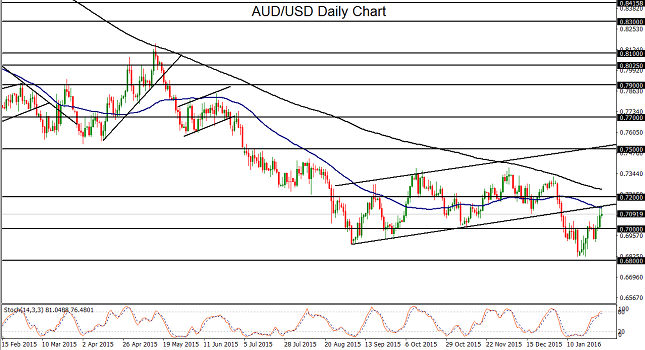 Source: FOREX.com
The normally tranquil Friday Asian session of trade was rudely interrupted this week by a surprise decision from the Bank of Japan.
The excitement started just as US markets were closing down for the day when Japan released disappointing data on household spending (-4.4% y/y vs. -2.3% expected) and Tokyo Core CPI (-0.1% vs. 0.1% eyed). Then, about an hour before the BOJ's official monetary policy announcement, the massive Japanese conglomerate Nikkei reported that BOJ members had discussed the prospect of negative interest rates in an effort to stimulate Japan's moribund economy. Anyone who's been following the central bank rumor mill over the past few years know that almost every major central bank has "discussed" negative interest rates, but that it there is a big difference between talking about it and actually making the decision to cross the proverbial 0% interest rate Rubicon.
As it turns out, that rumor actually understated the BOJ's seriousness as Kuroda and company opted to cut interest rates to -0.1% on certain types of excess cash reserves starting February 16th. The decision to cut interest rates was hotly contested, winning by a narrow 5-4 vote, but nonetheless represents an historic step in the BOJ's long-standing efforts to stimulate Japan's economy. Logistically, the impact of the change in policy will be relatively limited, as it will "only" apply to about ¥10-30T of reserves (the vast bulk of reserves will continue to earn 0.1%), but it does send a strong signal that the BOJ will be aggressive in preventing any additional strength in the yen. The BOJ simultaneously downgraded its assessment of the economy by cutting its inflation forecasts for the coming 12 months nearly in half (from 1.4% down to 0.8%) and pushing back the timeframe for achieving its 2% inflation goal to the 2017-2018 period.
Market reaction
With most analysts anticipating no change from the BOJ, it's no surprise that we saw a huge move in the yen overnight. USD/JPY surged nearly 300 pips from pre-BOJ levels to hit a 5-week high above 121.00, and rates are holding at that level as of writing midday Friday. Just like that, the pair has rallied back into the middle of its 14-month 116.00-125.00 range.
Moving forward, the technical picture could still support further gains in USD/JPY. The MACD is now trending solidly higher and about to cross back above the "0" level, signaling a return to bullish momentum, while the RSI indicator is still not in oversold territory despite this week's surge. To the topside, the next levels for bulls to key in on will be the 78.6% Fibonacci retracement of the Nov-Jan drop near 122.00, the November peak at 123.75, and the top of the established range at 125.00. Meanwhile, traders may want to fade any future moves toward the bottom of the range, as the BOJ is clearly trying to draw a line in the sand to prevent further appreciation in the value of the yen.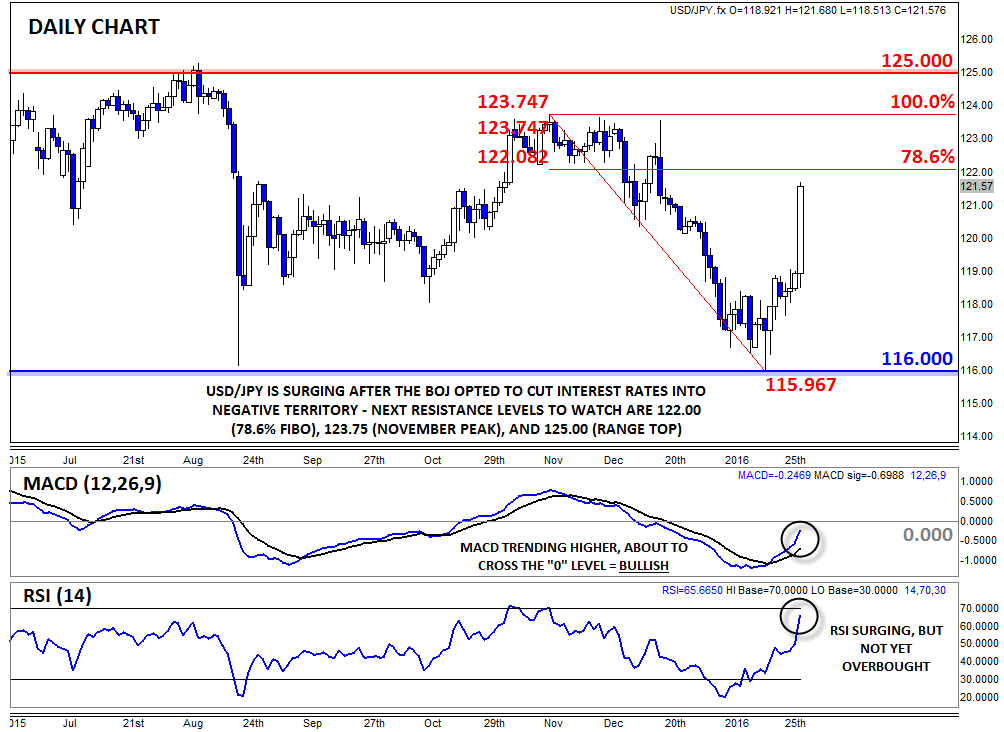 Source: FOREX.com
The impact of the Bank of Japan's surprise move to cut interest rates into the negative was swift as the Nikkei led a global stock market rally on Friday. This ensured that at least in Japan, stocks would close significantly off the recent lows. But this has nevertheless been the worst ever start to a year for global equities. Money managers may therefore decide to significantly reduce their equity holdings as they rebalance their portfolios ahead of the new month. They don't want to be stuck with equities should they fall further in February. So, equities could fall in early next week, especially if China's manufacturing PMI data (released on Monday) disappoints expectations again. Added to this, the impact of Amazon's big drop following its earnings release may deter US investors from buying the so-called "FANGs" group of stocks which was largely the reason why US indices did not fall significantly in 2015.
On the other hand however, the combination of the slightly stronger oil price and continued falls in government bond yields, most notably in Japan following the BOJ's latest easing measure, means some people will undoubtedly find value in some names. Energy companies, for example, could extend their rebound next month if oil prices manage to sustain their recent gains. Crude prices have managed to recover around 25% of their losses after dropping to below $28 a barrel last week; in addition to the impact of the oversold bounce, they have been supported in recent days by speculation that key oil exporters Russia and Saudi may agree to cut their output by around 5% each. Although, if agreed, this would point to a much tighter oil market, it is unlikely to have lasting impact on prices because of the fact other oil producers (e.g. Iran or the US) may simply ramp up their exports and keep the excess supply intact. Also, with Brent trading around the key $35 handle now, there is a possibility for renewed selling pressure here. If seen, stocks could also tumble. Of course, the two assets could decouple at any time, in which case the impact of oil will no longer play a major part on stock market direction.
Among the global indices, the German DAX in particular is looking rather weak. There are a number of reasons for this. For a start, the euro appears to have stopped falling with the EUR/USD exchange rate refusing to move below the 1.08 handle despite the German 2-year yields falling to fresh lows on Friday. The EUR/GBP and EUR/JPY crosses have both surged higher in recent times, too. As a result, German exports are becoming relatively expansive for customers in the US, Britain and Japan. China is another large export market for Germany, in particular for its luxury cars. With the world's second largest economy struggling to sustain its 7% growth rate target, this does not bode well for German companies either.
Meanwhile the European quarterly earnings season kicks into a higher gear next week and investors are understandably a bit cautious due to the slight slowdown in global economic activity and the recent emissions scandal from VW, which may have weighed on demand for German cars across the board. If the earnings fail to match or better the already-low expectations, then that could be the final nail in the coffin for the DAX. On the other hand, if results are mostly positive, then that could provide support and the DAX could bounce sharply from these still-depressed levels.
Another factor preventing the DAX recovering strongly at the end of January (compared to the other global indices) was the damage that the recent sell-off has had on the long-term technical picture, which is discouraging bullish speculators from stepping back in again at this stage. Though the index bounced strongly from the previous key support area around 9300/25 (which has raised the possibility we may have seen a triple bottom reversal pattern), speculators are not rushing back into the market as the index continues to find resistance around the underside of the broken long-term bullish trend line. As can be seen from the daily chart, below, this trend line comes in around the 9830-9930 area. For as long as the bears manage to defend this level there is a possibility for another sharp move lower, possibly as early as next week. In fact, the index has not even managed to pull back to the shallow 38.2% Fibonacci retracement level (10085) of its most recent downswing, suggesting that this latest rally could be a dead-cat bounce. The lack of a more significant bounce from the key 9300/25 area is not a great sign heading into a new month. On the downside, some of the key bearish targets are shown on the chart. These include the Fibonacci levels of the most recent bounce at 9510 (61.8%), 9070 (127.2%) and 8840 (161.8%), and the 127.2% extension of the previous, much larger, upswing at 8720.
That being said, if the DAX now manages to retake the abovementioned 9830-9930 resistance area then we may see a more significant recovery soon. Until and unless that happens, the bulls should proceed with extra care. As the monthly chart shows, the long-term bullish trend line is still technically holding on this much larger time frame. Thus the DAX could climb above the next key resistance area of 10000-10120 before embarking on a significant rally. Else, a revisit of the 2007 high is likely, around 8160.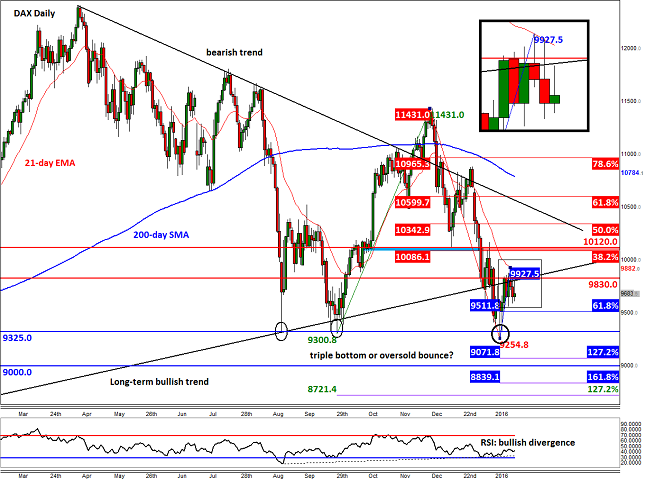 Source: FOREX.com. Please note this product is not available to US clients.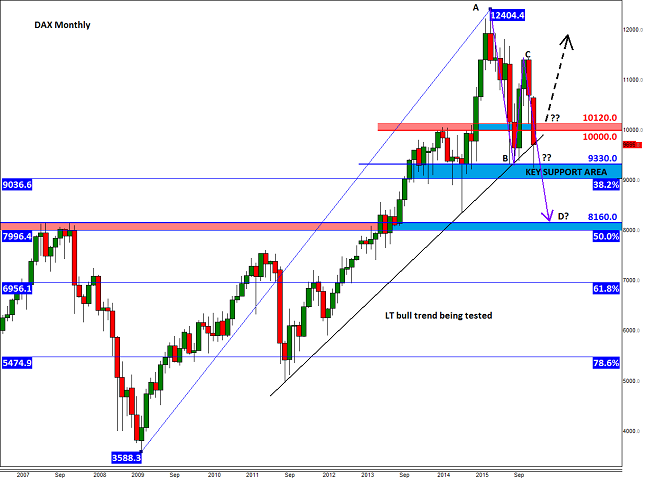 Source: FOREX.com. Please note this product is not available to US clients.
Crude prices have managed to recover around 25% of their losses after dropping to below $28 a barrel last week. As well as the impact of profit-taking from severely oversold levels, they have been supported in recent days by speculation that key oil exporters Russia and Saudi may agree to cut their output by around 5% each. Although, if agreed, this would point to a much tighter oil market, it is unlikely to have lasting impact on prices because of the fact other oil producers (e.g. Iran or the US) may simply ramp up their exports and keep the excess supply intact. In fact, Iran has already announced that it won't be party to any potential supply cuts from the OPEC.
Given that the rally has been driven almost entirely on the back of the hypothetical prospects of an agreement between Russia and OPEC, we have doubts whether the buyers will be able to hold their ground here, especially with Brent arriving at the previous support level of $36, which could turn into resistance now. But a close above $36 would be deemed a bullish outcome; in which case oil prices could extend their gains in early next week.
In the US, the pace of crude inventory buildup has gathered pace once more even though oil companies there can now export their excess oil. According to the Energy Information Administration (EIA), crude stocks rose by 8.4 million barrels in the week ending January 22. There was some good news in that stocks at Cushing fell for the first time in 11 weeks, if only by 0.77 million barrels, while distillates dropped by a good 4.1 million barrels. Nevertheless 8.4 million is a huge build and if the trend continues for another week, then this could weigh on oil prices.
From a technical point of view, both oil contracts have arrived at key levels following this week's rally. For WTI, there are two bearish trend lines in sight and both are still intact. For that reason and until proven otherwise, the bears remain in control. The immediate resistance level to watch is around $34.50/35.00, an area which was previously support/resistance. If WTI breaks above $35.00, the bulls may then target the 50-day SMA and 38.2% Fibonacci level at just above $37.00, followed by the second bearish trend line that has been in place since May 2015 at around $40.00. Meanwhile on the downside, the next potential support is at $32.40, which was previously resistance. Below here, there is nothing significant until $30, followed by the next psychologically-important $25 handle.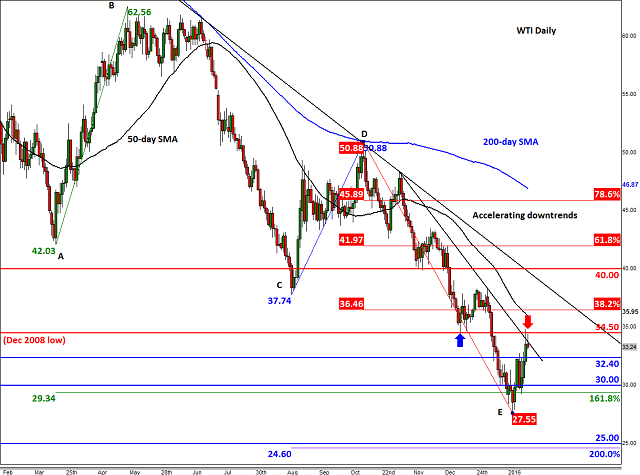 Source: FOREX.com. Please note this product is not available to US clients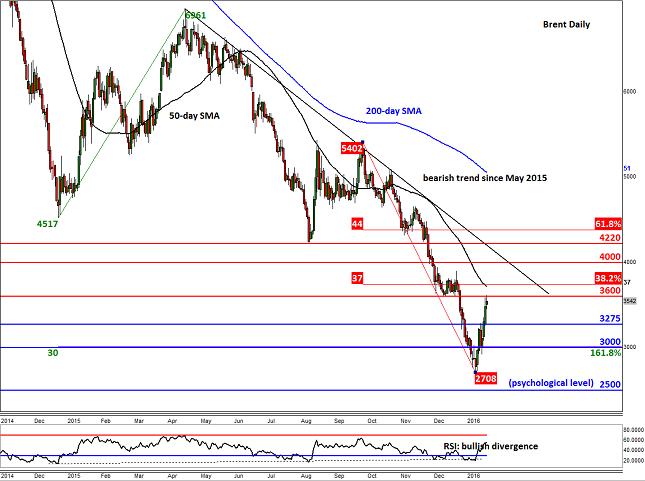 Enjoy this newsletter? Use the share button to post it on your favorite site or subscribe to our RSS feed to receive session recaps daily.