Highlights
Technical Developments:
USD/JPY remains pressured along with global equity markets and crude oil prices, and could be poised for further downside as market volatility persists. Technical bias: Neutral to Moderately Bearish
GBP/USD has continued its retreat and could soon be headed towards a breakdown to new lows. Technical bias: Moderately Bearish
GBP/JPY has been increasingly weighed down by a weak pound and rising yen, and is currently nearing its multi-year lows. Technical bias: Bearish
UR/USD has dropped sharply in the past week on the anticipation of additional ECB easing, and has tentatively broken down below a key support area. Technical bias: Moderately Bearish
USD/JPY
USD/JPY spent the early part of the past week rallying with global equity markets, but then falling back towards the end of the week as crude oil prices struggled to maintain recent gains and stock markets felt renewed pressure after previously staging a sharp recovery. Stocks fell as crude oil suffered a blow from US Energy Information Administration data reporting that crude inventory rose by 2.1 million barrels in the previous week. While less of a build than expected, this data refuted an earlier report of a sizable draw in inventories. Crude oil prices fell on this news despite continuing hopes for a deal among major oil-producing nations to limit crude output. With stock market fluctuations having recently followed crude oil prices closely and the Japanese yen continuing to benefit from its safe haven status when equity markets fall, USD/JPY retreated further from this past week's 114.86 high to drop below the key 114.00 level once again and then hit a low well below 113.00 as of this writing. From a broader price perspective, USD/JPY spent most of the first half of February plunging precipitously from above 121.00 all the way down to a new long-term low below 111.00, largely due to falling crude oil and stock markets fostering a "risk-off" flight back to the safe havens of gold and the yen. Though equities have recovered most of the losses from earlier in the month, any major return of market volatility may likely boost the yen even further, which could send USD/JPY to new lows. Declines for the currency pair could be even further pronounced if the US Federal Reserve continues to be seen as increasingly dovish and unlikely to raise interest rates again this year, which could further weigh on the US dollar. In this event, sustained pressure under the noted 114.00 level could begin to target further downside objectives at the key 110.00 and 108.00 support levels.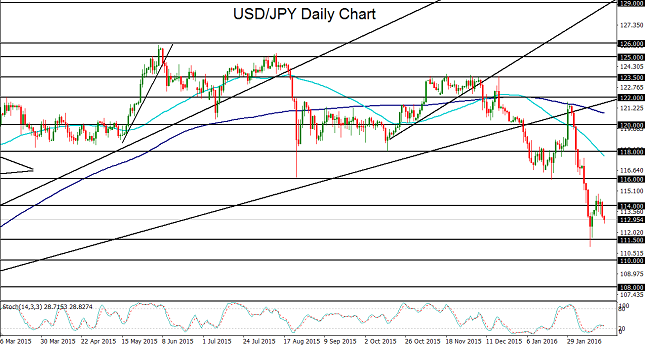 Source: FOREX.com
GBP/USD
GBP/USD has spent the past week mostly in bearish mode, as it has fallen once again to hit a major support area around the 1.4250 level. This drop to support extends the currency pair's retreat from its 50-day moving average and the 1.4500 level. In the process, this retreat has erased much of the gains made during the upside pullback of late January and early February, and could be the precursor to a continuation of the longstanding bearish trend. Despite diminished expectations of another Federal Reserve rate hike having pressured the US dollar from the beginning of February, the greenback has rebounded in the past week. Perhaps even more vital to GBP/USD's outlook than the dollar's frequent gyrations due to shifting Fed expectations, however, may be the persistently weakened state of the British pound. This weakness stems partly from an increasingly dovish Bank of England that was previously expected to begin its own monetary tightening cycle at some point following the initiation of the Fed's rate hike in December. These expectations have since diminished dramatically, and even reversed to accommodate the potential for a rate cut, given recent concerns over weak economic growth, financial market instability, and low inflation. As long as the Bank of England maintains a monetary policy stance that is consistently seen as even more dovish than the Fed's, the underlying bearish trend for GBP/USD should continue. Despite the noted upside pullback in late January and early February, price action since then has leaned towards a potential resumption of the entrenched downtrend. With any sustained breakdown below 1.4250 support, the next major downside target remains at the 1.4000 psychological support objective, followed further to the downside by the 1.3600 support level, last touched in early 2009.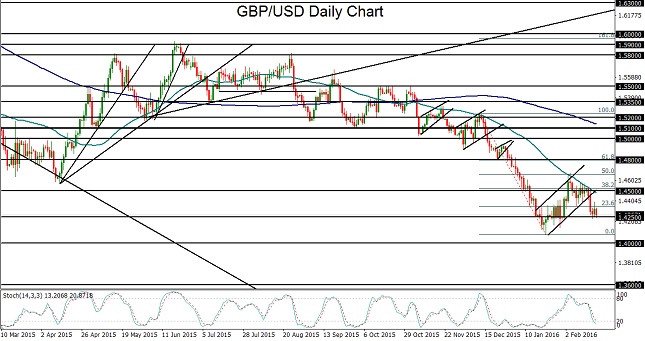 Source: FOREX.com
GBP/JPY
In line with the bearish moves for both GBP/USD and USD/JPY, the GBP/JPY cross currency pair has spent the past week resuming its freefall by dropping well below 164.00 once again, as the pound fell sharply against most major currencies and the yen rallied on a return of risk aversion. As noted above, the British pound's continued fall has been prompted partly by an increasingly dovish Bank of England. The combination of this pressure on the pound due to diminished interest rate expectations, along with the safe haven yen being boosted by continuing fear and volatility in global markets, has weighed heavily on the GBP/JPY currency pair. The prior week saw a drop down to multi-year lows and major psychological support around the 160.00 level after a prolonged period of precipitous falling. Despite the fact that the currency pair rebounded soon after dropping to 160.00, current price action is approaching those lows once more. With any continued equity market and crude oil volatility that sustains a "risk off" market sentiment, further yen buying could result. When coupled with a persistently pressured British pound, this could lead to a further GBP/JPY breakdown below the noted 160.00 support. In this event, which would confirm a continuation of the current downtrend, the next major downside targets are at the 156.50 and then 154.00 support levels.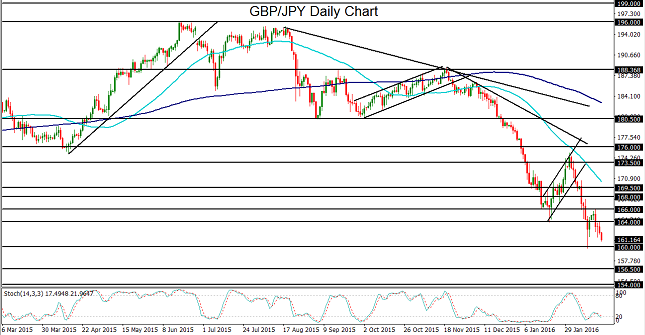 Source: FOREX.com
EUR/USD
EUR/USD spent the past week in a sharp slide that culminated in a dip below key support at the 1.1100 level. In the process, the currency pair hit a new two-week low. For much of the first half of February, EUR/USD had risen sharply as the dollar weakened on significantly lowered expectations of another Federal Reserve rate hike due to global economic growth concerns and financial market turmoil, among other factors. During the past week, however, the dollar made a rebound while the euro came under increased pressure early in the week after European Central Bank (ECB) President Mario Draghi made comments indicating a strong willingness and readiness to implement additional monetary easing measures. These comments further weighed on the shared currency, pushing the EUR/USD pair back down to key support at the noted 1.1100 level. Since its 1.0500-area lows in early December, EUR/USD has been trading within a rising parallel trend channel. Last week's 1.1375 high reached strong resistance at the top of that channel, as well as the underside of a major uptrend line extending back to the sub-1.0500 lows back in March of last year. Having retreated sharply from that resistance since late last week and currently having dipped under the 1.1100 level, EUR/USD has reached a critical juncture. Despite recent concerns over the Fed's somewhat dovish policy stance following December's rate hike, the ECB continues to be squarely embedded in easing mode. This contrast between the two central banks, if it continues, may be viewed as a bearish indication for EUR/USD. In the event of sustained trading below the 1.1100 level, the next major downside target remains at the major 1.0800 support level.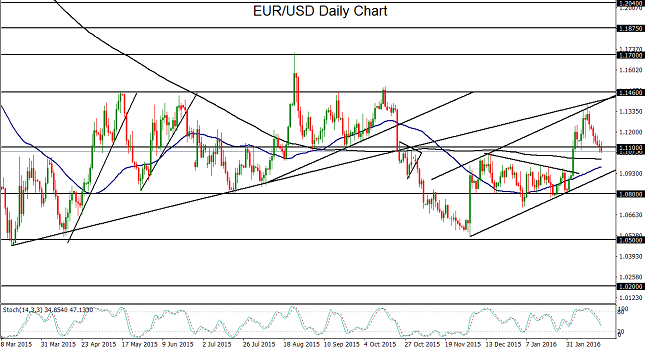 Source: FOREX.com
After getting clobbered in the first two weeks of February, last week's recovery in the US dollar was hardly surprising. What was more surprising though was the fact that it was actually driven by decent US economic data.
Last week, we noted the stronger-than-expected January US Retail Sales report, noting that the report represented "just the most recent evidence that the US economy is, at worst, continued to muddle through," and that "it's hard to square the decent economic data with the sharp declines in investor sentiment." Today's consumer price index report represents another solid report in the same vein.
Consumer prices were flat (0.0%) m/m on a headline basis, which was actually a tick better than the -0.1% reading expected, but the more impressive reading by far was the "Core" CPI. Consumer prices excluding volatile food and energy components actually rose 0.3% m/m, driving the year-over-year rate to 2.2%, the highest reading since 2012.
While the Fed prefers to focus on an alternative measure of consumer prices called Core Personal Consumption Expenditures (PCE), the historically close correlation between the two, not to mention the strong gains in average hourly earnings in last month's jobs report, suggests that price pressures may finally be starting to rise meaningfully in the US. Fed Funds futures traders are only pricing in about a 40% chance of another Fed rate hike at all this year, but if inflation continues to rise, expectations and the dollar itself should rise in sync.
Technical view: Dollar Index
On a technical basis, the US dollar index did bounce back this week, but the move is still viewed as an oversold bounce after the early-February collapse. As of writing on Friday afternoon, the dollar index is trading near the 97.00 level, testing the critical 97.00-50 range that has served as both support and resistance over the last few months.
The secondary indicators are predictably subdued, with both the RSI and the MACD holding in bearish territory, so bulls will need to see those improve before growing confident that dollar recovery is meaningful. On a price basis, a move back above 98.00 would shift the bias back in favor of the bulls for a potential continuation up toward 100.00 next.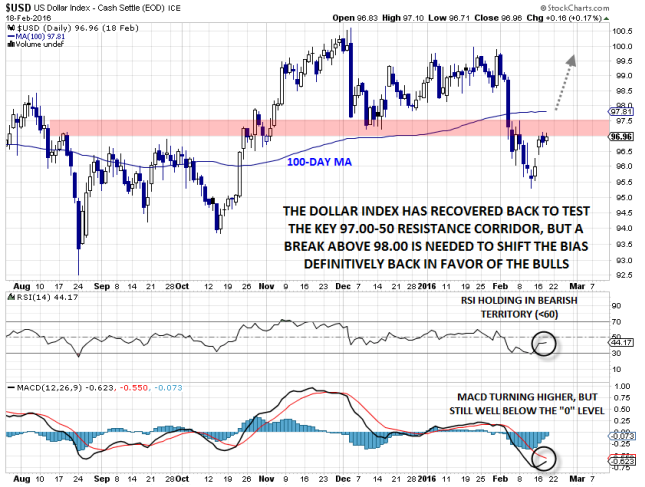 Source: FOREX.com
It looks like the kick-back rally may well be over for equities with global indices retreating at the end of this week. The weaker price of oil (see the commodities section, below) was among the reasons weighing on the stock markets on Friday, with European indices closing lower. Wall Street was also trading lower at the time of this writing, while gold and the Japanese yen were higher on safe haven demand. Nevertheless, stocks may soon find support once again. They could, for example, benefit from continued intervention from central banks. The FOMC's January meeting minutes and speeches from several policy members suggests the Fed may well delay upcoming rate hikes now that the world's largest economy is not performing as well as hoped. Meanwhile other central banks such as the BoJ and ECB have turned even more dovish and speculation is rife that the latter will introduce more QE at its next meeting in March. Thus, yields are likely to remain at record low levels, which may force investors into the higher-yielding equity markets. There is also a good possibility that oil prices will soon bottom out; this could also provide significant support to the markets.
In fact, equities had already surged sharply in the first half of this week, surprising many traders and analysts who were preparing for a stock market crash. Heavily-shorted stocks led the rally as the sellers scrambled to book profit on their positions. But traders have been making a more sober assessment of the situation in the latter part of the week; they know full well that bear market rallies tend to be vicious and can last from several days to several weeks. The continued rise of safe haven gold and yen suggests sentiment is still shaky and that the stock market recovery may well have been just an oversold bounce.
Since hitting a low on Thursday February 11, the S&P 500 has managed to make back a big chunk of the losses it had suffered earlier in the month and retraced about 40 percent of the entire losses since it started to roll over back in November. From a low of 1807 to this week's high (so far) of 1937, it has rallied a good 130 points or 7.2 per cent. That is all good, but is now in the past. What it will do next will probably depend  on price action between two key support and resistance ranges of 1800-1830 on the downside and 1933-1950 on the upside. While a breakout is a possibility, so too is range-bound price action within these large ranges. In any event, the S&P should pave the way for plenty of good short- to medium-term trading opportunities for both the bulls and the bears.
The 1800-1830 support area has been tested several times now and so far the buyers have defended it. It is important to highlight a potentially significant reversal signal that may have occurred last week: a false break below the prior lows, confirmed by a positively diverging RSI. The resulting rally over the past week and a half is therefore not a much surprise from a technical point of view (hindsight is a wonderful thing). But at this stage, this must only be treated as a potential reversal signal as far as the long-term trends are concerned.
Indeed, the 1933-1950 resistance range has been tested and so far rejected this week. Here, the 38.2% Fibonacci retracement level of the downswing from the all-time high converges with recent range highs and the backside of the broken medium-term bullish trend line. In other words, it is a key resistance area. Thus, it is possible for the downward trend to resume from here, or at the very least for the S&P to stage a short-term pullback, perhaps towards the pivotal 1900 handle. However, if this resistance zone breaks down then there is just thin air until the next key resistance area around 2000-2010 (where previous support meets the 61.8% Fibonacci retracement level).
So it may be safe to expect the stock market volatility to remain high next week, even though the economic data is far from being populated with significantly important data. That being said, the European manufacturing PMIs on Monday, German Ifo on Tuesday and second estimates of the UK and US GDP readings on Thursday and Friday should provide some direction nonetheless. It is important to note that the direction of the stock markets do tend to predict recessionary periods and if the S&P goes on to break that critical 1800-1830 support zone, then unfortunately things could get a lot uglier, and not just for the markets.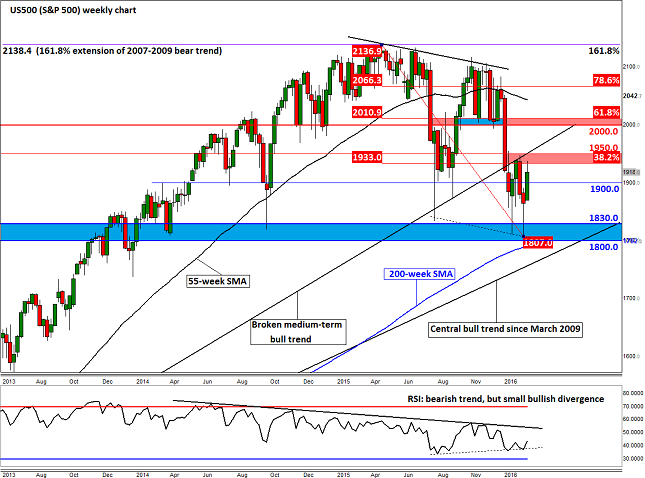 Source: FOREX.com. Please note this product is not available to US clients.
The contingent agreement to freeze oil production at or near record-high January levels between some of the large OPEC and non-OPEC members this week failed to lift the oil market decisively. Though the news had given crude prices a temporary boost earlier in the week, neither oil contracts could push on to make new highs above the recent ranges which would have confirmed a change in the trend. Brent fell for a second consecutive day on Friday to turn almost unchanged for the week. Although WTI prices appear to have jumped on Friday, this was only because of the contract roller over (i.e. the April contract was trading significantly above the expiring March contract when the rollover occurred). It fell sharply as Friday's session wore on, anyway. Bullish oil traders have been further frustrated by Thursday's news of a build in inventories of US crude and oil products. Not that this was an unexpected outcome; rather, hopes were raised the day before by the American Petroleum Institute which had (incorrectly) estimated a surprise drawdown. So, nothing has been changed about the old-but-still-relevant factor depressing oil prices: supply glut.
Going into next week, traders should expect to see more volatility in crude prices. Apart from the exceptionally high uncertainty in the oil market, the other reason for this is of course that at these low prices, small nominal moves do tend to exaggerate the percentage changes. Crude remains headline-driven, so any fresh comments from oil ministers could move prices sharply. It appears as though both Iran and Iraq support the idea of some OPEC and non-OPEC members freezing their oil production at January levels – and why wouldn't they? But neither has made it clear if they will also curb their output. If these important OPEC members do not make a commitment then there is a danger that the whole agreement will fall apart. But in any event, it is important to remember that oil production will be frozen at or near record high levels. For that reason, if the oil price is going to make a serious comeback, either demand growth has to improve remarkably or US shale oil output falls substantially. While the former looks unlikely, the latter is more probable given, for example, the consistent sharp falls in the rig counts. Baker Hughes' latest counts will be published Friday evening and another sharp decline could see oil prices bounce back. With lots of oil companies elsewhere also cutting back on CAPEX, the oil market should rebalance itself at some stage in the second part of 2016, anyway.
From a technical perspective, both oil contracts remain below their bearish trends and important moving averages, so the trend is bearish. That being said, we have seen some bullish indications on oil prices of late, including a bullish divergence on the RSI and a rare three-candle "Morning Star" reversal pattern at the lows last week. For the reversal to be confirmed, WTI will have to break above the high of the recent range at $34.50. However, as the long-term trend is still bearish, there is also a good possibility for a failure here. Bullish speculators may therefore want to wait for the potential break to happen before taking a short-term view on oil. However if WTI moves back below $30.00 or worse still $27.70 support then any near term bullish indications would become invalid.
Likewise, the daily chart of Brent had been looking bullish up until the last two days of the week when it failed to move above the range high of $36.00 and subsequently fell below its 50-day SMA. But the London-based oil contract is still holding its own above the $30 handle and has created a "higher low." Brent now needs a "higher high" above the $36.00 handle. If seen, a rally towards, if not beyond, $40.00 – the top of its bearish channel – could be on. Still, the longer-term technical outlook continues to remain bearish while Brent is contained inside the bearish channel. Meanwhile, failure to break decisively above $36.00 would be a short-term bearish development: below $30 and all bets are off.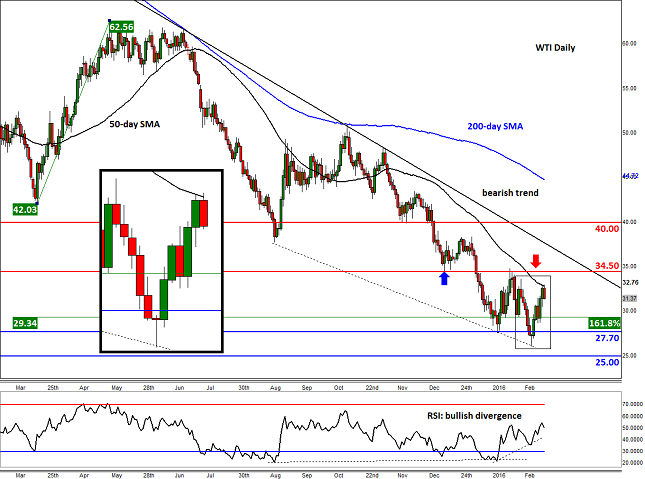 Source: FOREX.com. Please note this product is not available to US clients