Highlights
Technical Developments:
EUR/USD suffered some wild swings in the past week, but ended up significantly stronger after Thursday's ECB press conference. Technical bias: Neutral to Moderately Bearish
GBP/USD has been steadily rallying in a relief rebound, but next week's monetary policy releases from both the Bank of England and US Federal Reserve could challenge this rally. Technical bias: Neutral to Moderately Bearish
EUR/GBP has formed a major head-and-shoulders pattern that could signal exhaustion and a potential reversal after the sharp uptrend that has been in place for the past three months. Technical bias: Bearish
AUD/USD has continued to rise with a rebound and recovery in commodity prices, and could be poised to extend its gains after breaking out above a key resistance level. Technical bias: Moderately Bullish
 EUR/USD
The past week has seen extreme swings for EUR/USD, especially on Thursday when the European Central Bank (ECB) announced a monetary easing package that exceeded expectations. The initial announcement prompted a swift plunge for EUR/USD, but the currency pair reversed those losses on Thursday afternoon when ECB President Mario Draghi appeared to signal a possible end to rate cuts. This prompted EUR/USD to climb rapidly above prior resistance at 1.1100. On Friday, the currency pair pulled back to hit that 1.1100 level once again. These very volatile swings towards the end of the past trading week have left EUR/USD traders struggling to determine direction. Thursday's surge above 1.1100 also broke above both the 50-day and 200-day moving averages as well as the bottom border of a key uptrend channel extending back to December's lows near 1.0500. With the ECB announcement out of the way, the next major release affecting EUR/USD will be the critical FOMC statement coming out of the US next week. If the Fed becomes more dovish as a result of the ECB's easing actions, EUR/USD could potentially extend Thursday's Draghi-driven gains. In the opposite scenario where a still-hawkish Fed continues to be open to further rate hikes, the currency pair could revert back down to its recent lows. The line in the sand for both of these scenarios continues to be the noted 1.1100 support/resistance level. A sustained move above 1.1100 next week could begin to target further resistance around the 1.1450 area, while a strong move back below 1.1100 could once again target major support at 1.0800.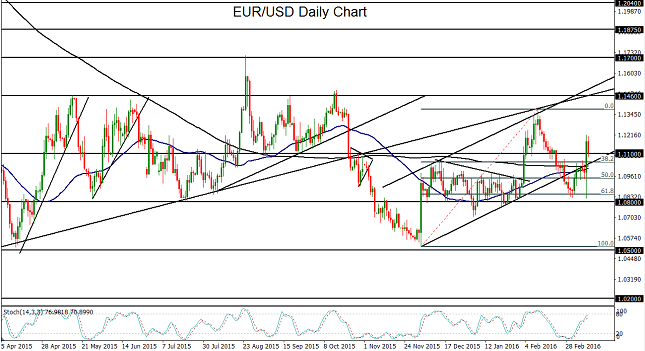 Source: FOREX.com
GBP/USD
GBP/USD has spent the past week stalling and fluctuating in consolidation above and below both its 50-day moving average and the key 1.4250 area. Prior to this consolidation, the currency pair had been rising sharply in a relief rebound from late February's 7-year lows below 1.3900. Next week brings the heavily-anticipated monetary policy statements from both the US Federal Reserve and Bank of England (BoE). The BoE has generally been seen as the more dovish of the two banks in its prolonged delay of implementing an interest rate hike due to ongoing concerns over weak inflation and lagging economic growth. At the same time, the Fed has vacillated for the past few months in response to mostly positive, but sometimes conflicting, US economic data. Overall, however, the Fed has been considered to be consistently more hawkish than the BoE in terms of openness to raising interest rates. This comparative central bank outlook could either be reinforced or refuted based upon the statements issued by the Fed and BOE next week. If reinforced, GBP/USD could fall back towards its recent multi-year lows and potentially continue its well-entrenched bearish trend. If refuted, the currency pair could extend the sharp rebound that has been in place since the beginning of the month. In the run-up to and after next week's central bank announcements, the noted 1.4250 area and 50-day moving average should continue to be the area to watch on GBP/USD. With sustained trading below this area, the key downside target continues to be at the 1.4000 psychological support level, followed by the major 1.3500 support level. To the upside, any sustained extension of the current rebound above the noted resistance factors should be met by strong further resistance around 1.4500.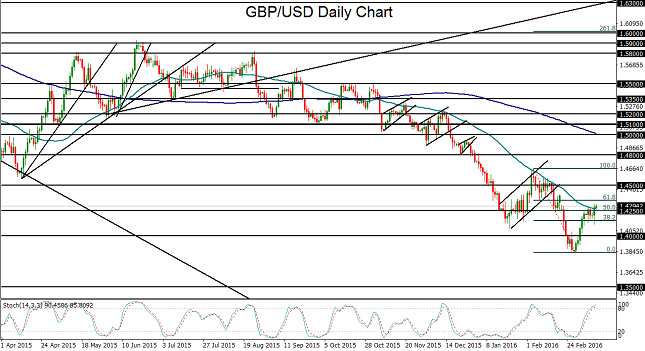 Source: FOREX.com
EUR/GBP
The wild ECB-driven swings this past week also affected the EUR/GBP cross currency pair in much the same way as they did for EUR/USD. In the case of EUR/GBP, the pair whipsawed rapidly below and above the key 0.7750 level during and after Thursday's ECB events. After ending Thursday well above 0.7800, EUR/GBP pared its gains by falling back down towards the noted 0.7750 level early on Friday. While Thursday's euro surge was strong, it remains to be seen if it can be sustained, especially in light of the rather extensive easing measures that were actually slated to be implemented. For the EUR/GBP currency pair, there is also the very important consideration of how the Bank of England's monetary policy stance has evolved. This should be clarified next week when the UK central bank is scheduled to hold its key monetary policy meeting and summary. From a technical perspective, EUR/GBP had been rising in a clearly-defined uptrend since early December before breaking down below its uptrend line in the beginning of March. This breakdown extended further below the noted 0.7750 support level before recently reaching down to its 50-day moving average. The currency pair was on the verge of a breakdown below that moving average before Thursday's Draghi-driven reversal lifted it well above. In the event that Thursday's rally becomes extended, major upside resistance is at the key 0.7900 level. Any breakout above that level, especially if the Bank of England issues a dovish summary next week, would confirm a continuation of the bullish trend, with the next major upside target around the 0.8050 resistance level. In the opposite technical scenario, the currency pair has just formed a clearly bearish head-and-shoulders reversal pattern. This hints at a potential exhaustion of the uptrend that has been in place since early December. In the event of a breakdown below this pattern, the next major downside target is around the key 0.7450 support level.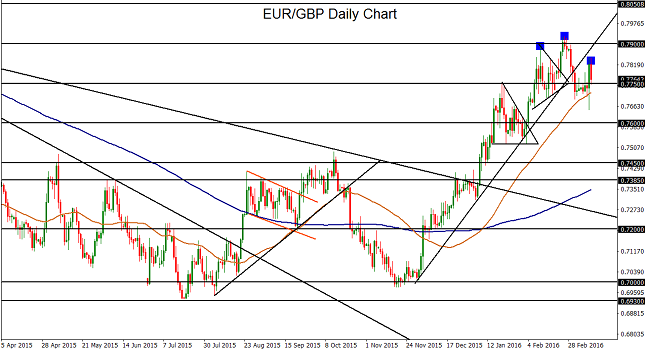 Source: FOREX.com
AUD/USD
AUD/USD has spent the past two weeks rising sharply as commodities have staged a significant rebound and recovery. Also helping AUD/USD's rise was the Reserve Bank of Australia's decision two weeks ago to keep interest rates on hold instead of cutting rates further. This two-week rise extends and accelerates the currency pair's climb from January's multi-year lows near 0.6800 support. After breaking out above the 0.7200 prior resistance level in the beginning of March, AUD/USD went on to target major upside resistance at the 0.7500 psychological level. That level was hit and tentatively exceeded towards the end of this past week. This breakout is a significant technical event if it is sustained. In the event that commodities continue in recovery mode, AUD/USD could continue to rise after having established a bottom early this year. In this event, the next major upside targets in the currency pair's climb are at the 0.7700 and 0.7900 resistance levels.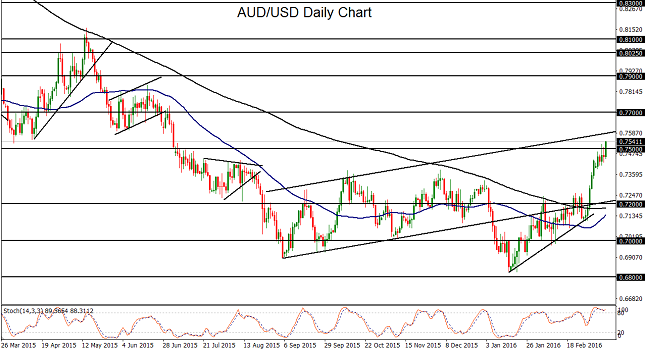 Source: FOREX.com
As everyone expected, the European Central Bank's monetary policy meeting was the marquee market event of last week, even if the market's interpretation of its meaning repeatedly flip-flopped over the last 36 hours of trade. To use a baseball analogy, the ECB meeting was like a ground rule double, where the batter hits the ball deep into the outfield, only to see it hit the ground before bouncing over the fence; the ECB swung with all its might and it initially looked like it had hit a home run for the bears, but later in the session, the market momentum ended up reversing course, leading to a disappointing result (euro strength) for the ECB.
This week, the Federal Reserve will step into the batter's box and thankfully, a much clearer market outcome is likely. While some optimistic economists are still holding out hope that the US central bank will increase interest rates this week, the market has essentially priced out that possibility. Though no change to monetary policy is likely, the Fed will release its usual monetary policy statement, the always- critical Summary of Economic Projections (SEP), and Fed Chairwoman Janet Yellen will hold her quarterly press conference on the economy.
Given the recent run of decent economic data and improving stock market performance, the Fed is likely to sound much more hawkish this time around. In the monetary policy statement, traders will look for any nods toward the improving economy, specifically on wages and price pressures, which have long been the Fed's bugaboo, to imply that a June rate hike is more likely. Investors will likewise flip immediately to the notorious "dot chart" in the accompanying SEP to see whether Fed officials have revised down their expectations for interest rates, as well as their numerical expectations for short- and long-run economic growth, unemployment, and inflation. As always, Dr. Yellen's tone during the press conference will be closely scrutinized, though she's become much more steady and noncommittal after her initial "couple of months" faux pas a few years ago.
Technical view: Dollar Index
The dollar index, which represents the greenback's performance against six of its major trading partners, took one on the chin last week. From an extremely basic technical perspective, the index has been in a medium-term downtrend (lower lows and lower highs) since forming a high near 100.00 last December.
February's bounce appears to have stalled out against resistance near the 50-day MA and the secondary indicators have turned negative as well, with the MACD crossing below its signal line and the RSI enshrined in a bearish range below 60. Especially if the Fed falls short of the markets' hawkish expectations, bears may start to train their eyes on the 5-month low around 95.00-50 next, with a deeper retracement possible if that level gives way. Only a recovery back above the 50-day MA near 98.00 would shift the near-term bias to the topside for a possible move back toward 100.00.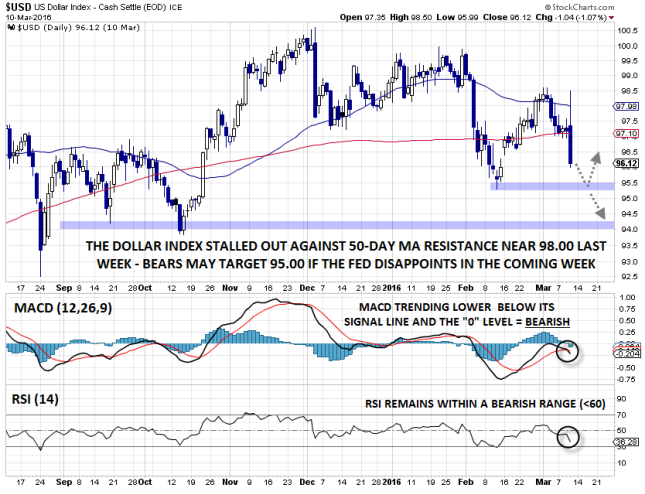 Source: FOREX.com. Note that prices are updated as of Thursday's close.
After spending most of the week in consolidation mode, stocks surged higher on Thursday morning after the European Central Bank decided to cut interest rates across the board, increased QE by a bigger-than-expected 20 billion euros per month and expanded the universe of eligible securities to purchase through its QE program. But much like the Bank of Japan's move in January, stocks quickly paired their gains before dropping sharply. Apparently, this was in response to comments made by the ECB President Mario Draghi at the press conference when he said that he didn't expect the central bank to cut interest rates further. This was enough to send German 10-year bond prices tumbling as yields jumped. The euro shot higher and stocks, which have been correlating positively with bonds, tanked. However, there was even more drama later on in the day as equities then surged back higher and by the very next day the losses were nearly eliminated for European stocks while the US indices had actually rallied to fresh weekly highs.
At the time of this writing, the S&P 500 was trading at just shy of 2010, a level where Thursday's rally had come to an abrupt halt. As can be seen from the chart, below, this level corresponds with the 61.8% Fibonacci retracement against the all-time high. In addition, the area below this 2010 level and above 2000 had been strong support in the past, which on Thursday turned into resistance (shaded in red on the chart). As we noted on Thursday in one of our reports, the technical importance of this area meant that a sell-off here was almost inevitable. We warned then that "…at this stage, traders need to be open minded to the fact this could just be a short-term pullback rather than the start of another major leg lower."
 As it turned out, it was indeed just a short-term pullback. Unless the sellers show up again here later on Friday, the S&P could break further higher in early next week. In this potential scenario, a continuation in the rally towards the 78.6% Fibonacci retracement at 2066 or the bearish trend line slightly higher wouldn't surprise us. Indeed, the momentum indicator RSI is not yet at "overbought" level of 70, so there may be some juice left in this rally.
But if the index turns lower again from around the 2010 level and forms another bearish-looking candle on its daily chart, then this would signal a clear change in the short-term trend. In this potential scenario, the S&P could break below short-term support at 1970 and potentially drop to test the old support at 1950 before deciding on its next move, which could well be to the downside given the fact that the moving averages are also pointing lower. But as things stand, the trend remains bullish.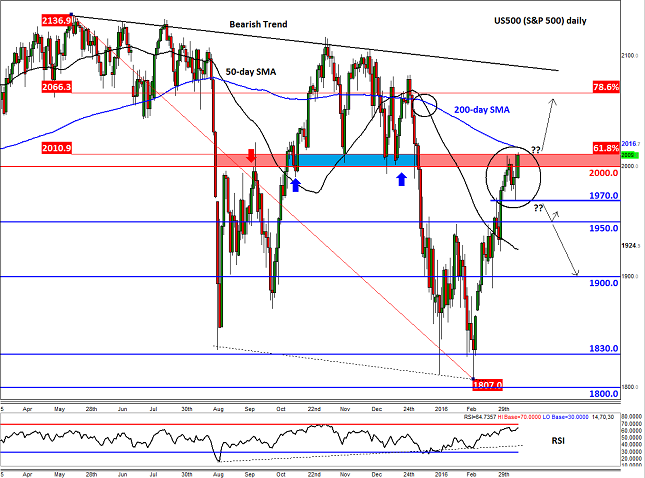 Source: FOREX.com. Please note this product is not available to US clients.
Crude oil prices have been repeatedly hitting fresh highs for the year in recent times. Just a month or so ago, they were dropping to fresh multi-year lows almost on a daily basis. The sudden turnaround has been triggered by a number of factors. Like every other rally, it all started as the sellers began to exit their positions. Bullish speculators then slowly started to pile in and more and more sellers withdrew as key resistance levels broke down. Sentiment turned on investor realization that the significantly lower oil prices had boosted demand, most notably in China, and at the same time caused severe difficulties for oil producers, to such an extent that large OPEC members decided to talk with Russia about curbing crude output at January levels. Talks on this matter have been ongoing for a couple of months now and so far there has been no real progress, with Iran unwilling to participate in such a deal. Despite this, oil market participants have apparently come to the conclusion that a deal to freeze oil production is forthcoming with or without Iran. Meanwhile, drilling activity in the US has been falling and recently oil supply has also started to decline. As such, the high crude oil inventories should begin to fall.
So far however there's been little evidence of that. If anything, crude stockpiles have actually risen further in the US. And there is a danger they may climb even more because of the seasonal maintenance works at this time of the year. But we think that by the start of the summer driving season, we should begin to see some sharp declines in oil inventories as demand for gasoline, which is already strong for this time of the year, rises further. Our long-term view is that the potential gains for oil will be limited as US shale producers are likely to ramp up oil output once prices have recovered noticeably. But in the short to medium term, further gains are likely and that is exactly what the charts of crude suggest at the moment.
Brent technical outlook
Brent oil is trying to establish a short-term base above the broken resistance trend of the bearish channel around the $40 area. For as long as it holds above here now, the path of short term least resistance would remain to the upside. There are a couple of potential resistance areas worth watching closely now. The first is between $42.20 and $43.40, an area which was previously support and corresponds with the 38.2% Fibonacci retracement against the May 2015 high. Above this level, the 200-day moving average comes in around the pivotal area of $46.00-46.30.
For Brent a potential break back below the broken trend would be deemed a bearish outcome, in which case a drop to old resistance at $36.00 would become likely. The momentum indicator RSI is nearing the "overbought" threshold of 70. For this reason, a short-term pullback from around the above-mentioned resistance levels would not surprise me. But the RSI is a lagging indicator and can remain "overbought" for a long time.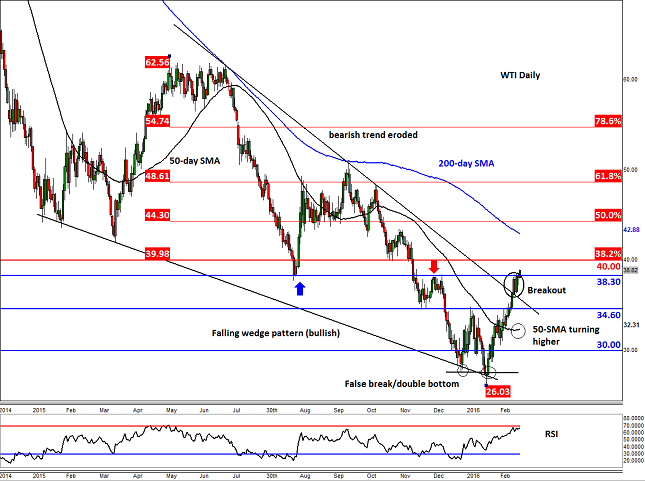 Source: FOREX.com. Please note this product is not available to US clients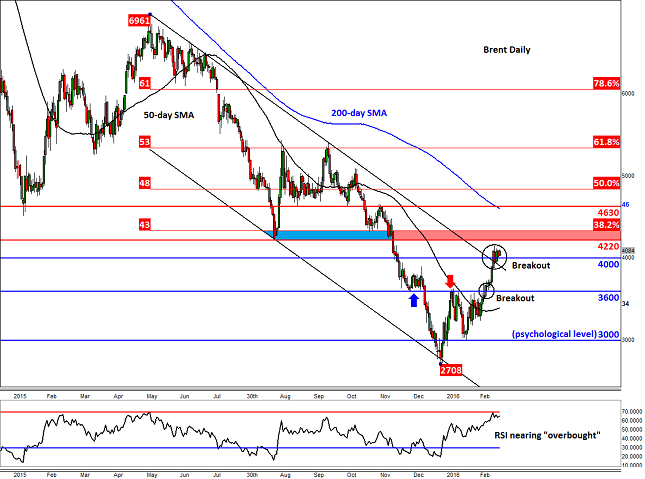 Source: FOREX.com. Please note this product is not available to US clients
Monday, March 14
23:30 GMT – RBA Monetary Policy Meeting Minutes
Readers will recall that the RBA kept its key interest rate unchanged at 2.0% in its meeting earlier this month, though it did leave the door open for potential rate cuts moving forward. Monday's meeting minutes will provide more details on the distribution of opinions within the RBA itself, but traders should keep in mind that these views may have changed over the last two weeks, especially after last week's abysmal Chinese Trade data.
Tuesday, March 15
TBD – BOJ Monetary Policy Meeting Minutes
While there is no set time for the conclusion of the BOJ's meetings, the monetary policy statements are typically released in the 5:00 – 6:00 GMT timeframe. After last week's dramatic easing actions by the ECB, pressure may start to grow on the BOJ to keep pace with more easing, but given the yen strength after the BOJ's most recent interest rate cut, no changes are expected yet.
11:30 GMT – US Retail Sales
Retail sales in the world's largest economy have been persistently disappointing of late, hovering in the 0.0-0.5% m/m range for the last six months. Traders and economists expect another relatively weak reading of -0.1% this time around, though the following day's CPI and Fed meeting may overshadow this release.
Wednesday, March 16
8:30 GMT – UK Employment Report
The UK labor market has taken a worrying turn of late, with new jobless claimants increasing in each of the last two months. Much like with the US jobs reports, traders will key in on not only the headline job creation/destruction, but also the change in wages, which are expected to tick up toward a 2.0% growth rate; if seen, decent wage data could take the bite out of a negative job creation figure.
11:30 GMT – US CPI
Could the US economy finally be seeing signs of rising inflation? Based on the recent strength in average hourly earnings, core PCE, and last month's US CPI report, traders are more optimistic about US inflation than they've been in years. Economists expect a decline in headline inflation this month, but the accompanying core inflation figures will provide a better view of the sustainable price pressures in the US economy.
17:00 GMT – FOMC Monetary Policy Meeting
Despite its previous intentions, the Federal Reserve will almost certainly leave interest rates steady in the 0.25-0.5% range this month. That said, with nascent signs of rising price pressures and a recovery in risk assets, the Fed may come off as relatively hawkish. The primary market impact of this meeting will likely be to shape the expectations for June's FOMC meeting.
23:30 GMT – AU Employment Report
Jobs figures from Down Under are notoriously volatile, but traders and economists are looking for growth in the 12k range after last month's disappointing -8k decline in jobs. As usual, the market reaction to this data, even if it's dramatically different than expected, may be relatively limited given this data's volatile history.
Thursday, March 17
7:30 GMT – SNB Monetary Policy Meeting
Following on the heels of last week's aggressive easing action from their most important neighbor, the ECB, the SNB may have to cut interest rates further to keep pace. Some traders and economists are expecting additional interest rate cuts, whereas others believe that the SNB will simply increase its intervention in the market to cap the value of the franc.
Friday, March 18
14:00 GMT – US University of Michigan Consumer Sentiment
Consumer confidence took a hit last month along with the stock market, but with the recovery in equities and still-low gas prices, a recovery in consumer sentiment seems likely. This report, along with Tuesday's retail sales report, will provide a thorough update on the status of the US consumer.
Enjoy this newsletter? Use the share button to post it on your favorite site or subscribe to our RSS feed to receive session recaps daily.