Highlights
Technical Developments:
EUR/USD has risen sharply on a Fed-driven drop in the US dollar but is approaching major upside resistance. Technical bias: Neutral to Moderately Bullish
GBP/USD has reached up to the key 1.4500 level on a weak dollar and a surge in the British pound. Technical bias: Neutral to Moderately Bullish
USD/JPY has dropped down to re-test major support at the 111.00 level, the area of February's double-bottom lows. Technical bias: Moderately Bearish
USD/CAD has broken down below several key support levels on a weakened dollar and recovery in crude oil. Technical bias: Moderately Bearish
EUR/USD
Building on the prior week's rise in the euro that was largely due to comments by ECB President Mario Draghi indicating a possible end to rate cuts, this past week's Fed meeting prompted a large drop in the dollar and a resulting surge in EUR/USD. This surge has approached February's high of 1.1375 before pulling back on Friday. During the course of this rise, the 50-day moving average has crossed above the 200-day moving average, forming a potentially bullish technical signal that is termed, a "golden cross." This bullish outlook, however, would be contingent upon the currency pair continuing to trade above major support at the key 1.1100 level. To the upside, the major resistance level to watch is the 1.1450 area. With any breakout above that level in the event of further dollar weakness, the next major upside target is at 1.1700. Any retreat and reversion back below the noted 1.1100 support level, however, could open the way to a return to the 1.0800 support lows.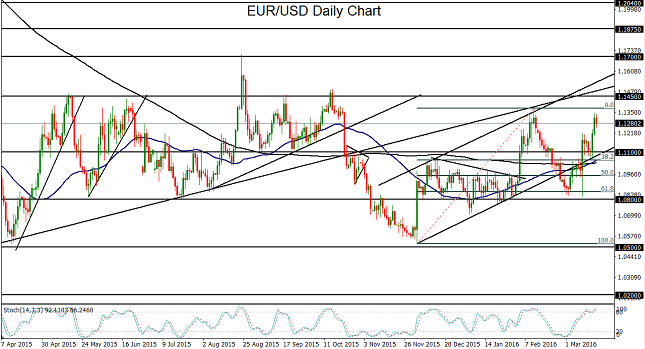 Source: FOREX.com
GBP/USD
The combination of a dollar plunge after Wednesday's Fed meeting and a moderate boost for the pound after Thursday's Bank of England policy summary led to a sharp surge for GBP/USD. In the aftermath of both of these central bank statements, the currency pair broke out above its 50-day moving average once again and has gone on to reach key resistance at the 1.4500 level. The rise from late February's multi-year lows has been substantial, putting into question the integrity of the downtrend that has been in place since at least mid-year last year. As with EUR/USD, the short-term direction for GBP/USD should be highly dependent upon the dollar's sustained reaction to a slower pace of Fed rate hikes. If dollar weakness continues, the major upside level to watch is the key 1.4600 resistance level. With any breakout above 1.4600, a tentative recovery for GBP/USD could potentially be in the making, with a further upside target at 1.4800. To the downside, any retreat back down below the 1.4250 support level should reinstate the prior bearish bias.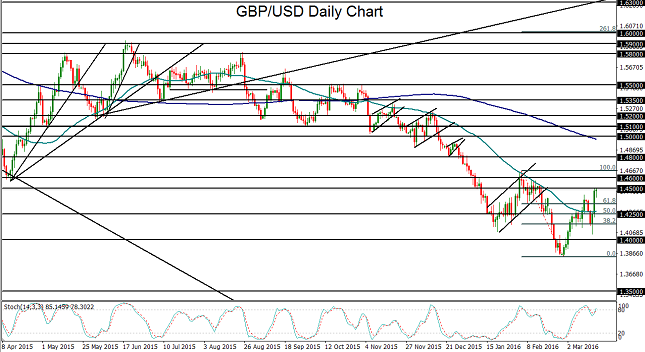 Source: FOREX.com
USD/JPY
USD/JPY tumbled this past Thursday to dip briefly under major support around the key 111.00 level, the area of February's double-bottom lows, and established a new long-term low in the process. This drop was driven primarily by Wednesday's pivotal Fed statement on monetary policy, but also by the Bank of Japan a day earlier, which opted to keep interest rates on hold instead of cutting rates further into negative territory. After USD/JPY plummeted to a 111.00-area low in early February, the currency pair began a prolonged consolidation near its lows, which at one point in late February retested 111.00 to form the noted double-bottom chart pattern. Meanwhile, on the higher end of the consolidation, price formed a descending trend line that has served as the upper border of the trading range. Overall, this upper border combined with the lower horizontal border at the 111.00 double-bottom lows have formed a clear descending triangle pattern. With both the BOJ and Fed meetings having weighed heavily on USD/JPY, the currency pair is once again testing the lows of this triangle pattern, and has reached an important bearish technical juncture. With any further downside momentum that prompts a sustained breakdown below this triangle, the next major downside targets are at the key 110.00 and then 108.00 support objectives.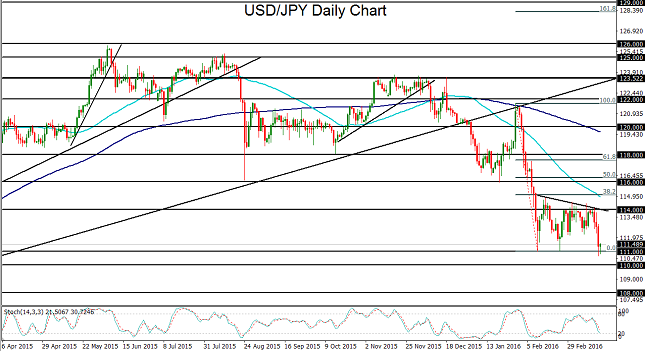 Source: FOREX.com
USD/CAD
This past week, the dovish Fed statement combined with significantly stronger crude oil prices have led to a major breakdown for USD/CAD below both the key 1.3200 support level as well as a major uptrend support line extending all the way back to the mid-2014 lows. Towards the end of the week, the currency pair had settled in a tight consolidation slightly below the key 1.3000 psychological support level, which is also at an important 61.8% Fibonacci retracement of the recent bullish trend from the May 2015 lows up to January's 1.4600-area multi-year high. As such, USD/CAD has reached down to and dipped below yet another critical support juncture. With any continued downside momentum and sustained trading below this 1.3000 level due to a continued recovery for crude oil and weakness in the US dollar, the next major downside target is at the key 1.2800 support level. Any further drop below 1.2800 could open the way for USD/CAD to target further weakness towards 1.2500.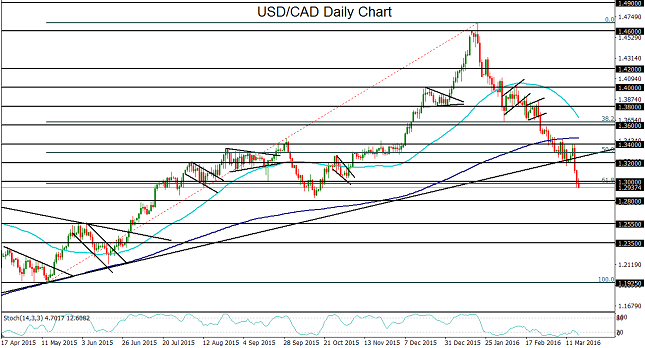 Source: FOREX.com
The primary global macroeconomic theme that prompted the most significant moves in the currency markets this past week was clearly central bank activity. In actuality, however, this theme can be more accurately described as inactivity, as all four major central banks that issued statements during the week kept interest rates unchanged. This included, in chronological order, the Bank of Japan, the US Federal Reserve, the Swiss National Bank, and the Bank of England. This non-action was in stark contrast to the prior week, when the European Central Bank introduced a broad array of rate cuts and stimulus measures that exceeded expectations, taking the markets by surprise.
Despite this past week's conspicuous lack of interest rate changes, however, comments and implications that accompanied some of the central bank statements resulted in unexpected currency movement. Most notably, in issuing its policy statement and press conference this past Wednesday, the Fed asserted that expectations of US interest rate hikes this year had shifted down substantially to two projected hikes from prior forecasts of four hikes. These and other unexpectedly dovish comments led to an immediate plunge for the US dollar and a sharp rebound for gold along with other dollar-denominated commodities.
As for the Bank of Japan (BoJ), its choice to keep rates on hold instead of cutting further into negative territory led to a surge for the Japanese yen, as the accompanying statement left lingering uncertainty over when, or even if, further stimulus measures might be implemented. This was especially the case since the BoJ's negative rate cut during its last meeting in January was unable to keep the yen from strengthening dramatically.
While the Swiss National Bank also left its monetary policy unchanged, comments from the central bank revealed its continuing estimation that the Swiss franc is overvalued, and that it was prepared to resume intervention in its currency should the franc persist in strengthening.
Finally, the Bank of England on Thursday maintained its bank rate at 0.5% as well as the magnitude of its asset purchases at £375 billion. The statement concluded with somewhat of a dovish outlook that asserted: "all members agree that, given the likely persistence of the headwinds weighing on the economy, when Bank Rate does begin to rise, it is expected to do so more gradually and to a lower level than in recent cycles." This dovish leaning, however, had been largely expected and priced into the markets within the past several weeks, along with concerns over the upcoming referendum on UK membership in the European Union. As such, the British pound managed to rise rather substantially after the monetary policy summary.
After a stronger start on Friday, European stocks turned mixed as traders banked profit ahead of the weekend. In contrast, Wall Street was trading higher at the time of this writing. Some of the global indices looked poised to extend their advance for the sixth straight week. The on-going recovery in oil and metal prices continued to provide strong support for commodity stocks with miners once again dominating the top half of the FTSE 100 early on Friday. These stocks turned lower later on in the day however as oil eased off its highs. Nevertheless, investors have shown greater enthusiasm for equities and other riskier assets in recent days due, among other things, to the rallying oil prices and also because of the on-going central bank support. Though none of the major central banks eased their policies this week, they have all pretty much sounded dovish, with the Fed now envisaging 'only' two rate rises in 2016 as opposed to four back in December. The prospects of lower rates for longer and continued recovery in the oil price, means stocks could climb further higher in the short-term.
However, the rising EUR/USD exchange rate is clearly not a favourable outcome for some European exporters, which may help explain why the German DAX index has underperformed its US counterparts over the past few days. The UK's FTSE 100 seems less deterred by the rising GBP/USD exchange rate, in part because of its larger commodity-linked constituents, but should the pound sharply extend it gains then this could well weigh on the index going forward. Looking ahead, next week's economic calendar is going to be fairly light as far as central bank meetings and US data are concerned. But there will still be some important numbers from Europe. Among others things, traders should pay close attention to Tuesday's data which will include the latest services and manufacturing PMIs from the Eurozone, the German ZEW Economic Sentiment and the UK's Consumer Price Index (CPI). The US weekly crude oil inventories data, released on Wednesday, will be important for oil prices and therefore energy companies. Other important data to watch ahead of the long bank holiday weekend will include Thursday's publication of UK retail sales and US durable goods orders, followed by the final US GDP estimate on Friday (when most European markets will be closed for Good Friday).
Technical outlook: FTSE
Despite the late sell-off on Friday, the technical outlook on the FTSE continues to look constructive. The recovery processes started back in early February when the sellers failed to hold their ground beneath the prior low at 5600. This false breakout pattern signalled a clear turning point which led to a sharp rally. The FTSE quickly climbed back to 6000 as the sellers abandoned their positions and the buyers stepped in. Since then, the FTSE has made a couple of higher highs and higher lows, further violating the bearish trend. Recently, it took out a bearish trend line, too. But then the bulls showed little desire to further bid the market higher.
The FTSE thus went into a period of consolidation, which was always going to be a healthy sign as the short-term momentum indicators worked off "overbought" conditions. But on the daily time frame, the RSI has not even reached this threshold at 70, which suggests that there may be some further momentum left in the rally. Indeed, the FTSE was trying to break outside of its recent consolidation range on Friday, though with not much conviction. Trading was painstakingly slow due to a quiet day and ahead of the weekend.
As things stand, the FTSE looks like it wants to extend its rally towards the 200-day average at 6265. Above the moving average, the next bullish target is around 6450-6505, an area which corresponds with previous support and resistance, and the 61.8% Fibonacci retracement. Meanwhile a closing break below support at 6125 would end the short-term bullish bias and may lead to a drop towards the next support zone in the 6000-6030 region.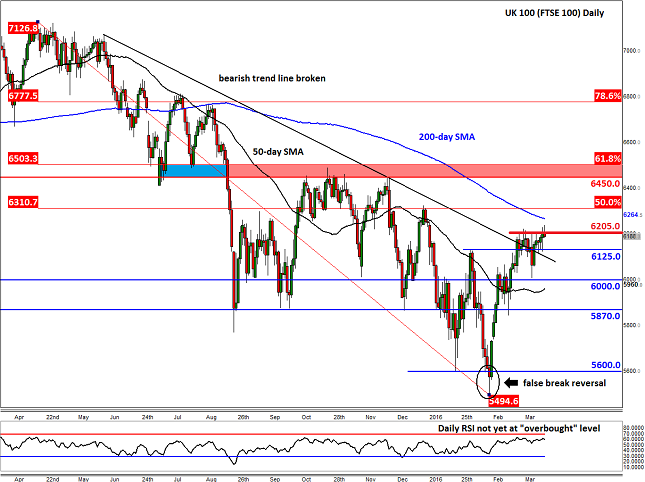 Source: FOREX.com. Please note this product is not available to US clients.
Crude oil, copper and to a lesser degree precious metal prices have all rallied at various points this past week. It will be interesting to see if their good run of form will continue in the new week.
Oil prices are on the verge of closing higher for the fifth straight week, unless something dramatic happens in late New York trading. Brent and WTI are basically continuing their recovery process on growing hopes that the oil market is going to re-balance itself because of strong demand and a drop in supply given the noticeable idling of oil rigs in the US in recent months and the prospects of an oil-freeze deal between Russia and OPEC. A weaker US dollar has also supported oil and other buck-denominated commodities. But both Brent and WTI look a little stretched and so they may be due for a pullback in the short-term, especially with Brent testing a prior support level at $42.50 and WTI future its 200-day moving average at $42.35. Nevertheless, the medium-term technical outlook for both oil contracts remains bullish following their recent breakouts above key levels and trend lines, as show on the charts, below.
With yields being universally low across the developed economies and the dollar falling, buck-denominated precious metals have also shone this week. They rallied strongly over the past couple of days in particular after the FOMC sounded more dovish than expected on Wednesday, which helped to push expectations about the next Federal Reserve rate increase further out. Other major central banks have also turned more dovish recently, with the ECB, for example, expanding its QE stimulus package and the BOJ cutting interest rates into the negative.
Despite this, gold traders are left with a dilemma. On the one hand, the weaker dollar and easy central bank policy is boosting the appeal of the metal. But on the other, the same factors are also helping to underpin US stock markets in particular. While both gold and stocks can rise in tandem, because of the on-going "risk on" trading environment, speculators are evidently allocating more of their trading resources for stocks and less so for the safe haven metal. However, gold hasn't exactly fallen off a cliff (yet) and should sentiment turn sour again then traders will realise that there are not many attractive alternatives to turn to other than gold.
Silver is less of a safe haven metal than gold, hence it has outperformed in recent weeks. On Friday, both metals had eased off after posting strong gains since Wednesday. At the time of this writing silver was testing the previous resistance at $15.80. The metal has already eroded a couple of bearish trend lines and has broken above some key resistance levels, while the 50-day moving average is turning higher and the 200 is flattening. So, it will be important that the bulls hold their ground at around $15.80. Otherwise things could turn sour at the start of next week. Traders should be wary of the possibility that the dollar could find its feet again, while the whole commodities complex could come under pressure from renewed demand fears out of China. But for now at least, the technical outlook is looking bright for silver, and indeed many other precious metals including gold and platinum. Bearish speculators may therefore want to stay on the side-lines until the charts point to a trend reversal.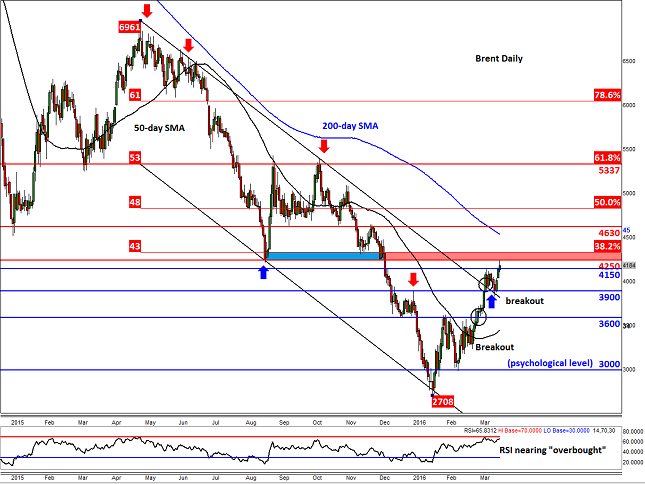 Source: FOREX.com. Please note this product is not available to US clients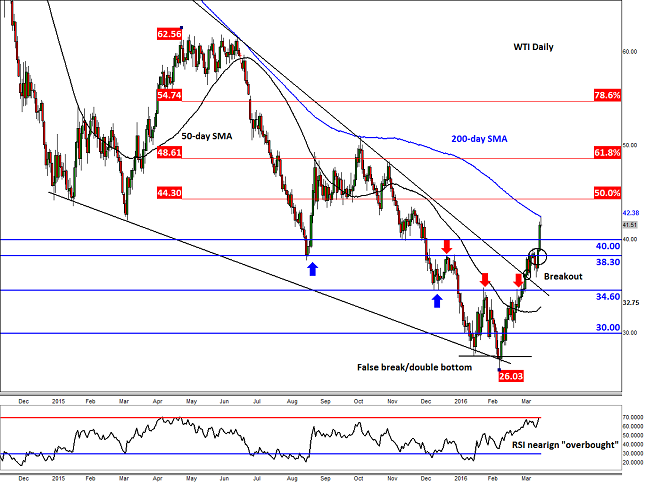 Source: FOREX.com. Please note this product is not available to US clients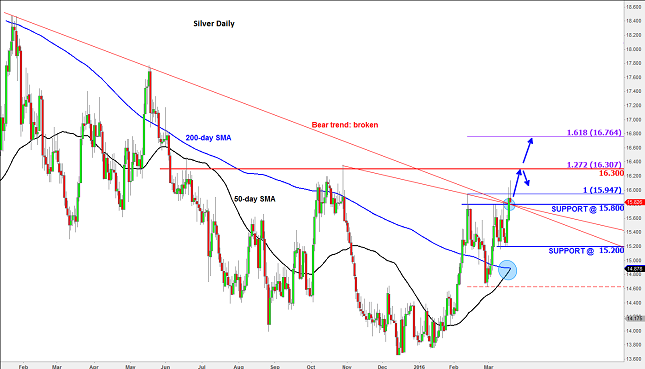 Source: FOREX.com. Please note this product is not available to US clients
Monday, March 21
No major data releases scheduled.
Tuesday, March 22
9:00 GMT – Eurozone Flash PMI readings
These figures provide the most up-to-date read on economic conditions in the Eurozone and are expected to show continued modest growth. Like a number of other developed markets, Eurozone manufacturing activity has been lagging behind service sector activity, and that trend is expected to continue this month, especially given the post-ECB strength in the euro.
9:30 GMT – UK CPI (February)
UK inflation has been subdued near the "0" level since early 2015, but there are nascent signs that price pressures are finally starting to pick up. The headline CPI readings have improved in each of the previous three months and economists are forecasting another rise to 0.4% m/m this time around. A solid reading here could lead to more strength in the pound and commodity-oriented equities.
10:00 GMT – Eurozone ZEW Economic Sentiment
Not surprisingly, economic sentiment in the Eurozone has been in the dumps of late, though it's worth noting that this figure has beat traders' subdued expectations in each of the last four months. While another beat could be on tap this time around, the last thing the ECB wants to see at the moment is more euro strength, so the market's reaction will be key.
Wednesday, March 23
21:45 GMT – NZ Trade Balance (February)
You know it's a relatively slow week for economic data when you're analyzing the impact of a New Zealand trade balance report. Economic data out of China continues to disappoint, though Australia's economy has held up relatively well thus far, so there are arguments for both a better- and worse-than-expected release here. Nonetheless, with the RBNZ solidly in easing mode, it will be difficult for the kiwi to rally meaningfully in the near term.
Thursday, March 24
9:30 GMT – UK Retail Sales (February)
Retail Sales in the UK surprised everyone last month, rising by a solid 2.3% m/m rate, so a slowdown is definitely possible in this volatile indicator of the health of the UK consumer.
12:30 GMT – US Durable Goods Orders (February)
"Durable goods" are products that are expected to last at least three years, including things like automobiles, airplanes, appliances, and computers. Because of their generally high costs and long lives, buyers often finance these purchases, so Durable Goods Orders can be viewed as another reading on consumers' confidence in the future. Media will key in on the headline figure, but the "core" reading, which filters out volatile transportation purchases, is seen as more indicative of the underlying trend.
Friday, March 25
12:30 GMT – US Final Q4 GDP
This report represents the third reading (second revision) of the Q4 GDP report, and as such, is relatively stale for forward-looking traders. That said, the update could help traders handicap the likelihood of a Fed interest rate hike in June, as well as to identify pockets of strength in the world's largest economy.
Enjoy this newsletter? Use the share button to post it on your favorite site or subscribe to our RSS feed to receive session recaps daily.