Highlights
Technical Developments:
AUD/USD has plunged this past week due to the Reserve Bank of Australia cutting interest rates and decreasing its inflation forecast, and could begin to drop towards its long-term lows that were hit early in the year.
USD/JPY has continued to trade near its recent multi-year lows and trend to the downside as the Japanese yen has remained persistently strong despite the latest bounce for the US dollar.
USD/CAD has surged sharply this past week primarily on several weak economic data releases out of Canada, and could see more gains if crude oil pulls back further from its recent highs.
AUD/USD
Following the release of Australian inflation data last week that came out surprisingly lower than expected, the Reserve Bank of Australia (RBA) on Tuesday cut interest rates by 25 basis points to a new record low of 1.75%. Prior to last week's release of the inflation data, the RBA was not widely expected to cut interest rates, but since the Consumer Price Index showed prices falling by 0.2% vs. expectations of a 0.3% increase, speculation over a potential interest rate cut had increased markedly. After Tuesday's actual rate cut, the RBA followed up on Friday with more dovish news during its monetary policy statement. The central bank cut its core inflation forecast to 1-2% for 2016, down from 2-3% in its prior quarterly statement. This provided some hint of further rate cuts to come. In light of these recent inflation-driven events contributing to further RBA dovishness, the Australian dollar has fallen significantly against other major currencies, as might have been expected. As of Friday, AUD/USD has been pressured down to key support around the 0.7350 level after having dropped below 0.7500 support earlier in the week in the wake of the RBA rate cut. In the process of this extended drop, price has also broken down below both its 50-day moving average and an uptrend line extending back to January's multi-year lows near 0.6800. In the event of a further sustained breakdown below the noted 0.7350 support level, which would extend the recent two-week retreat from April's 10-month high above 0.7800, the next major downside target is at the key 0.7200 support level followed by the 0.7000 psychological level.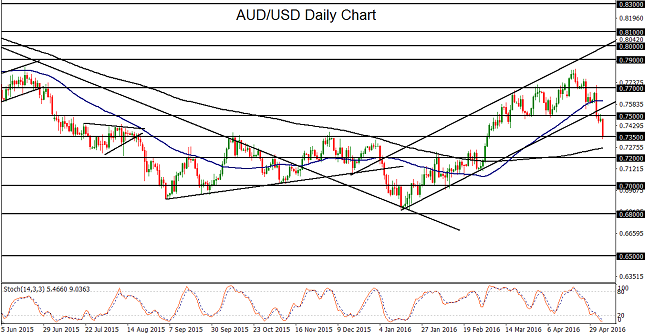 Source: FOREX.com
USD/JPY
Despite a US dollar that has generally rebounded this past week, the persistent strength of the Japanese yen recently has kept USD/JPY depressed well under the key 108.00 support/resistance level. This extended yen strength follows the Bank of Japan's (BoJ) decision last week to avoid further rate cuts and easing actions for the time being. While the risk of an intervention by the central bank in attempts to halt the strengthening of its currency continues to be present, the yen is likely to continue rising until such time that the BoJ actually makes a potential move. After having dropped below the noted 108.00 prior support level last week, the near-term bias for USD/JPY continues to be bearish, especially in light of both the upside momentum of the yen and weak employment numbers out of the US on Friday that could place some pressure on the dollar. In the event of continued downside for USD/JPY, the prevailing downtrend could well be extended towards the next major target at 105.00. In the absence of a successful BoJ intervention attempt, any further breakdown below 105.00 could potentially push the currency pair down towards 103.00 support, followed by the major 100.00 psychological level.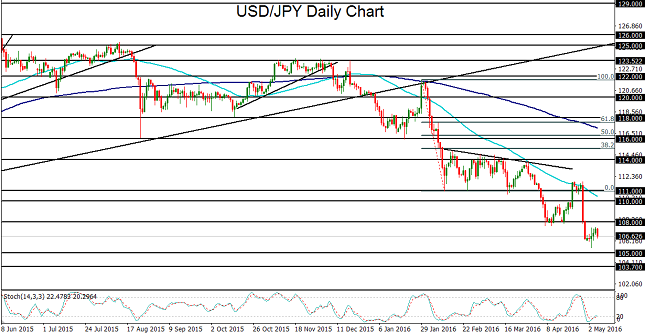 Source: FOREX.com
USD/CAD
USD/CAD continued its sharp rebound on Friday as crude oil was still off its recent highs and the Canadian dollar was hit by data showing a much worse-than-expected employment change in Canada last month. For April, Canada lost 2,100 jobs vs prior expectations for a slight gain in jobs. The current rebound for USD/CAD has lifted the currency pair from major support around the 1.2500 level, where a new 10-month low was established earlier in the week. Supporting the rise for USD/CAD from its long-term lows, in addition to Friday's disappointing Canadian employment numbers and recently lagging crude oil prices, was Canadian trade balance data for March that was released on Wednesday. It showed a merchandise trade deficit of -$3.4 billion, which far exceeded prior consensus expectations of -$1.2 billion and significantly widened the deficit from February's revised -$2.5 billion figure. The sharp surge for USD/CAD prompted the currency pair earlier in the week to break out above previous resistance at 1.2800. With any further weakness in oil prices to add onto negative economic data out of Canada, the Canadian dollar could continue falling, potentially pushing USD/CAD to its next major resistance target at the 1.3000 psychological level. With any breakout above 1.3000, further bullish momentum could push the currency pair up towards 1.3400 resistance, which is also where the 200-day moving average is currently situated. In the event of such a rise, the sharp downtrend that has been in place for more than the past three months could be at risk of coming to an end.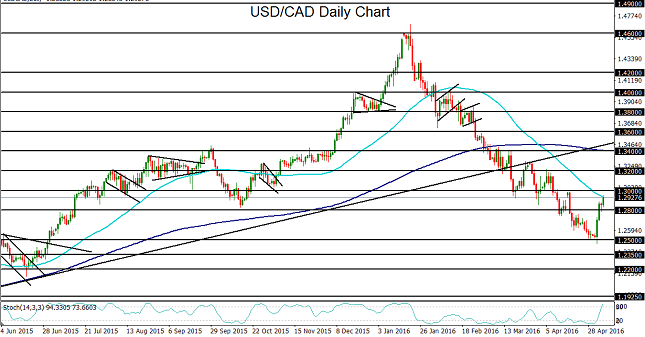 Source: FOREX.com
The headline US Non-Farm Payrolls (NFP) number for April came in on Friday at 160,000 jobs added vs prior consensus forecasts of around 200,000. The April number was down considerably from the unrevised 215,000 jobs added in the previous month of March. This very substantial disappointment in the employment picture rather accurately mirrors the ADP employment report that was released just two days earlier, which came in at 156,000 jobs added in April vs prior expectations also around 200,000. Despite both the unemployment rate and the change in average hourly earnings remaining steady and as expected on Friday at 5.0% and 0.3%, respectively, the plunge in the actual number of NFP jobs added from prior months potentially foreshadows an even lower probability of further near-term rate hikes by an already-dovish Federal Reserve.
Prior to Friday's disappointing NFP release, the Fed had remained steadfastly cautious with regard to further rate hikes. It asserted last week in its FOMC statement that while the labor market had seen improvements, other economic growth indications were slowing and the pace of further rate increases would likely be gradual. Now, with potential signs of a slowdown in employment growth as well, at least for the month of April, the Fed's caution is likely to be even more warranted. This could especially be the case if further economic data in the run-up to the Fed's June meeting continue to show relatively weak employment and economic growth.
In the immediate aftermath of the NFP, the initial market reaction to Friday's employment release was a reasonable and expected sharp drop in the US dollar due to the sizable 40,000-job divergence between the actual and expected numbers. As frequently occurs during and shortly after important economic releases, however, the dollar then had a secondary reaction that quickly reversed those losses to resume trading by mid-morning on Friday in the general neighborhood of where it had been trading prior to the release.
From a slightly longer-term perspective and outlook, however, it is difficult to see any positive outcome for the US dollar from the latest employment release, especially with respect to the Fed's monetary policy stance going forward. A consistently and increasingly dovish Fed driven by weaker economic data, including employment data, is very likely to have the continued effect of placing significant pressure on the US dollar as it has since early this year.
Stocks extended their earlier declines in the immediate aftermath of the US jobs report on Friday, in what has been a very bad week for equities. But at the time of this writing, the indices were bouncing off their lows. The slightly weaker-than-expected US jobs data effectively put to bed talks of a rate increase in June once and for all, triggering a "risk-on" response from equity market participants, while the resulting weaker US dollar caused buck-denominated commodities to rebound, which supported energy companies and miners.
Still, the rebound thus far looks like a drop in the ocean compared to the rough start to May equities have so far endured. Unless we see an even sharper turnaround in the trend later on Friday, this would mark the worst week for European markets in thirteen. It has been a particularly bad week for the banking and mining sectors, with Commerzbank and Anglo American being among the worst performing stocks in their respective sectors. Sentiment has been hurt by some really disappointing corporate earnings results and a sharp pullback in (the buck-denominated) commodity prices amid ongoing oversupply concerns and this week's earlier rebound in the US dollar.
The dollar had rallied on the back of some mixed-bag US data in mid-week, which came as a relief after a series of weaker-than-expected macro pointers had (1) raised concerns about the health of the world's largest economy and (2) pushed expectations about the next Federal Reserve rate increase further out. Oil prices tumbled mainly on profit-taking after speculative net long positions had risen to record levels in the prior week, for the impact of another build in US oil inventories was offset by disruptions to supply in Canada – as a result of the wildfire in Fort McMurray, the country's oil sands hub – and Libya, where fighting between rival factions have intensified.
European investors also appear to be spooked by the impact of this year's earlier sell-off. This is evidenced by continued outflows from the European equity exchange traded funds (ETFs). According to an article in the FT, which cites data from Markit, these ETFs have experienced outflows for the fourteenth straight week, shedding in the process more than $16 billion.
But preventing a bigger drop in equities is the impact of the on-going unconventional stimulatory efforts of central banks. Interest rates across the developed economies are either at record low levels, zero, or, in some cases, negative. Longer-term yields have been pressurized by program of asset purchases, particularly in Japan and the Eurozone.
China earnings in focus next week
The focus in early next week may return to China if the latest trade figures from the world's second largest economy, due for publication on Sunday, show significant deviation from the expectations. There are no other significantly-important data for the equity markets until Friday when we will have the first quarter German and Eurozone GDP estimates, as well as retail sales and PPI from the US. Meanwhile earnings will shift down a gear but there will still be plenty to look forward to from Europe:
10-May-16: ING, UniCredit, Credit Suisse Grou, Nokia, Electricite de France SA
11-May-16: Gas Natural, Allianz SE, Deutsche Post AG, Carlsberg, E.ON, Metro AG
12-May-16: Zurich Insurance Group, KBC Groep, Credit Agricole, Skanska AB
13-May-16: Telecom Italia SpA
Technical outlook: DAX
The German DAX index, pressurized by heavy falls in German bank shares, has now 'filled' one of its previously unfilled gaps at around 9770. This level also roughly corresponds with the 38.2% Fibonacci retracement of the upswing from this year's low of 8700. If the DAX manages to find significant support at this relatively shallow retracement level, then it would bode well for the bulls as it would strongly suggest that they rather than the bears are in control. But for the bullish trend to have any chance of resuming soon, the index will need to break above Thursday's high at around 9920, a level which also corresponds with the 50-day moving average and the backside of the support trend of the bullish channel. A potential break above it would therefore re-establish the bullish channel.
Supporting the bullish argument is the fact the index had already formed a false break reversal pattern when its stay below key support around 9340 was short-lived. So, this recent correction could just be a normal pullback in an upward-trending market. What's more, the RSI has now moved significantly away from the "overbought" levels and is holding above 40, a level which is considered the line in the sand as far as momentum is concerned.
However, if the DAX closes Friday's session below the 9770 support level or move below here decisively in early next week then it would more or less confirm the breakdown of the bullish channel. In this potential scenario, a deeper correction towards the previous key support at 9340 would become a likely outcome, for this hurdle also loosely ties in with the significant 61.8% Fibonacci retracement level. Supporting the bearish argument is the fact that the long-term downward-sloping trend line is still intact while the 200-day moving average is not only above the current index levels but it is also pointing lower now.
So what you are looking at is effectively a range-bound market, but with well-defined tradable levels. Overall, we still feel the bulls are in control and therefore expect to see a rebound soon. Our long-term view would turn bearish only if and when the index breaks below 9340 again, although a close sub 9770 support would also make us less confident about the near-term outlook.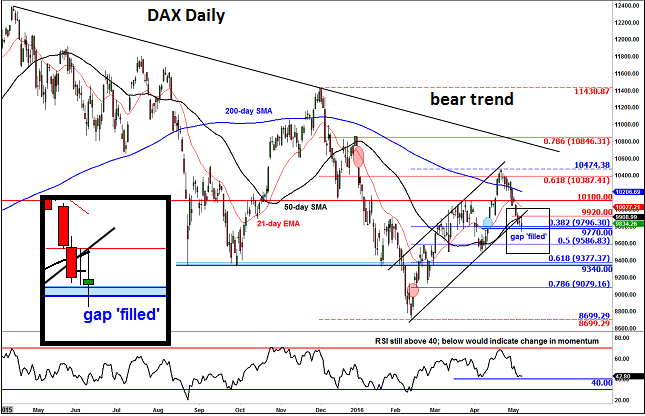 Source: FOREX.com. Please note this product is not available to US clients.
At the end of April oil prices began to drop after a good run of form. This was mainly due to profit-taking after speculative net long positions had risen to record levels in recent weeks. The selling continued for much of this week, though there were times when prices staged sharp rebounds as the impact of another build in US oil inventories was offset by disruptions to supply in Canada – as a result of the wildfire in Fort McMurray, the country's oil sands hub – and Libya, where fighting between rival factions have intensified.
On Friday, oil prices were initially lower but they bounced back in the aftermath of a disappointing US jobs report, which sent the dollar momentarily lower and triggered a "risk on" rally, broth from of which oil benefitted.
But as oil prices trade near the lower band of the levels that many think will put the brakes on the decline in US oil production (namely around $50-$70 a barrel_, it will be interesting to monitor the changes in the weekly oil rig counts data from Baker Hughes. Actual oil production will obviously also respond to higher prices but with a longer lag. If we start to see a slowdown in the decline in oil rig counts in the coming months then this may provide an early indication that oil prices are about to hit a medium term peak. Conversely, if the relentless declines continue then it would strongly suggest that prices may rise towards $70 or so before peaking.
The latest rig count data is due for release later on Friday and ahead of this oil prices may pause for a breather. But as far as the short-term outlook is concerned, both contracts remain inside their bullish channels and above key support levels as shown on their charts, below. For that reason, one can only assume that the path of least resistance is still to the upside. Indeed, WTI's 50-day moving average has now crossed above the 200 to create a "Golden Crossover." Meanwhile, Brent's RSI has now worked off "overbought" condition, so another rally in early next week look likely, assuming that key supports at $44.50 or $42.50 will hold. If the latter breaks, however, we may start to see a larger correction.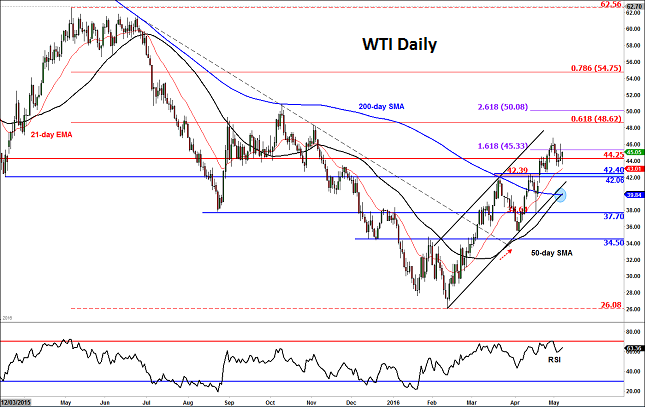 Source: FOREX.com. Please note this product is not available to US clients.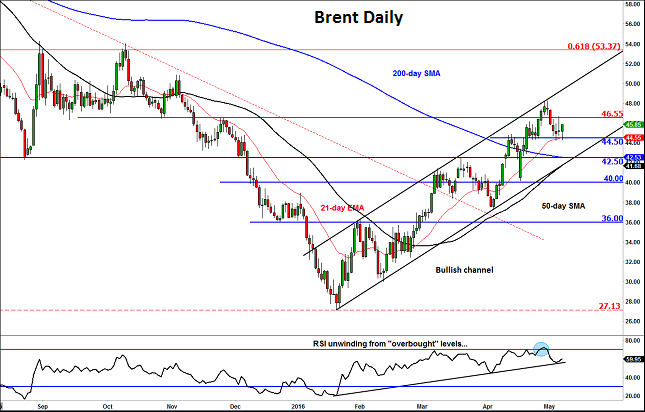 Source: FOREX.com. Please note this product is not available to US clients.
Enjoy this newsletter? Use the share button to post it on your favorite site or subscribe to our RSS feed to receive session recaps daily.