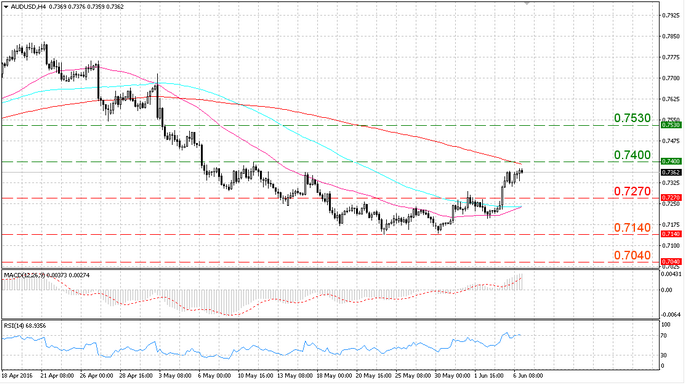 General overview
According to Janet Yellen (the head of the Federal Reserve) although the employment report raised some concerns, the regulator would not pay much attention to the only one report. Janet stated that the overall picture of the labor market is positive. The Fed expects further gradual rates increase.
Current situation
The AUD remained at the same level it had reached the last week. The pair remained in a low range flat: 0.7380 – 0.7315. Though the pair returned some of its latest losses still the AUD/USD looks bearish. Its incapability to break the resistance at 0.7400 shows the weakness of buyers. The resistance is at 0.7400, the support area lies at 0.7270.
The indicator MACD is in a positive area and continued growing. RSI reached the overbought level of 70 and shows a sell signal.
Trading recommendations
The pair is going upwards. The bulls' targets are the levels of 0.7400 and 0.7270.