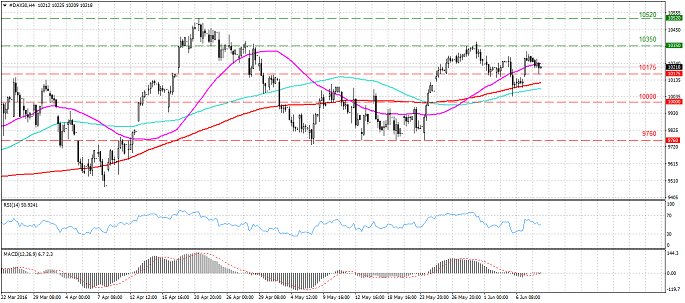 General overview
The European stocks fell on Wednesday after rising on the results of the previous two sessions. The German DAX lost 0.71%. Traders took a wait and see position, focusing on the important events coming this month. Thus, the Fed shall hold its regular meeting on 15st of June. The UK will hold a referendum regarding its membership in the EU on June 23rd.
Current situation
The index decreased yesterday. The price fell from 10275 to 10175. The resistance comes at 10350, the support is at 10175. MACD is on the centerline, giving no signals. RSI is in a neutral zone giving no signal.
Trading recommendations
We expect a decrease. The break below 10175 should send this market looking for the 1000 level.