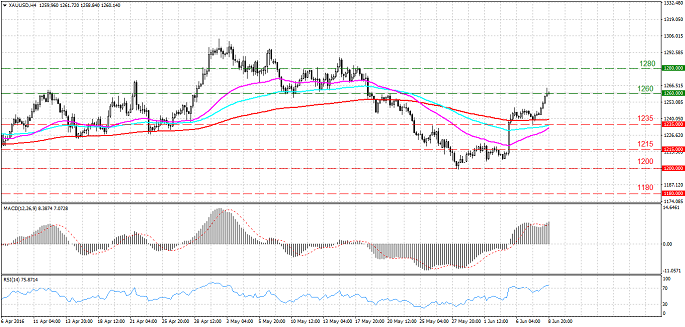 General overview
The Gold quotes continued to rise due to the falling of the dollar. The dollar weakened when the market reduced its expectations that the Fed would hike the rates in June.
Current situation
Traders pushed the gold higher yesterday. The metal grew from 1243 to the mark of 1263. The price touched the resistance at 1260. The metal grew by 1.32% during the course of the day. The resistance is at 1260, the support lies at 1235.
MACD is in a positive area. The histogram is below the signal line. MACD is growing showing a buy signal. RSI is in the overbought level of 70. The pair pushed from Moving Average (100) on the daily chart. The price is above Moving Averages (50, 100 and 200). The MA (200) is a support on the daily chart now.
Trading recommendations
The price stopped at 1260. Should that level break up and the price will grow to 1280. Otherwise we will see its move down to the support 1235.