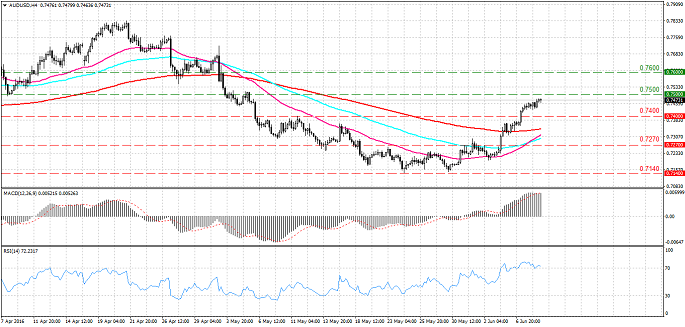 General overview
The Australian dollar came under pressure when Home loans index in Australia rose less than expected, as investments declined after rising in April.
Current situation
The Australian dollar grew during the course of the day setting new local high at 0.7480. The tone is still positive in the market. The resistance stands at 0.7500, the support lies at 0.7400.
MACD is in a positive area. MACD stopped growing yesterday. That is a buy signal. The indicator RSI is above 70 and is overbought. The price is above Moving Averages (50, 100 and 200) on the 4 hour chart. That is a buy signal.
Trading recommendations
We feel comfortable taking long positions. The price may reach 0.7500 today. According to the indicators (MACD, RSI) the pair AUD/USD is overbought. In addition it has moved far from MA that suggests a correction.