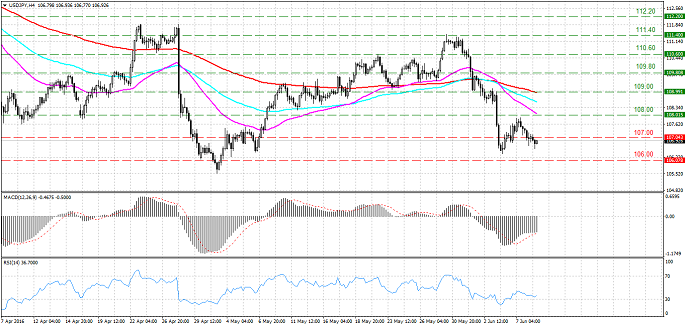 General overview
According to the statistics the volume of Chinese imports in May exceeded market expectations. The news reinforced hopes for a stabilization of the Chinese economy, despite the greater-than-expected fall in exports. The Chinese statistics weakened the investors' appetite for risk and supported the dollar in the pair USD/JPY.
Current situation
The tone is still negative in the market. The yen continued strengthening and the pair approached the recent lows at 106.35. The resistance is at 107.00, the support is at 106.00.
MACD indicator is in a negative area. MACD stopped its growing and returned to a decrease. That is a bearish signal. RSI is still near the oversold level of 30. The pair is below the Moving Averages (50, 100 and 200) on the 4 hour graphic. The pair is on its historical lows at the daily chart. The pair was here last time in 2014.
Trading recommendations
From the technical point of view the pair is oversold. According to the indicators RSI and MA we may see a correction soon. The pair USD/JPY may decrease further to 106.00 where it can pivot upwards.