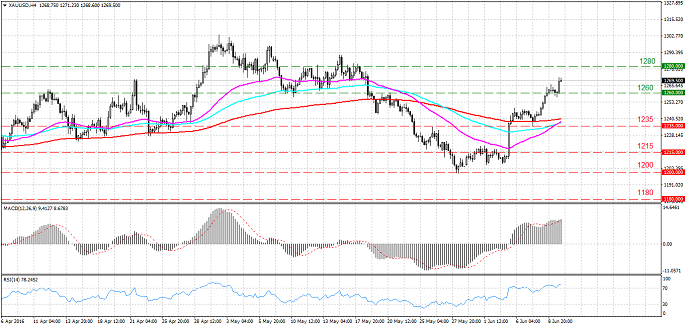 General overview
The upcoming referendum in the UK together with the Fed meeting next week are the main drivers for the gold metal. We believe that the dollar dynamics shall set the tone of the gold.
Current situation
The gold quotes continued to grow yesterday. The futures spent the Asian and European sessions in a flat. The unemployment statistics in the USA supported the metal and its quotes grew from the support 1260 to the mark 1270 at the American session. The resistance is at 1280, the support lies at 1260.
MACD is in a positive area. The signal line is in the histogram. MACD grew yesterday and showed a buy signal. RSI is in the overbought level of 70. The price is above Moving Averages (50, 100 and 200). The MA (200) is a support on the daily chart now.
Trading recommendations
The gold is close to the strong resistance 1280. The gold futures fell from this level last time in May. The gold may decrease to the level 1260 to continue the growth from it. Nevertheless the further dynamics of gold depends on the next Fed meeting results.