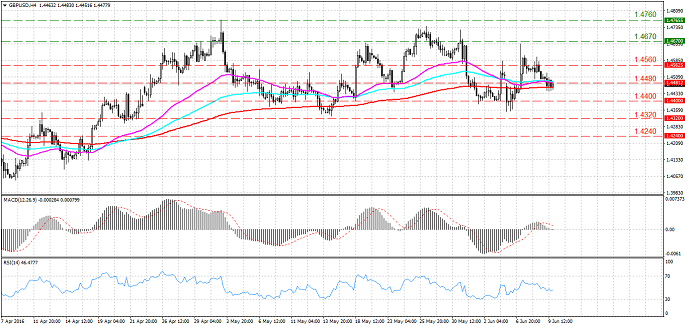 General overview
On Thursday, the pair kept weakening as the market was concerned about the upcoming referendum results. The published statistics in the UK could not support the pound.
Current situation
The pair GBP/USD was less volatile yesterday. The price spent the day in the narrow range: 1.4525 – 1.4440. Sellers tried to push the price down but failed and the price spent the day at the level of 1.4480. The resistance lies at 1.4560, the support is at 1.4480.
MACD is on the zero line. The signal line is above the histogram. MACD decreased yesterday. That is a sell signal. RSI is in a neutral zone giving no signal. The Moving Average (200) does not let the pound to fall further on the 4 hour time frame.
Trading recommendations
We are still bearish. The 200 Moving Averages works as a support. If the price breaks below the level of 1.4480 the pair shall decrease to 1.4400 level. Otherwise we will see a bounce upwards to 1.4560.