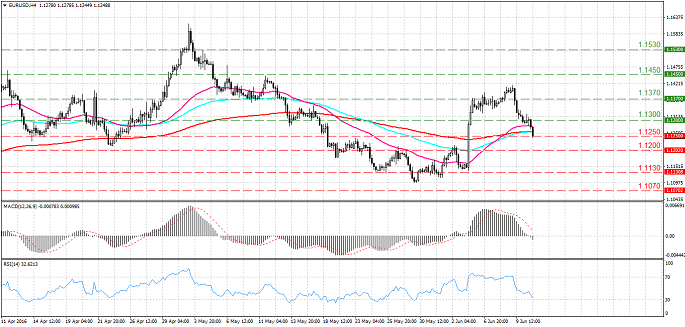 General overview
The euro got under pressure when Mario Draghi (the European Central Bank Governor) warned the market that the weak economic growth in the Eurozone could lead to a "long-term losses."
Current situation
The pair EUR/USD spent almost the whole Friday at the level of 1.1300. The pair consolidated after a sharp decrease that had happened a day earlier. The EUR/USD returned to a decrease at the American session and ended the trading week in the red zone at the mark of 1.1250. The resistance is at 1.1300, the support is at 1.1250.
MACD is in the negative area. The histogram is below its signal line. MACD decreased, that is a sell signal. RSI is closed to the oversold area. That is a sell signal too. The price broke through Moving Averages (50, 100 and 200) on the 4 hour chat. The Moving Averages crossed each other on the 4 hour time frame, showing that the price is changing its direction.
Trading recommendations
Even though the indicators look bearish we prefer to stay away from a trading before the Fed meeting. The market is going to be volatile that increases risks.
If we decide to sell we would wait for the price to consolidate below Moving Averages (50, 100 and 200) on the 4 hour chart. Another sell signal is MACD in the negative area. The sellers' target is the level 1.1200. Otherwise we would see a bounce upwards to 1.1370.