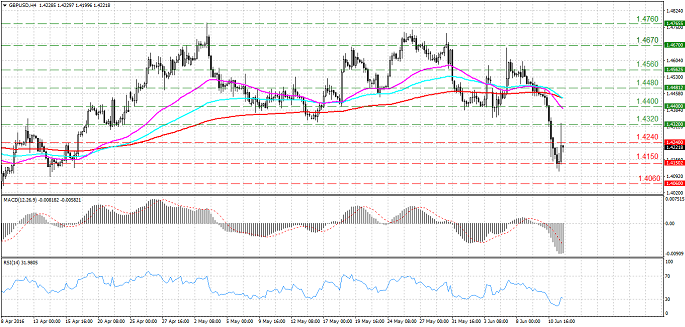 General overview
The British pound fell against the US dollar last week as investors are seriously concerned that the UK may leave the EU.
Current situation
The sellers controlled the market. The quotes continued their decrease and broke the level 1.4240 on Monday and touched 1.4150. All buyers' attempts to grow met the serious resistance from the sellers' part. The GBP/USD tried to recover but failed. The pair touched the resistance 1.4320 and immediately fell again below 1.4240. The resistance is at 1.4240, the support come in at 1.4150.
MACD is in the negative area. The MACD does not show any divergence. The indicator decreased, that is a sell signal. RSI is in the oversold zone. That is a buy signal. The pair consolidated below Moving Averages (50, 100 and 200) on the 4 hour chart that worsened its short term outlook. The price is close to the bottom of the market that was set in the beginning of 2016.
Trading recommendations
The price is oversold, the market looks bearish. The price may bounce upwards to the level 1.4320. However a drop back below 1.4150 may force the GBP/USD to resume its downward trajectory and fell below 2016 lows.