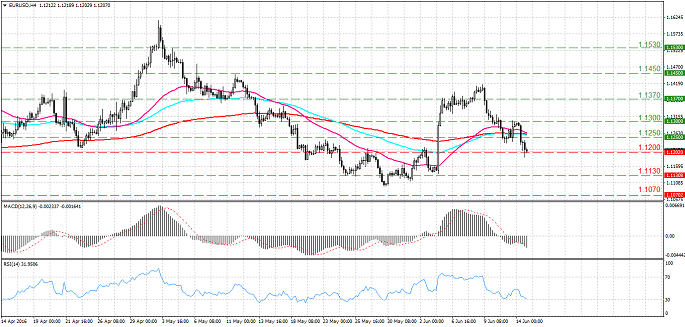 General overview
Even though the Eurozone published positive industrial production report the euro continued its decrease. The euro is near the new lows of the week due to German government bonds yields falling and due to concerns about the referendum in the UK.
Current situation
The price moved in the descending price channel. Its low boundary is at 1.1230, the upper boundary is located at 1.1300. Yesterday the growth wave faded away, sellers returned to the market. The pair EUR/USD fell from the resistance 1.1300. The price broke the level of 1.1250 and approached the mark of 1.1200. The pair began a consolidation phase. The resistance is at 1.1250, the support is at 1.1200.
MACD is in the negative area. MACD decreased, that is a sell signal. RSI is in the oversold area. If oscillator leaves the oversold area upwards it will give a buy signal. The Moving Averages (50, 100 and 200) are parallel to each other. The main trend is down.
Trading recommendations
The pair now seems to be heading towards the support near 1.1130. The level of 1.1300 limits the growth of the pair. An uptrend will start as soon, as the pair rises above this resistance.