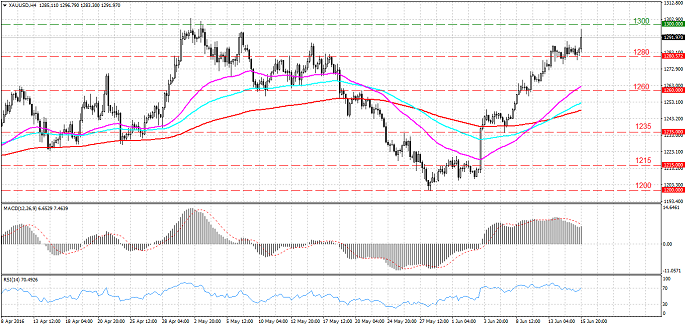 General overview
The Fed decision and J.Yellen's speech supported the gold. According to Yellen the regulator shall be cautious with the rate hike. Also, Yellen asked not to pay to much attention to the latest week labor market reports.
Current situation
The gold found a support around $1280 per ounce yesterday. The precious metal was able to grow to the level of 1292 that limited its further growth. The demand for the gold is preserved, it has the chance to test the 13th figure.
MACD is in a positive area, the histogram increased that is a buy signal. The signal line left the histogram. RSI is close to the overbought level of 70. If the price enters the overbought area we will get a buy signal. The price is above Moving Averages (50, 100 and 200). There was a crossover on the Moving Averages. The Moving Averages are directed upwards.
Trading recommendations
The Fed decision supported the gold, as expected. We believe the gold will grow and will reach the mark 1300 soon.