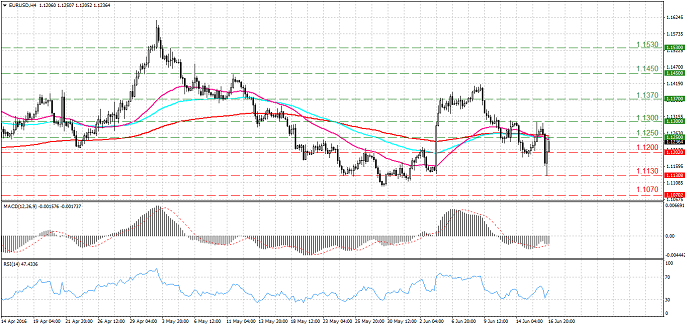 General overview
The euro significantly fell against the US dollar. The latest Fed meeting returned interest to the US currency. The USA published Initial Jobless Claims that turned out to be worse than the forecast. Nevertheless the USA statistics had little impact on the pair.
Current situation
The pair left more that 0.60% during the Thursday trades. The EUR/USD fell from the beginning of the European session. The pair decreased from 1.1300 to 1.1130. The price broke two supports on its way: 1.1250 and 1.1200. After testing 1.1130 the pair gained back some losses. The day the pair ended at 1.1250. The resistance is at 1.1250, the support come in at 1.1200.
The pair remained in the descending channel. The technical indicators are within the bearish zone on the 4-hour chart. The price is below all the moving averages, indicating a possible further decline.
MACD is in the negative area. There was a sell signal when the indicator decreased. RSI is near the oversold area, it is also a sell signal. The Moving Averages (50, 100 and 200) are parallel to each other. There was a crossover on the Moving Averages. The Moving Averages direction is downwards.
Trading recommendations
The indicators recommend short positions. Any rebound above 1.1250 should be considered as corrective. Should the level 1.1130 break down the price will decrease to 1.1000.