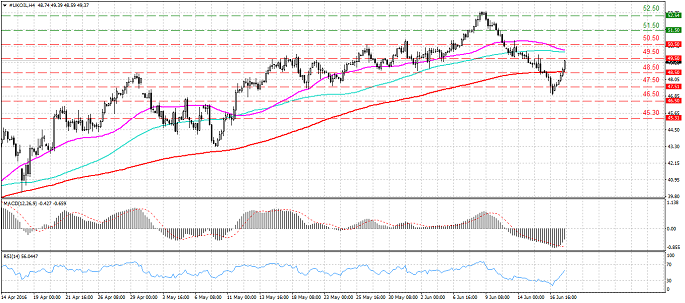 General overview
The US dollar weakened after the recent macroeconomic reports from the USA. A weak dollar supported the oil market, as it made the oil cheaper for owners of foreign currencies.
Current situation
The oil quotations kept growing. The Brent was able to recover by 0.26%. The oil price broke the levels 4700 and 4750. The Brent touched the level of 48.00 by the end of trades. The resistance is at 48.50, the support is at 48.00.
MACD is in the negative area. However the histogram was growing that confirmed the current growth. RSI approached the overbought level of 70. If RSI gets into the overbought area we will get a buy signal
The Brent broke the 200-SMA and approached the 50-SMA and 100-SMA. If the oil consolidates above the 50-SMA and 100-SMA the buyers will become stronger.
Trading recommendations
The break below 48.50 might force the pair to resume its downward trajectory and drift to 46.50. An uptrend will start as soon, as the pair rises above resistance level 49.50.